Remembering Fr. Thomas Byles, One of the Heroes on the RMS Titanic
As a Martyr of Charity, His Cause Should Pick Up Steam This Year of Mercy
Forget the made-up, special-effects dramas about the Titanic. The real special effects were like the heroic actions of Father Thomas Byles, one of the passengers who perished in that sinking.
On April 14, the 104th anniversary of the Titanic hitting an iceberg, Father Byles was rightly memorialized in Brooklyn N.Y., where he was headed to celebrate the wedding Mass for his brother William and his bride Isabel Katherine.
A plaque dedicated to Father Byles and his holy heroism on that 1912 night of April 14-15 was unveiled and blessed at St. Paul and St. Agnes Church, his brother's parish. The event included Benediction and presentations on the life of Father Byles.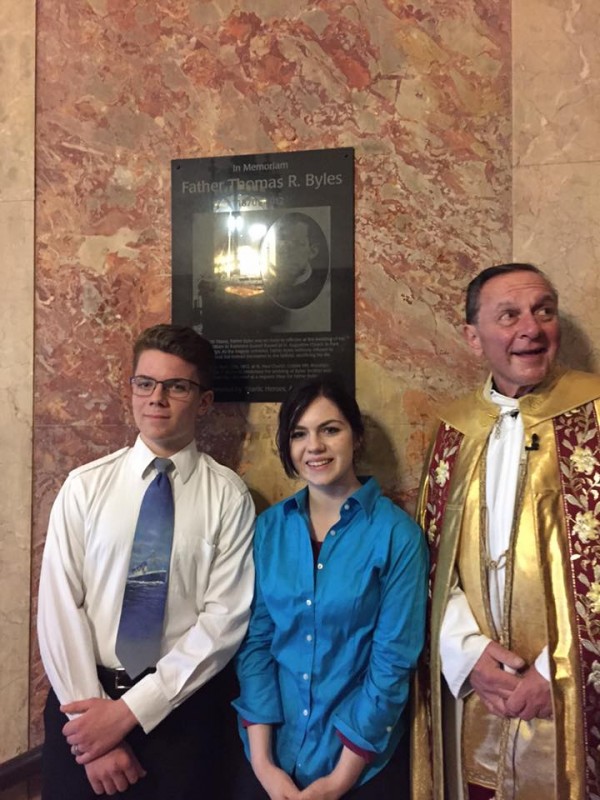 This great memorial was the idea of teenager brother and sister Benjamin and Cady Crosby, who founded Titanic Heroes (TitanicHeroes.com), a not-for-profit organization, on the centennial of the sinking to keep alive the stories of that tragic event's heroism and virtue. Among their efforts was raising the funds for this plaque which they donated. Their dedication and persistence made this memorial a reality.
People entering St. Paul's vestibule where the plaque is placed will not only remember Father Byles and learn of his deeds, but also be inspired to pray for his intercession.
"It was very special for me imagining my grandfather and waiting for the other brother to arrive on the Titanic, and very emotional for me," Joan Byles Barry told the Register after she had attended the dedication events. Her grandfather is William Byles, her granduncle is Father Byles. As his grandniece, she's known about him from her childhood and continues to research his life and story.
On her way to St. Paul's Barry experienced more poignant memoires as she passed by Pacific Street, two blocks away, the neighborhood where her grandfather and grandmother lived for a time.
"I didn't know St. Paul's was the local church so close to where they lived," she said. Their wedding was actually scheduled for another Brooklyn church, St. Augustine's, because St. Paul's wasn't large enough to hold a thousand guests they had invited.
Barry, who lives in New Jersey, brought along a copy of the wedding missalette with the wedding ceremony prayers to share with those attending the dedication.
After the news of the sinking, and knowing that Father Byles was among those lost, the wedding went on as scheduled, but scaled down and transferred to St. Paul's. After William and Katherine's wedding Mass in the morning, they went home, changed clothes, and returned to St. Paul's that afternoon for a Requiem Mass for Father Byles.
"There was no wedding picture because they did not have a photo taken there that day," Barry said. But she brought along a picture of her grandparents taken a year later with them holding their child, her aunt Mary as a baby.
What makes this plaque placement all the more poignant is that the Byles family would have known this church even today since it dates to 1836.
The Dedication Ceremony
"Greater love than this no one has than to be willing to lay down their life for a friend…and how much more love when you lay down your life for people whom you do not even know," Father Joseph Nugent, the pastor of St. Paul's, said during the ceremonies. "And that's what Father Thomas Byles, God's faithful servant on the Titanic, did 104 years ago tonight."
There were moving remembrances of this hero of the Titanic who, as surviving eyewitnesses testified, led women and children to the safety of lifeboats, who himself refused offers to take a seat in the boat, who went comforting all those he could, giving absolution to them, praying with them to the last — leading the Rosary along with a German priest for the dozens of souls around them as the ship slipped into the sea.
During the dedication there were moving remembrances of what Father Byles' heroism meant, some of which can be seen here and also on Brooklyn's Net TV. Father Nugent shared even more, and there were several moving and inspiring insights from Msgr. Guy Massie, pastor of nearby Sacred Hearts St. Stephen Parish in Brooklyn spoke as well.
The Crosbys Dedication
"Even though we were unable to place the plaque last year as intended, the event was something we felt strongly about," Benjamin Crosby told me after the ceremonies. "We felt it was so important to have a plaque at St Paul's." He reminded that both the wedding Mass and Requiem Mass was held the same day.
"The requiem Mass can be looked at as the ending of Father Byles' story, the place where his journey ended," Crosby said. At the Ongar railroad station in England where the priest's journey began, there is a plaque dedicated to him. "This allows us to have a plaque at the beginning and ending of his journey."
"So it's come full circle," agreed Anthony Cucchiara, a volunteer at St. Paul's who attended the ceremony and helped with the arrangements there. With the two plaques, "This completes his passage."
The Crosby team also did a dramatic presentation, a shorter version of the dramatic reenactment they do of two of those survivors about the Titanic — second officer Charles Lightoller and second-class passenger Charlotte Collyer.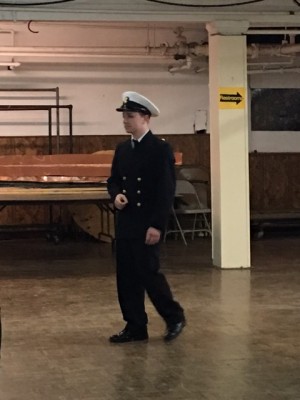 "We want to aid the people to learn the stories of heroism by giving them the power of eyewitnesses to these stories," Benjamin explained. "It's not me just pretending to be Charles Lightoller; it's me actually reciting his words. We're telling the real story of history through the eyes of the real people who experienced it. To perform the words in costume allow the people to experience the story of heroism in a different way than if we were just reciting facts and interpreting their recollections. It's a whole different level of experience."
Benjamin and Cady did a shorter version of their usual hour-long presentation (they have other historical presentations noted on their Titanic Heroes website and Facebook page) because the focus of the evening was on Father Byles.
Cucchiara couldn't help but says they did the dramatizations "so convincingly and with such grace and poise and confidence."
Besides, 18-year-old Cady has written a book titled A Titanic Hero: Thomas Byles (available Amazon).  Her 16-year-old brother said they would like to see this book in every Catholic school and they encourage schools "to use this book to teach their students about the real life heroism of a real life priest who lived not too long ago."
He added, "We want our generation today, when they think of the Titanic, to think of Father Byles' story of heroism and not the special effects like in the movies."
Make Him a Saint
Not long after Father Byles died, his brother William and sister-in-law Katherine visited Rome and had a private audience with St. (Pope) Pius X who called the heroic priest "a martyr for the Church." He also said, "A marriage blessed in heaven by a martyr-brother, and on earth by the Vicar of Christ, is sure to be a happy one…"
Noe interest in Father Byles needs to keep growing. "It's such wonderful story, you have to keep telling it," she said. She's done so as a guest speaking about her granduncle on the Trenton diocese's The Catholic Corner TV, and she's heard from a priest in England who is writing a book on him.
Another priest, Father Graham Smith who became pastor of St. Helen's Catholic Church in Ongar, England, last year on April 14 — the church where Father Byles was pastor when he left for America — has officially begun the early steps for a canonization cause.
He noted that "many people have contacted me regarding his cause and are pleased it is going ahead." He's written a prayer with ecclesiastical approval to be used to ask for the Father Byles' intercession for favors (SEE BELOW). Father Smith has had prayer cards printed, but not enough yet since they are planned for international distribution.
"At this stage we need to show that there is enough people who know his story, his heroic virtue and his self-sacrifice, Father Smith told me. "I also need people to report upon miracles due to his intercession." In an article he published in April in the United Kingdom, he mentions that he's "received letters from Russia and Spain informing me of miraculous cures through his prayers.
Benjamin Crosby said for he and Cady, one of the whole points of focusing on Father Byles is to ask him "for intercession so that we can aid his cause of canonization. That's the area where we would like to help the most," he emphasized. Through their continuing efforts through Titanic Heroes, "We can absolutely aid the awareness of this story and encourage people to learn more about him and ask for his intercession. That's our goal."
Wouldn't it be triumphant for Father Byles to be named not only "Servant of God" but also beatified in this Year of Mercy for his act of mercy?
* * * * * * *
Report all favors or any possible miracles received to Father Graham Smith, 87 High Street Ongar, Essex, CM5 9 DX England or [email protected].
Prayer for the Beatification of Father Thomas Byles
God, our Father, protector of those in peril, you called your priest, Father Thomas Byles to provide spiritual lifeboats for the souls of those in need by his pastoral care. Through the example of his life and virtue may we follow your Son, Jesus Christ, more closely, fulfilling his commandment of self-sacrifice, charity and building up his Body which is the Church. Let the inspiration of your servant prompt us to greater confidence in your mercy and love for us. We humbly ask that you glorify your servant Father Thomas Byles on earth according to the design of your holy will. Through his intercession, grant the favor I now present (here make your request). Through Christ our Lord. Amen.
Our Father, Hail Mary, Glory be to the Father.