Pontifical Academy Prepares to Host Senator Sanders at the Vatican
Academy chancellor feels the burn after controversially issuing invitation in the middle of a presidential election campaign.
Senator Bernie Sanders will take a break from his campaign to become the Democratic Party's Presidential nominee when he controversially delivers a 10 minute talk at the Pontifical Academy of Social Sciences in the Vatican on Friday.
A Jewish agnostic, Sanders has said he is a "big, big fan of the Pope" and will be speaking at a conference to mark the 25th anniversary of Pope St. John Paul II's encyclical on the economy and social justice at the end of the Cold War, Centesimus Annus.
"I obviously would not be leaving in the middle of a very hard-fought primary here if this were not an opportunity that comes once in a lifetime," said Sanders in a phone interview with the Associated Press on Wednesday.
"I am deeply impressed by the commitment of the Pope to speak out about economic and social and environmental injustice and I would be kicking myself if I refused this opportunity," he said.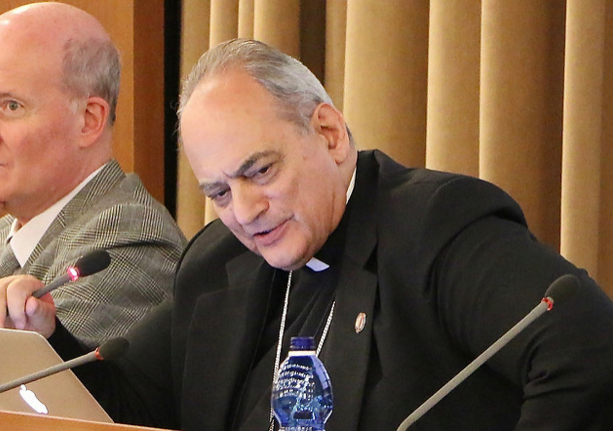 The senator's presence at the Vatican comes just four days before the crucial New York primary where a quarter of voters are Catholic, and many others are Jewish. "How is this not interfering in an election campaign?," asked a Vatican official, speaking on condition of an anonymity.
Described as a socialist and "leading progressive voice" on issues such as global welfare, income inequality, and LGBT rights, Sanders also opposes all abortion restrictions and has been a vocal advocate for family planning and funding for contraceptives.
He told the AP that he is planning to tell the conference that it is "not acceptable from a moral perspective, from an economic perspective or from an environmental perspective that so few have so much and that greed is running as rampant as it is throughout the entire planet."
He will be joined at the conference by other socialist leaders such as President Rafael Correa of Ecuador and President Evo Morales of Bolivia. Also taking part will be Jeffrey Sachs, a leading proponent of population control who controversially assisted Pope Francis with his social encyclical, Laudato Si'.
Given the sensitivities of hosting the senator, the Holy See has sought to distance itself from the invitation, which came from the chancellor of the academy, Argentine Bishop Marcelo Sanchez Sorondo. Such an invitation would usually have to be cleared by Vatican Secretary of State, Cardinal Pietro Parolin, and it is highly unlikely he would have approved it, according to Vatican sources. 
Vatican spokesman Father Federico Lombardi said the Vermont senator had been invited "not by the Pope but by the Pontifical Academy of Social Sciences" which, he said, is not an official body of the Holy See. He also said that "for the moment there is no expectation that there will also be a meeting with the Pope."
The invitation appears to have caused an internal rift within the academy. Its president, Margaret Archer, accused Sanders of possibly using the event to court Catholic voters and that he had decided to attend without properly informing her office. But Bishop Sanchez, who is senior to Archer, denied her version of events, telling Reuters that he had issued the invitation, and that the senator had not invited himself. "This is not true and she knows it. I invited him with her consensus," Bishop Sanchez said. Both Archer and Bishop Sanchez declined to comment on the matter to the Register. 
The Pontifical Academy says the conference, which takes place tomorrow and Saturday and is entitled "The Urgency of a Moral Economy: Reflections on the 25th Anniversary of Centesimus Annus.", will not be a commemorative event. Instead it is "a serious academic discussion", it said, dealing with "changes in the world situation – economically, politically, and culturally – over the past 25 years" and how Catholic social teaching can better "engaged the world" in the future.
Also participating are the respected philosopher Russell Hittinger of the University of Tulsa, and the Italian politician and philosopher Rocco Buttiglione who is a leading interpreter of Pope St. John Paul II's teaching.
Another participant is Father Bryan Hehir of the John F. Kennedy School of Government in Cambridge, MA. Father Hehir has been a leading proponent of a "global ethic", a concept also championed by the dissenting Swiss theologian, Hans Küng. In the 1980s, Father Hehir, a former head of Catholic Charities, also helped move the focus of U.S. bishops from an almost exclusive focus on opposing abortion to a broader "consistent ethic of life" approach where abortion was dealt with in conjunction with other threats to life and human well-being such as poverty and nuclear war.
It's not unusual for the Pontifical Academy to invite controversial figures to speak. In 2006, former American Secretary of State Henry Kissinger spoke at a conference there. Other appearances during Benedict XVI's pontificate included the Jewish Nobel laureate for economics, Joseph Stiglitz, and the wife of the former British Prime Minister, Cherie Blair, a dissenting Catholic. Sachs also attended Vatican conferences during Benedict XVI's pontificate, but this is the first time a U.S. Presidential candidate has been invited, and during an election campaign.
Bishop Sanchez has courted controversy before. Last year he hosted a conference ahead of the launch of Laudato Si which included only proponents of climate change science, as well as some population control advocates. That led to a very public spat between him, Archer and C-FAM, a pro-life advocacy group at the U.N.
Despite the controversy, the Pontifical Academy still stands by its invitation. On its Twitter account is a tweet which asks: "Why did the Pope invite someone so liberal on social issues to speak at the Vatican? Because Francis cares about genuine conversation."
Yesterday it also emerged that another leading Democrat, Vice President Joe Biden, will be speaking about his Cancer Moonshot Program at the Pontifical Council for Culture on April 28th. Like Sanders, Biden, who is a Catholic, supports abortion rights.  
Photo: Bishop Marcelo Sanchez Sorondo; Photo: Edward Pentin/NCRegister.com