Nice Catholic News iPhone App
It's simple. It's sleek. And it's filled with the latest in Catholic news and blogosphere haps. It came first via the web. And now it's got it's own iPhone app.
It's called Catholic News Live. I just downloaded it. I like.
It's a quick, easy way to follow what's growing on the Catholic media grapevine - and from a diverse set of sources.  Including both blogs and news media, you get a good mix of both reporting and commentary. And it is a neat way to find some new Catholic media that perhaps you haven't heard of or followed before.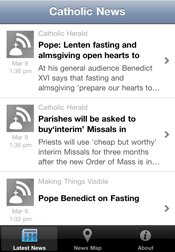 One especially cool feature is the News Map. One tap gives you a map of the world with drop pins in locations related to each current story. Just tap the ones you're interested in and pull up stories that way. It just gives a neat geographical representation of the day's news and commentary.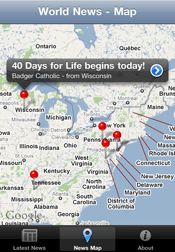 Finally, it's easy to share any post you find on CNL (Catholic News Live) with others via email, Twitter, Facebook and much more.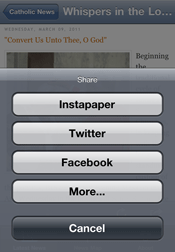 Jeff Geerling is the creator of the website and the app. He continues to do outstanding work for the Church in New Media. Please go support Catholic News Live and purchase the app if you have an iPhone (it's only $0.99). And even if you don't have an iPhone, you can still access all of the info at CatholicNewsLive.com.