NFP Charting? There's an App for That
Now that the storm of ludicrous misinformation about the Confession app has all but died down, I'd like to draw your attention to another app that will be useful to many Catholics—and it was developed by a Baptist.
It's an NFP charting app for iPad and iPhone.  There are several NFP apps available, mostly for the sympto-thermal method. They carry the warning: "for recreational purposes only," which makes me giggle.  "Recreational?" I hate, dread, and stink at keeping charts. No, that's not God's way of telling me that NFP is inherently sinful, or that I should just go ahead and have 11 more babies. It's just that I and my household are utterly, tragically unsuited for handling routine paperwork.
While I am grateful for the scientific and theological labor that went into developing modern NFP (I use Creighton), asking me to stick little stickers on a paper chart at the end of the day, every day, is like asking me to take up base jumping: sounds lovely, but I'm just not that kind of girl.
So when I spotted this app, I was delighted to see that it's extremely similar to my Creighton chart.  It's designed for the Billings Ovulation Method, which tracks a woman's cervical fluid to establish times of fertility. (NB: I'm using a Billings app for a Creighton method of charting, and have gone off the grid with my teacher. I don't endorse or recommend this behavior! For more information about Creighton, which is about more than achieving or avoiding pregnancy, see their website to get the whole scoop.)
I didn't get paid to endorse this app—just thought it's an interesting and helpful development, one of the bright spots in the technological revolution.
Here's a screen shot: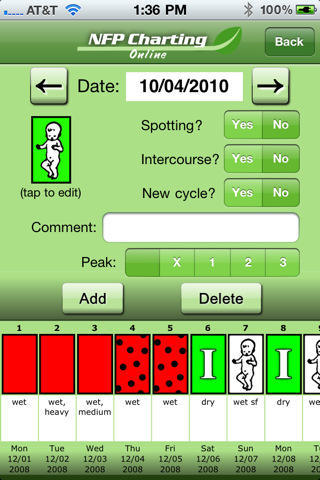 I've used it for a few months, and this is what I especially like:
-It's tidy. No coffee stains, rips or orange crayon—just the facts marching all crisp and square across the screen. One aspect of my life under control: Bliss!
-It achieves the golden standard of NFP charting: It gets my husband involved (because it's his iPod!). I think the digital format would make NFP more appealing, or at least more accessible, to many men.
-The info can't get lost. Even if my husband's iPod gets broken or stolen, my records are stored online.
-It's not idiot-proof, but close. I make observations every day, but only record them every three days or so. The pre-set calendar makes my mistakes obvious and easy to fix.
This app allows Billings users to share charts directly with their teachers. I wish the Creighton folks would get back to this app's designer about developing a Creighton app, because while I can use this app for my own purposes, I can't share charts with my practitioner.
The app is not designed to replace contact with an instructor, but to facilitate it, especially since many NFP users work with teachers long-distance. As the developer, Lawson Culvert, explains,
I could write in functionality that attempted to help a woman with making decisions about the chart, but I didn't want my app to become a replacement for proper training from a Billings certified teacher. Also, whenever I try to tell them what to do, I'm opening myself up to a lawsuit should an unintended pregnancy occur. As a result, I decided early on that the goal of [the website which preceded the app] NFPCharting.com would be simply to allow online charting that could be easily shared with a teacher.
He expects to add a Spanish language option and a printing function soon.
Culvert practices NFP with his wife, and teaches Billings from his home. I asked him about his faith, and he said:
I'm actually a Baptist. Baptist churches in my area have tended to totally ignore the issue of fertility. They see such discussions as only between the woman and her doctor (which tends to push people towards the Pill.) My wife and I found out exactly how the Pill works (its abortifacient capacity, specifically) and decided before we were ever married that it would be morally unacceptable to use that form of birth control. Thankfully, we stumbled upon the NFP Center at our local Catholic diocese.

My boss and several of my co-workers are Catholic, and they joke that with me teaching NFP, I'm more 'Catholic' than they are.
Culvert has chosen to teach NFP in his home, rather than through the diocese, because it gives him the opportunity to spread the Gospel to non-Christians and others who "wouldn't necessarily set foot inside a Catholic church."
I am thrilled to see practical and user-friendly technology put in service of such a good cause. Catholic and high-tech don't often mesh so nicely. Let's hope this app is the first of many innovations to make the Faith more accessible to the modern world.