Holy Smoke! Seminary Has Unique Relationship With Firefighters
Local seminary and fire department build a friendship out the most unlikely of circumstances.
In the lush southern city of Charlotte, North Carolina, sits a new minor seminary that is building ties in the community in the most unlikely, and accidental, way. St. Joseph Minor Seminary, a thriving seminary that houses the Diocese's growing number of seminarians, has established quite a unique relationship with Charlotte's local fire department. It started last year with a false alarm call when too much incense set off the seminary's smoke detectors. Each time the fire department shows up they are treated to the hospitality of the seminarians and offered desserts for their trouble. 
On Ascension Thursday the Seminary tweeted about their most recent visit by Charlotte's fire chief responding to another call.  
Another holy day, another visit from the fire department, as too much incense set the fire alarms off! The fire chief stayed and celebrated Mass with us on this Solemnity of the Ascension.
Many thanks and prayers for our first responders! #Ascension2018 pic.twitter.com/OR9JTCXaG2

— St. Joseph Seminary (@StJosephCLT) May 10, 2018
Two of the seminarians were graduating from the Minor Seminary to continue their studies at the Pontifical College Josephinum, so to commerate thier graduation a Mass was celebrated to honor the occasion on the feast day of the Ascension of Our Lord. On this day too much of a good thing actually turned into a good thing and the seminarian's holy smoke summoned the fire department.  This time, instead of cakes and cookies, the Fire Chief was invited to stay for Mass with the seminarians and got his fire truck blessed by Fr. Matthew Kauth afterward.  In the Bible Belt of the Southern U.S. it's rich tradition and hospitality that evagelize.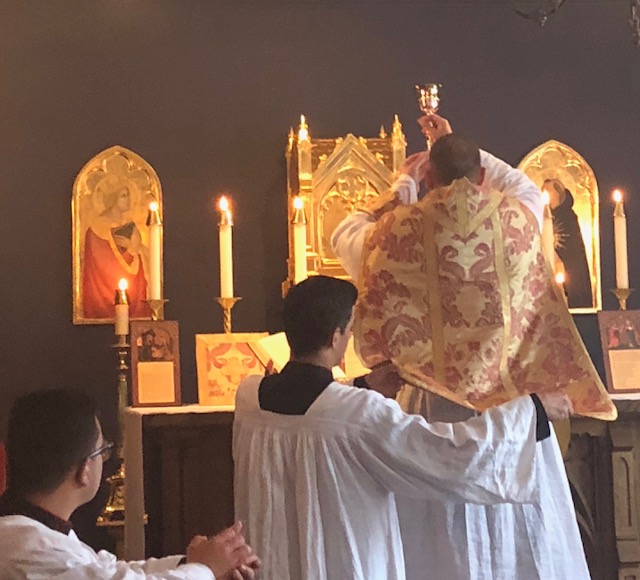 Father Matthew Kauth celebrates Mass in the Seminary chapel. 
To learn about St. Joseph Minor Seminary and their building campaign click here.