Eight Advent Resources for Your Family
Meaningful traditions for the domestic church to prepare for Christmas.
The warm glow from the one candle lit on the wreath shone brightly in the darkened room as my father started singing in his baritone voice.
O come, O come, Emmanuel.
The rest of the family joined in with our higher tones, and the whole house was filled with the sound of our voices.
And ransom captive Israel ...
As a girl, I loved singing in the dark around the Advent wreath and was always filled with the anticipation of Christmas as another new candle was lit each week. My parents wonderfully passed on to us the sense of preparation and waiting of the liturgical season of Advent, a sense that I hope to pass on to my own children, as well.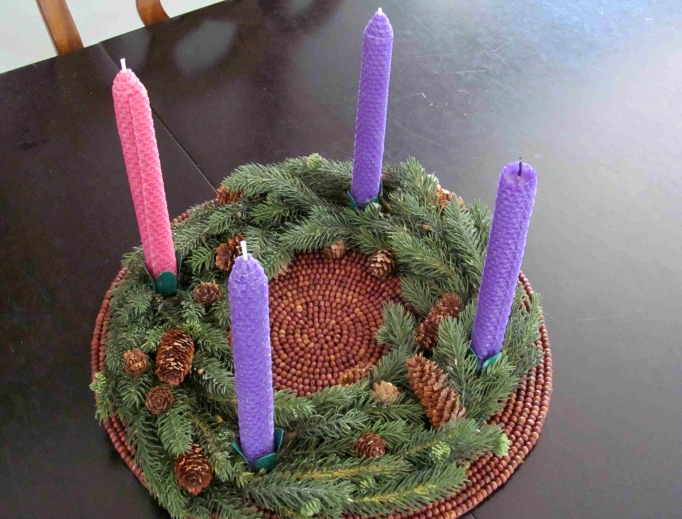 It is never too late to start Advent traditions in one's family, and there are so many options for resources. I am going to share just a few that will make your Advent better.
Father William Saunders recently published the book Celebrating a Merry Catholic Christmas. It is an absolutely beautiful book, with lovely color paintings and photographs, that goes through the seasons of Advent and Christmas up through Candlemas, explaining the origins of different traditions and feast days and accompanying each chapter with a spiritual meditation on the practice. He gives a neat history of the Advent wreath, explaining the symbolism, as well as giving prayers for each week. The chapter on Advent feast days, including a detailed section on St. Nicholas, is particularly interesting and gives a thorough history of the doctrine of the Immaculate Conception. He details and gives prayers for the O Antiphons of the octave before Christmas.
Among other ideas for Advent, Father Saunders talks about reading sacred Scripture during the season as a family. While he does not mention it by name, this idea made me think of the family devotional practice of the "Jesse tree."
The Jesse tree has its roots in medieval art, where tapestries and windows would portray the key figures of the Old Testament who are a part of the genealogy of Jesus. Jesse was the father of King David, whom Jesus descended from, and is referenced in a prophecy about Jesus in the Book of Isaiah: "There shall come forth a shoot from the stump of Jesse, and a branch shall grow out of his roots" (Isaiah 11:1). The Cathedral of Chartres has a particularly famous Jesse tree window.
When I was a child, my mother would sit down with us by our homemade Jesse tree and read from the Scriptures, beginning with creation and moving up through salvation history to the birth of Jesus. My siblings and I would take turns hanging the felt ornament that went with the reading for the day on the family Jesse tree. It was a beautiful, meaningful way for us to see how the Old Testament anticipates the coming of Christ.
When I got married I knew that I wanted this traditions to be a part of my children's experience, as well. So, for our first Advent when I was pregnant with my eldest, my husband and I hand drew all of our ornaments on circles of paper and used the book my mother had used when I was a child, The Jesse Tree: Stories and Symbols of Advent by Raymond Anderson. I had the goal of replacing them all with cross-stitched ornaments. When I ended up making them at the rate of about one every two years, my mother helped me make felt ones instead in about two afternoons.
However, one does not need to have felting or cross-stitching skills to have a beautiful, meaningful Jesse tree experience (though, if you are into crafting, there is a set of really nice patterns for felt ornaments on the website "Do Small Things With Love.") If you are looking for simpler option, Shining Light Dolls has a free printable for super-cute paper ornaments as well as a guide for the accompanying readings.
Theresa and Charles Pobee-Mensah created a Jesse tree book, available on their website, for younger children. It has simple, colorful illustrations, easy-to-understand tellings of the events of Scripture, and explains the allegorical significance of the events in the Old Testament to the life of Christ. They also have printable ornaments, to make Jesse tree preparations simple and quick!
For those with little time or energy for making Jesse tree ornaments, there are already-made ones available at various places online. This lovely wooden set can be purchased from EWTN Religious Catalogue, along with the book The Jesse Tree: An Advent Devotion, with a guide to the readings by Eric and Suzan Sammons. The book is also available without the ornaments.
One last prayer aid for Advent is the "Magnificat Advent Companion" booklet and app that includes prayers for morning, evening and night each day, as well as an Advent meditation. It also comes with other devotional prayers, including blessings for the Advent wreath and Christmas tree, Advent Stations and prayers for the O Antiphons. These prayers could be incorporated simply into any family's Advent prayer.
These are just a few of the many resources available to families to have a holy Advent. These meaningful Advent traditions help my family to keep Advent as a season in preparation for Christmas. They keep our focus on the birth of Christ so that we do not get too caught up in the consumerist frenzy that has become the secular "holiday season." And I know my children love them when I overhear them chatting about these traditions as Advent arrives each year.
What are some of your favorite Advent traditions?