Efforts Continue to Save Alfie Evans' Life as Authorities Try Again to Turn Off Life Support
A Milan hospital offers to give a second opinion on toddler with undiagnosed brain disease as UK hospital tries again to turn off his life support, contrary to his parent's wishes.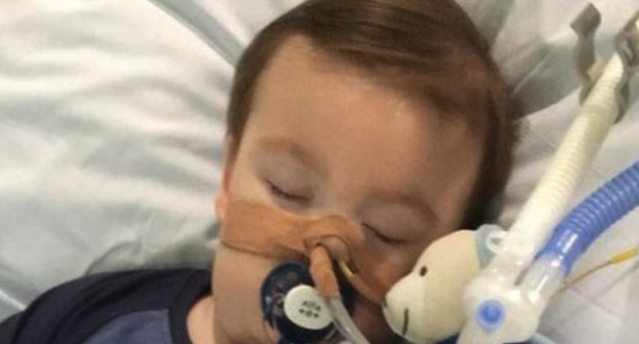 See updates below: 
A lawyer representing 23-month old Alfie Evans has sent a letter to the hospital caring for the toddler to say that a hospital in Milan is willing to offer a second medical opinion, and they expect the Vatican's Bambino Gesù hospital in Rome to do the same in the next few hours.
"We have just sent Alder Hey [hospital in Liverpool] and their legal team a letter stating the availability of the Carlo Besta Neurologic Institute of Milan to carry out a second medical opinion for Alfie Evans," said Filippo Martini, secretary at Giuristi per la Vita, on Friday morning.
"We are now waiting and hoping for a positive response," he added. "Within the next few hours we expect to receive the same availability from Bambino Gesù hospital in Rome."
The parents of little Alfie, Tom Evans and Kate James, are battling with the Alder Hey hospital in Liverpool and English courts to continue to keep him on life support.
In a dispute reminiscent of the Charlie Gard case last year, doctors say there is nothing they can do for the 23-month-old who has an undiagnosed degenerative brain disease, but his parents have been fighting to keep him on a ventilator.
Despite their parent's wishes, High Court judge, Justice Anthony Hayden, ruled in February that the hospital can remove Alfie's life support. A later appeal to the European Court of Human Rights also failed.
In his report, Justice Hayden partly justified his decision by quoting from a message Pope Francis delivered last November at a Vatican meeting hosted by the Pontifical Academy for Life.
Justice Hayden argued that "overzealous treatment" can be withdrawn, even though life support — ventilation, hydration and nutrition — are not justified as overzealous or aggressive treatment in the Catechism.
A ventilator can only be withdrawn if such care is considered disproportionate — for example, if the patient is unable to metabolize food and water. The parents insist that it is not the case with Alfie and that their son has been getting "stronger and more responsive" in recent weeks.
Alfie has been "stretching, coughing, swallowing, making breathes on his own, yawning, sucking his dummy" and reacting to being tickled, according to a post on the Alfie's Army Instagram page yesterday.
But on Thursday, the Alder Hey hospital treating Alfie confirmed it had returned to court for "guidance" on when to switch off the toddler's life support.
Tom Evans accused Alder Hey of going "behind the family's back" to apply for his life support to be turned off as soon as Friday.
He said the family had brought "fresh evidence and fresh material including a second opinion from another air ambulance company agreeing that Alfie is fit to fly (for pioneering treatment in Italy) and if Alder Hey were to release with them they would fly Alfie."
But just a few hours after the meeting with hospital staff at 12.30pm, he said the hospital applied to the court to remove Alfie's life support "as soon as tomorrow."
In a statement, the health service trust running the hospital said "at no point has a date for withdrawal of treatment for Alfie been agreed with his family."
But it reiterated that the "courts have ruled that Alfie's condition is irreversible and untreatable and that continued active treatment is not in his best interests. 
"We always aim to reach agreement with parents about the most appropriate palliative care plan for their child but sadly, in this case, we have not been able to do this.
"Consequently we must return to the High Court, as we are legally required to do, for guidance about a date on which to withdraw treatment from Alfie."
The statement ended by asking for the privacy of Alfie's family to be respected, and that it would not be making further comment "about Alfie or his treatment to any members of the public."
Vatican's Response
Observers say Archbishop Vincenzo Paglia, president of the Pontifical Academy for Life, made matters worse for Alfie and his parents when he appeared to side with Justice Hayden's decision.
In a March interview with the Italian daily Tempi, Archbishop Paglia said the decision to remove the ventilator would be an interruption of "overzealous treatment" and that therefore the ruling was not at odds with the teaching of the Church.
The prelate refused to respond to email requests from LifeSite News for clarification, and when their Rome correspondent Diane Montagna later confronted him in person about the interview in Rome, he walked away and delegated the matter to his secretary. The secretary followed up via email to say the archbishop had nothing more to add.
Soon afterwards the Tempi interview was taken down. It had prompted the mother of a 9-year-old boy suffering from a severe disability issuing the academy president with a "filial correction." Emanuele Campostrini said she was "outraged" by Archbishop Paglia's comments, adding that he "cannot and should not" be head of the academy.
Alfie's case has also exposed weaknesses in the Pope's speech of last November which, for the second time, has been used by pro-life opponents to advance their positions.
As well as being instrumentalized by Justice Hayden, proponents of a law passed in Italy last December allowing adults to decide in living wills to refuse end-of-life medical treatment also used the speech to argue that the Pope was offering an "open door" to such euthanasia.
Pope Francis tweeted on April 4 it was his "sincere hope that everything necessary may be done in order to continue compassionately accompanying little Alfie Evans, and that the deep suffering of his parents may be heard."
He added he was "praying for Alfie, his family and for all who are involved."
***
UPDATE 12 April 2018:
The parents of Alfie appealed on Thursday against a High Court ruling on April 11 that set an undisclosed time and date for the removal of the toddler's life support.
Tom Evans and Kate James have asked the court to release their son into their care in order to access treatment abroad.
A hospital in Milan and another in Germany have offered to give Alfie a second opinion and continue treatment. Tom and Kate would also like him to receive alternative care from the Vatican-linked Bambino Gesu children's hospital in Rome.
During Wednesday's hearing, Paul Diamond, standing counsel to the Christian Legal Centre, argued the ancient right of habeas corpus, which requires a court to show a valid reason for a person's detention. Speaking on behalf of Tom and Kate, he said they have "primary responsibility for their son and full parental rights" which should not be undermined by the state.
Tom and Kate argue that they should be able to remove little Alfie from Alder Hey Hospital in Liverpool, where he is being treated, without interference.
In his decision on Wednesday, Justice Hayden refused to rule specifically on the issue of parental rights, saying that his "only remit" was to set an end of life plan for Alfie.
The parents have instructed Diamond to make the urgent appeal and hope the court will hear from him before measures are taken that will end Alfie's life.
A court order currently prohibits publication of when and where Alfie will have his life support removed.
In a new video, Alfie appears to show "improved cognitive engagement" while being weaned off some of his stronger medications.
Little Alfie was born healthy, but after being admitted to Alder Hey in December 2016 with a chest infection, he developed the serious illness which the doctors have been unable to diagnose.
Experts acting on behalf of the hospital testified in earlier court proceedings that they saw no chance of recovery of brain activity and that it was in Alfie's "best interests" for his life sustaining treatment to be withdrawn.
Tom and Kate have been fighting to have their son released to hospitals in either Italy or Germany who have agreed to provide a second opinion and continue treatment.
Justice Hayden, agreed to view the new video evidence as a "kindness" towards Alfie's parents, six months on from making his initial decision.
The judge admitted that he was "not medically capable of determining what he was actually seeing in the video" but refused to postpone his ruling on end of life measures so that an independent paediatric neurologist could view the videos to determine if, in fact, Alfie was showing signs of improvement.
While Tom and Kate wait for their appeal to be heard, any action to end Alfie's life will be delayed.
Andrea Williams, Chief Executive of Christian Legal Centre, said the state "cannot override their desire to seek further treatment for their son especially when such help is being offered by three different hospitals."
"The state must not pass and enforce a death sentence," Williams said. "Even at this eleventh hour, with heavy odds against us, we will fight to the end alongside Tom and Kate for their son's life."
Update 13 April
Police were called last night as hundreds of protesters stood outside the Alder Hey children's hospital. 
Kate James wrote yesterday: "How sad is it that someone can tell you where and when your child is going to die? No proper care plan and no respect for us as a family!
"No privacy or nothing! I know the date and time my child is going to die and we haven't even had time as a family to come to terms with this. Now we count away each hour which feel like minutes . Thank you everyone for all your support through out this and for your kind messages ."
Alfie's father, Tom, said lawyers have said Alfie is allowed to leave the hospital legally, and that he has removed the duty of care and given it to an air ambulance company who will fly him to Italy.
"Alder Hey have phoned the police to stop me from taking my son out of the hospital. This is my son. Look at my healthy, healthy young boy who is undiagnosed, who is certainly not dying," he said in a video posted online.
He also encouraged people to come to the hospital to stand outside and "tell them to release our son" in a 'quiet protest.'"
"They have phoned the police over a child," he said. "Look how innocent the boy is, look at him, he lies there eagerly waiting for his trip home.
"How can this come to this?"
The Vatican has yet to comment on the latest developments but, Mario Adinolfi, a Catholic center right Italian politician and former candidate for mayor of Rome, put the protest of the parents and their supporters this way:   
"The rebellion of the heroes

Finally Thomas Evans shows us the only possible way to act when the State turns into the bearer of death and lays hand on our children: the insurrection against the State itself, if its laws and its court sentences are unacceptable before the eyes of God. They may line up hundreds of policemen, but there is no way to stop a father who sees his son's life is being threatened. It is not just a way, soon insurrection will be the only way to confront the laws of a State which is always ready to offer you every choice under the sun if you want to die, but does not grant you any rights if you want to keep a child alive, not even your own. This is how an individual case turns into a collective insurrection and it is exactly what has been going on since last night in Liverpool in order to prevent Alfie Evans from being killed within the next 48 hours and to leave him in his father's arms so he can fly to Italy and continue his treatment. No law, no court sentence, no Majesty will ever manage to make death the right choice, because it goes against the human instinct of preserving life and this instinct becomes even stronger when a father fights to protect the life of his vulnerable and innocent child. When confronted with such abuse by the hand of the State it will be inevitable to respond by taking on the State itself. In one of his greatest books, "The Rebel", Albert Camus says "What is a rebel?  A man who says no: but whose refusal does not imply renunciation. He is also a man who says yes as soon as he begins to think for himself". No to death, yes to life, in the end this is what our simple rebellion is about."