5 Bishops Share Their Personal Vocation Stories
Bishops Cary, Burbidge, Doerfler, Monforton and Strickland share the stories behind their vocations.
I asked five U.S. diocesan bishops about their upbringing and decision to enter the seminary. Here is what they shared.
Bishop Liam Cary, Diocese of Baker, Oregon
I was raised 20 miles away from when I now live in the Diocese of Baker. I went to Mount Angel Seminary at age 14 in 1961. I was there for high school and college, but then left for 18 years. I came back to the seminary, and was ordained a priest at age 45 for the Archdiocese of Portland in 1992.
… [one of my influences that led me to the priesthood] was my pastor at St. Joseph's Parish in Prineville, Fr. Thomas McTeigue, who died at age 45 in 1960. (He had a bad heart; I remember how he'd come to dinner and thoroughly salt his meat. I'm sure that wasn't good for him!)
Fr. McTeigue was a very holy man. As a bishop, I think I can appreciate that better. He was highly respected and widely admired by both his fellow clergy and the people.
He died at age 45, and I was ordained a priest at 45. So, in effect, I think of myself as having taken his place.
Bishop Michael Burbidge, Diocese of Arlington, Virginia
As a boy, I attended Most Blessed Sacrament Parish in southwest Philadelphia, which had 3,000 children in the grade school. A lot of the Catholic population has moved out since to the suburbs [Blessed Sacrament closed in 2007].
We were a close-knit community, living in row houses and freely going in and out of one another's homes. We were a connected parish with a real sense of community. 
Although I had a small family—I had one older brother who was four years older—we had extended family nearby. There wasn't a weekend when we weren't together. 
My parents provided me with a great example, and were very supportive of my vocation. We prayed before meals, had night prayers and said the rosary.
… There were eight of us ordained in 1984, the smallest class in the archdiocese since 1880. We like to say that it's about quality, not quantity. We had a strong sense of fraternity; every priest studied at the same seminary, St. Charles Borromeo, and we were formed in the same way. I remain very close to them today.
Bishop John Doerfler, Diocese of Marquette, Michigan
I had outstanding parents growing up. My mother and father were strong people of faith. One of my earliest memories was of my dad taking me to church. He had a devotion to St. Anthony, and they had a side chapel there where he'd go to pray.
My mother was a faith-filled woman who was a novice in a Carmelite monastery. She had a rich prayer life. I also had two uncles who were Capuchin priests. There was no time when I did not know and love God. I thank my parents for passing on the Faith to me.
When I was in high school, I was involved in youth ministry. I wanted my friends to know Jesus. It was during that time, in my junior or senior year, that the thought of priesthood flowed through my mind. I entered seminary after graduating high school.
Bishop Jeffrey Monforton, Diocese of Steubenville, Ohio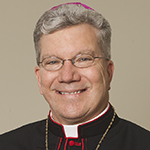 I was raised in a strong Catholic family. Both my parents practiced the faith. My mother is still alive, my dad died in 2013. We went to church, and were involved with some devotions. We were an average, middle class family, and there was no question of our Catholicity.
My two grandmothers first posed the question of me going to the seminary when I was in the eighth grade. I visited the seminary, but didn't see it in my future. Five years later I did enter.
Bishop Joseph Strickland, Bishop of Tyler, Texas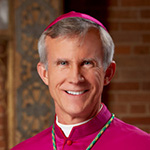 My father was a native of East Texas. He was raised Southern Baptist, but converted to Catholicism. My mother is from Sydney, Australia, but has an Irish Catholic background. So, I grew up with strong Catholic roots from the Irish, imported by way of Australia. In fact, there were two priests and one religious woman who were part of my maternal grandmother's family.
I was the fifth of six children. We were raised to understand what a treasure our Catholic faith is. My brother, 12 years older than me, went to the seminary for a time, but ultimately was not ordained. I think that planted a seed for me.
I was a regular high school kid; I played football and dated a bit. But, I also was thinking about a vocation to the priesthood, and at age 18, I decided to give the seminary a try. I went to Holy Trinity Seminary in Irving, Texas, and I was there for eight years and was ordained a priest in 1985.