Videographers Behind Planned Parenthood Exposé Beat Felony Charges
David Daleiden and Sandra Merritt escaped the charges, in part due to the close relationship between Planned Parenthood's attorney and the district attorney's office in Houston.
HOUSTON — David Daleiden and Sandra Merritt no longer have the prospect of 20 years in prison hanging over their heads as the price of undercover videos exposing Planned Parenthood's trade in aborted fetal tissue. On Tuesday morning, Harris County District Attorney Devon Anderson dropped the charges.
The decision marked the end of a five-month journey for Daleiden and Merritt, who had been slapped with felony indictments by a grand jury over the fake California drivers' licenses they created to do their undercover investigation for their organization, the Center for Medical Progress.
The dismissal of the charges also showed the curtain falling on the final act of the district attorney's own legal drama that seemed at the beginning, middle and end to revolve around her own staff attorneys botching the grand-jury investigation into Planned Parenthood's fetal trade business.
Peter Breen, special counsel to the Thomas More Society, a Chicago-based public interest firm that represents Daleiden, told the Register that Anderson's  office withdrew the felony charges at a Tuesday morning hearing in Houston, after Daleiden's legal team argued the grand jury had illegally switched its target from Planned Parenthood to Daleiden and Merritt. Breen said that the grand jury's term had been extended when they decided to indict the undercover investigators. But he said Texas law does not allow a grand jury to pursue a new line of inquiry and new potential targets after it obtains an extension for its investigation.
"The grand jury in Texas can only finish the work they are doing; they can't change course," said Breen. "That's what we contend occurred here."
He added that they had presented more arguments in their motion to quash the charges, but after hearing that argument, the district attorney's office gave up. It was the second major reversal for Anderson's prosecution after a federal judge in June threw out the misdemeanor count against Daleiden that charged he made an attempt to purchase fetal tissue from the abortion business in Houston for "valuable consideration."
However, Breen indicated that the biggest gift in their defense of Daleiden and Merritt came from Planned Parenthood Gulf Coast counsel Josh Schaffer, who revealed inside details of the grand-jury proceedings, which are meant to be secret and could only be known by getting them from inside the district attorney's office.
"There were really several different concerning things that came up, all based on the public crowing of Planned Parenthood's attorneys about the indictments," Breen said.
Jury Compromised
Back in January, the Harris County grand jury investigating Planned Parenthood decided that it found probable cause of criminal activity — not by Planned Parenthood, but by Daleiden and Merritt, who had gone undercover to the Planned Parenthood facility in Houston, posing as fetal-tissue middlemen from the California-based Biomax, a false corporation Daleiden had set up for his investigation.
The grand jury indicted Daleiden and Merritt on second-degree felony charges of tampering with government documents, carrying up to 20 years in prison. Daleiden faced an additional misdemeanor charge, which carried up to a year behind bars, for attempting to buy human tissue.
At the time, District Attorney Anderson defended the outcome of the case, as well as her pro-life record, telling the Houston Chronicle that "the inconvenient truth of a criminal investigation is that it doesn't always lead where you want to go."
However, doubts arose over the integrity of Anderson's office's handling of the case from the outset, as Planned Parenthood counsel Josh Schaffer made public the fact that the grand jury never voted on the charges against Planned Parenthood — a fact he could only have learned by a grand-jury secrecy violation — and instead pursued a line of inquiry he recommended to prosecutors in order to consider fresh charges against Daleiden and Merritt.
Schaffer later admitted in an affidavit that he kept in touch with Assistant District Attorney Sunni Mitchell and conveyed his belief that Daleiden and Merritt had broken the law by using illegal driver's licenses.
His affidavit also suggested that Mitchell may have gone so far as to abuse the grand jury's subpoena power to get video evidence into Planned Parenthood's hands that the Texas attorney general's office had already shared with Mitchell on the condition that she give it only to the grand jury and not Planned Parenthood, the target of the attorney general's investigation.
Although Anderson's office offered Daleiden and Merritt a plea deal involving probation, they rejected the deal on the advice of their attorneys. Breen explained they were right to reject the deal, which would have avoided the 20-year sentence, but would have been leveraged by Planned Parenthood in the three civil suits filed against them.
As it stands, they won an "important victory," and now attorneys for Planned Parenthood in those civil cases, and other prosecutors around the country, can no longer use the indictments to support their argument that the Center for Medical Progress duo was engaged in illegal activity.
"We very much hope that the message was sent loud and clear that David's conduct was not criminal, and undercover journalists should not be threatened by criminal prosecutions in this way," Breen said.
Reactions
However, Melaney Linton, president and CEO of Planned Parenthood Gulf Coast, said in a statement that the DA's decision to drop the prosecution of Daleiden and Merritt hinged on a "technicality." She added that Planned Parenthood "has been cleared of any wrongdoing time and again," whereas "Daleiden and other anti-abortion extremists, on the other hand, spent three years creating a fake company, creating fake identities and lying."
"When they couldn't find any improper or illegal activity, they made it up. They spread malicious lies about Planned Parenthood in order to advance their anti-abortion agenda," she said.
A number of pro-life leaders, however, praised the outcome of the case, calling Daleiden a "hero" and renewing their call to prosecute Planned Parenthood over the fetal-parts trade.
"Planned Parenthood needs to be held accountable for their horrendous business practices of betraying their clients and selling their babies piece by piece for profit," Kristan Hawkins, president of Students for Life of America, said in a statement emailed to the Register.
Lila Rose, president of the pro-life activist group Live Action, wrote on her Facebook wall, "It's now time for a special prosecutor to do what Planned Parenthood's own attorney admitted the DA didn't do: Ask a grand jury to look into Planned Parenthood's harvesting of baby body parts."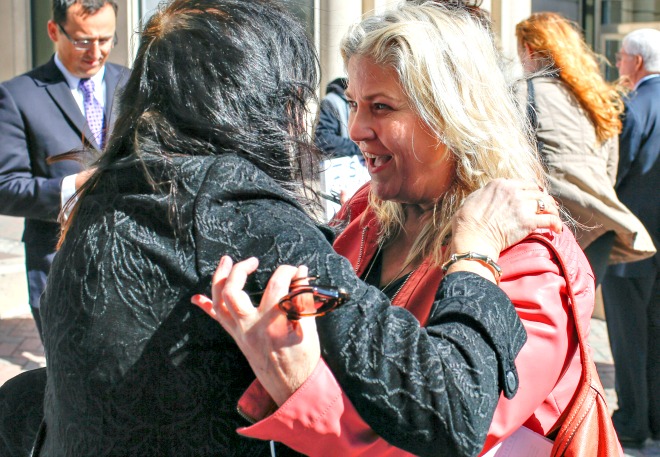 DA's Lost Pro-Life Support
The failed criminal case against Daleiden and Merritt did succeed in ruining the reputation of District Attorney Anderson as a "proud, pro-life Texan."
Two failed grand-jury investigations of abortion providers by her office — both involving Mitchell — followed by the attempted prosecution of Daleiden and Merritt form the three strikes that have cost Anderson her endorsement from Texas Right to Life's political action committee.
"It's unfortunate that there's not a pro-life candidate in the [district attorney's] race at this point," said Emily Horne, spokeswoman for Texas Right to Life. "The people of Harris County don't really have a viable option."
Horne was at the courthouse in Houston when the charges were dropped. She expressed dismay that the indictments were announced with such fanfare, whereas dropping them "never made a noise." She said this ends up damaging a person's reputation in the public eye, without ever trying to restore it.
However, the pro-life group is looking to the future and working with legislators to examine how they can strengthen Texas' laws and stop the trade of fetal tissue from aborted children.
"We think these children should not be for sale," Horne said. "But we hope that the other state authorities continue their investigations and that they find the truth."