This Time in the World Series, the Kansas City Royals Are Second to None
Bullpen catcher Cody Clark perseveres with the team through joys and challenges.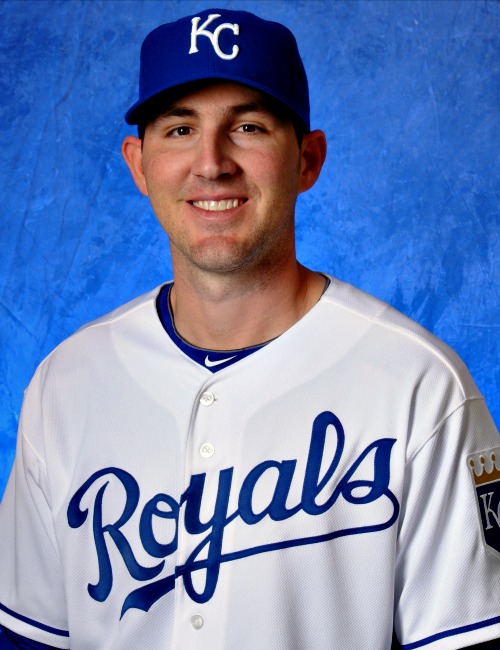 In 2014, the Kansas City Royals missed out on a World Series victory by the closest of margins, losing the deciding game to the San Francisco Giants by one run. The Royals' determination not to have the same thing happen again led them to a 4-1 series win over the New York Mets last weekend.
While the stage for the recent victory was bigger than ever, persevering through thick and thin is nothing new to the Royals' bullpen catcher, Cody Clark. The Fayetteville, Ark., native spent an unusually long time — 11 seasons — in minor-league baseball before being called up by the Houston Astros in 2013.
After attaining his goal of getting to the major leagues, Clark retired from playing baseball and began to work for the Royals in 2014. He spoke of the value of perseverance, and of his profound change of heart in 2011, with Register correspondent Trent Beattie.
Did you do anything interesting last weekend?
[Laughs.] Yes, we won a world championship. I'm sure it's fun for anyone to do, but what made it especially memorable for us was what happened last year. We came so close to winning it all, but were barely edged out by the Giants.
This year we were on a mission and were not going to be denied. It was a different mindset from the first day of spring training to the fifth and final game of the World Series. Unlike 2014, the question wasn't whether we'd make the playoffs; it was whether we were going to win the whole thing. We did everything we could to make that happen, and, thanks be to God, it did.
You're only 34 and were playing major-league baseball in 2013. Do you ever want to get out on the field and play in games?
I do, but God put me in the exact position I'm in now for a reason. If I were still playing, I might not be with the Royals, and I might not even be with a major-league team. Now I can serve guys on the team, especially the bullpen pitchers, and contribute in ways most people don't get to see. That makes it easier not to get puffed up with pride and get carried away.
Is that a struggle for professional athletes?
It was for me. During most of my playing career, I made baseball an idol. I placed it on a metaphorical altar and worshipped it. I thought of baseball as the be-all and end-all of life. I thought the greatest thing would be to play in the big leagues, and I became obsessed with that goal. It took me 11 years to reach that level, and, ironically enough, I reached it after I had stopped taking it so seriously.
In 2011, the Holy Spirit broke into my little world and told me to let go of my idol. It became clear to me that I was letting baseball choke the word of God right out of me. I was going to Mass, but didn't really get into it; it was more of a habit than a love. The Holy Spirit opened my eyes to what the Church has to offer, and I was profoundly moved by that.
Around that time, Jeff Suppan handed me a copy of Scott Hahn's The Lamb's Supper. Scott described how he had thought of the Book of Revelation before he encountered the Catholic Church, and then how he saw that very book right before his eyes in the first Mass he went to. What a lot of cradle Catholics dismiss or endure, Scott saw for what it was: heaven on earth.
When you finally see the Mass for what it is, it becomes a joy, rather than a routine or burden, to attend it. We have the extraordinary opportunity to praise and thank God, hear his word and receive his Body and Blood. The Mass completes us in ways that we could never do ourselves, because it's the Trinity working through us in order to raise us to new heights.
What would you say to Catholics who don't share this mindset?
Aside from The Lamb's Supper, what might help is Magnificat magazine, which I read every day. It assists in meditating upon and understanding the readings at Mass, which is something every Catholic should care about. I didn't used to, but now I let God's word sink into me, instead of just brushing it aside to pursue other things during the day. That makes prayer so much easier.
Continual prayer is a life-changing practice. When the Holy Spirit moves us with the love of God, we start to see things very differently. It becomes clear how we're called to communion with the Trinity and how that can only happen if we're praying steadfastly. Continual prayer puts us in a position to see the real value in things, rather than the value the world places on them.
When I started to pray more earnestly, I also started to enjoy the day-to-day things in baseball, rather than being consumed with a big goal beyond my immediate reach. I stopped mentally replaying what had happened the day before in games and let the past be the past. Letting go helped me to address the present better.
Then, by a strange paradox, the big goal of getting to the big leagues happened in a most unlikely way. I had not been playing all that well in 2013, and was even sent from AAA down to AA. In the first three weeks of August 2013, I did not play a single game for my minor-league team. Then, on Aug. 23, I got a call from the Houston Astros asking me to fill in for their injured catcher. I was so surprised, I couldn't believe it. Tears filled my eyes. After 11 years in the minors, I was finally going to play in the big leagues — and this was following such an unremarkable minor-league season.
I enjoyed my brief stint with the Astros and then decided to retire from playing baseball. I had done what I had set out to do, so it was time to settle down with a more regular job. I started working for the Royals in 2014 and became the bullpen catcher midway through the season.
As the bullpen catcher, which is sort of a coaching position, I draw upon years of playing baseball and also the experiences my father, Doug, has had as well. He was a coach for 35 years, including his time as an assistant during my freshman and sophomore years at the University of Arkansas.
You really do enjoy working for the Royals, don't you?
I do. Even if we hadn't won the World Series this year, the Royals would still be a great club to play for. We're a close team; everyone is on board for the purpose of playing well as a complete unit. We care about each other and enjoy working together. That's an enormous thing to be thankful for — going to work at a great organization every day.
Jeff Suppan and Mike Sweeney are emblematic of how the Royals operate. Jeff played for the Royals about four years, and the greater part of Mike's career was spent in Kansas City. Both Jeff and Mike are friendly and deal with people as individuals rather than numbers. Being recognized as a real person is so important, so that's how I try to act toward others.
Two real people close to my heart are my wife, Jordan, and our 1-year-old daughter, Finley. Getting married and being a father have expanded my horizons beyond baseball. Now I can say that my work life, spiritual life and family life are all on the right track, and they influence each other for the better.
Register correspondent Trent Beattie writes from Seattle.
His sports interviews are included in his book Fit for Heaven.