Schoolchildren in New York Are Ready to Meet Pope Francis
Students' Dioramas of Recycled Materials Reflect Papal Mission
EAST HARLEM, N.Y. — When the children of Our Lady, Queen of Angels School in East Harlem heard the news that Pope Francis was going to visit their school during his trip to the United States, they were ecstatic, to say the least.
"I was jumping up and down, I was so excited," said Ngueubou Kamwa, one of the fourth-graders selected to meet the Holy Father.
"It's amazing! I was running around in my house," said fellow fourth-grader Nicholas Maronaro, who couldn't contain himself, repeating, "This is amazing!"
"I feel very excited to meet the Pope," added third-grader Pedro Hernandez.
A week before Pope Francis was to visit the school — he visits the afternoon of Sept. 25, to meet with children and migrant families — the youngsters were working diligently on the projects to be presented to the Holy Father.
In the same room where they will meet Francis, they were sitting at yellow- and blue-topped round tables, occupied with putting the finishing touches on their dioramas.
A large image of Our Lady as the Immaculate Conception watched over them at the end of the classroom from a shrine-like setting. Above her was a crucifix.
Everything in the pristine room sparkled. Behind the youngsters, the bulletin board was lined with the neat compositions, all detailing how the students could put the Pope's words into practice in their lives and with their families. Their particular theme was spelled out in words across the top of the board, written on individual white clouds: "Laudato Si — Care for Our Earth."
Principal Joanne Walsh described how the third- and fourth-graders' dioramas were tied to the message of  the Holy Father's encyclical.
"It was all generated by the children, with their ideas," she said. "Everybody can't be here physically" for the Pope's visit, but it's a way everybody can be there "in spirit."
Pope-Worthy Projects
Each boy and girl described how he or she came up with ideas using recycled products, which made the dioramas themselves a lesson in conservation.
"I'm basically using things people would throw away," Nicholas said, as he described his detailed diorama of a home. He used an empty box of staples for the base of a living-room couch, with white bottle caps serving as legs, and a shirt neither he nor his sister could wear anymore became the seat cushion. A soup container became the bathtub, and cardboard and discarded aluminum foil made a showerhead.
To save water at home, Nicholas explained, "I'm trying to convince my family to take baths instead of showers."
Another empty staples box transformed into a kitchen stove, covered in black paper, with a pipe cleaner for the oven handle. The bureau's mirror reflected, thanks to a piece of aluminum foil saved from the trash. He made the bed pillow out of an old T-shirt that he had outgrown.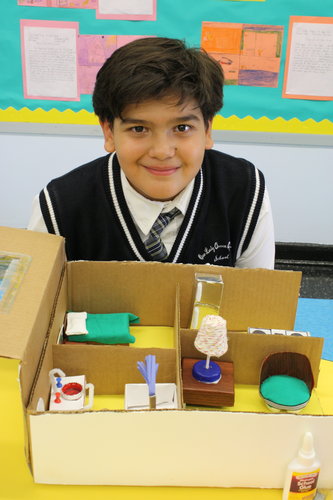 How does he hope Francis will react to his work? "I'd like the Pope to say he's very happy about what I did, because it took a lot of work."
Third-grader Allison Reyes is coming up with a plan to help the school's lunchroom waste less food, using her kitchen diorama as a model. In her display, a juice bottle was turned into a long counter, complete with stove and sink.
"Pope Francis is going to say he loves it because I'm using stuff for it we usually throw away, and I can reuse it so God's animals can live," she happily explained.
Pedro meticulously created his school's classroom in diorama form. "In the classroom, we open the windows so we don't have to use the air conditioner," he pointed out, swinging out a cardboard window on his display. He also added standing plants: "I was learning in class about plants and how they clean the air. They turn carbon dioxide into air safe to breathe."
Pedro made the classroom's desks from pieces of cereal boxes, with matchsticks for desk legs. The large white cross central on his classroom wall was designed in miniature from a foam plate.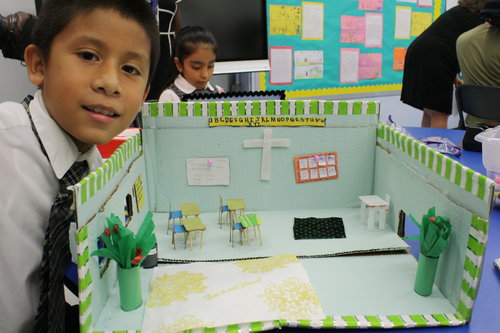 He hopes Pope Francis "likes it a lot, too."
Catholic Values
Principal Walsh explained that the education the children receive at the school is rooted in Catholic values.
"The blessing of Pope Francis coming here is an affirmation of the importance of Catholic schools and Catholic education," she observed. "We're delighted we have this unique opportunity to let the world know what we are doing here."
Walsh noted that many students are first-generation Americans, and education is their pathway to success. In fact, for more than 120 years, this school on 112th Street, serving the East Harlem community, has provided students with well-rounded, high-quality education anchored in Gospel values. The school works in partnership with families to build a strong community, also emphasizing personal responsibility, respect and service to others.
Standing at the classroom door to greet Francis when he enters will be Jill Kafka, executive director of the Partnership for Inner-City Education, which is a pioneering school-management organization that aims to shape the next generation of urban Catholic education. The partnership works with the Archdiocese of New York to manage six pre-K to eighth-grade schools in Harlem and the South Bronx.
Kafka believes the Pope chose the school partly because the school's mission matches with his papal mission: to reach all for Christ. The school's students are 70% Hispanic and 22% African-American.
"This is an innovative project happening here," Kafka said, adding that there's a real renewal of Catholic education taking place in the inner city.
"We want to hold ourselves and our school to a very high bar," she said, calling it a "new day for Catholic schools."
Indeed, the students, dressed neatly in their school uniforms, were exceptionally poised, happy, well-mannered and eager to share their projects.
"What we think the Pope's visit and what we're doing is shifting the narrative to urban Catholic-education roots in these communities," Kafka said. "We see this as an opportunity to take Catholic education and bring it back to what it's been known for, so these kids can excel and have everything for success."
If she had one question to ask Pope Francis during his visit, it would be: "How can you help us shine lights on the importance of saving urban Catholic education?"
Students' Questions for Francis
The boys and the girls would like to ask the Holy Father some questions, too.
"I'm going to ask him what kind of ice cream flavor he likes," said third-grader Itzamari Vasquez. Her guess? "I think he likes vanilla," she said. That's her favorite flavor, too.
Third-graders Allison and Pedro want to ask the Pope the same question, and they think it might be vanilla too, even though Pedro likes cookies-and-cream.
Nicholas would pose a serious question. Thoughtfully, he said, "I'd like to ask him: How did he survive with only one lung?"
Third-grader Aaron Diaz would take a different approach. He'd ask "if he's having fun as pope."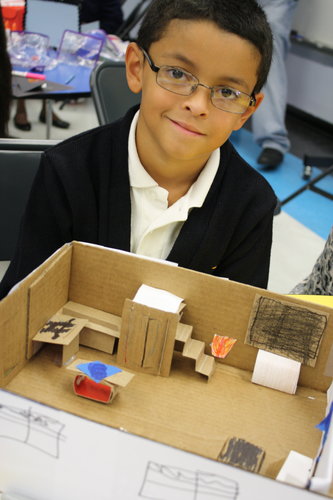 But Ngueubou doesn't have so much a question as a request. Both happy and serious at the same time, she said she'd want him "to always promise to come back."
Joseph Pronechen reported this story from Harlem.