Purdue QB-Turned-Priest Has Heavenly Game Plan for the Faithful
Father Thomas Haan of the Diocese of Lafayette, Ind., reflects on football and faith.
After passing his way into the state record books with 3,360 yards and 41 touchdowns as a senior at Lafayette Central Catholic High School in Indiana, Thomas Haan was off to Purdue University. He was thrilled to be on a Big Ten team in the fall of 2005, but realized after his freshman season that he had a higher calling than football.
Haan transferred to the University of Notre Dame for his final two years of undergraduate study and then enrolled at Mount St. Mary's in Emmitsburg, Md. He was ordained in June 2013 and is currently assigned as a teacher and chaplain at St. Theodore Guerin Catholic High School in Noblesville, Ind.
Father Thomas Haan spoke of his priestly calling with Register correspondent Trent Beattie in the context of football teams, past and present — including the Boilermakers, Fighting Irish and Indianapolis Colts.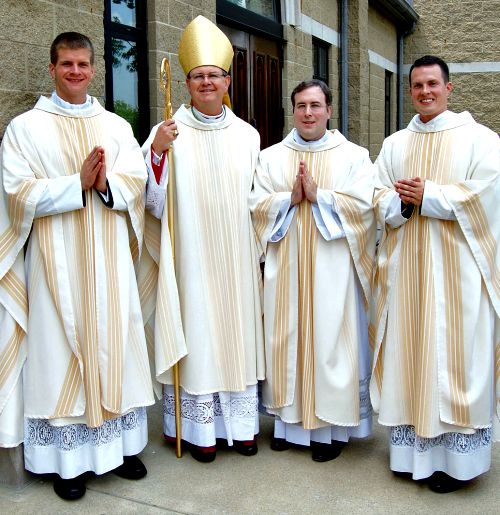 You grew up on a farm near Lafayette, Ind. Do you think that shaped your worldview?
It probably did, in a lot of ways. Some of my best memories from childhood were of bailing hay, assisting with the corn and soybean harvest and tending the cattle with my father. It wasn't just a hobby; it was a family business, our livelihood.
Because of their close association with, and reliance on, nature, farmers develop a simple but profound trust in God and his goodness. We knew we had to do our part through hard work, but then it was up to God to bless the work. He's the one who makes the sun shine and the rain fall, so farming can be an effective way of becoming a hardworking, humble and prayerful man.
Did those qualities help you set passing records as a high-school quarterback?
I know the hardworking part did. In order to produce on the field, you have to put in the work. There's no avoiding work on a farm, so that was good training for sports. What also helped was having coaches who liked to run a spread offense and pass at least 35 times per game. That gave me the opportunity to throw more than most high-school quarterbacks.
Before any records, playing football at all was also due to extra work. Basketball was my first love, but football came in because of my older brother, a wide receiver. When he was a sophomore in high school and I was in eighth grade, he had me throw the ball to him as hard as I could so he would be able to catch passes easily in games. Well, he was impressed with my power and accuracy and encouraged me to play. A couple of years later, I was throwing touchdowns to him in varsity games.
Growing up on a farm helped with basketball, too. My grandpa and uncles all had hoops attached to their barn haylofts, so I didn't need to go to a gym to get extra practice. All winter long, I could practice shooting. We even won the state basketball championship my sophomore year, which was an incredible experience, since basketball is pretty much in your blood as a kid in Indiana.
Although you didn't play basketball in college, you did play football. What happened when you got to Purdue?
I was an invited walk-on to the school's football team. I helped run the scout (or practice) team, which was a huge challenge, coming from a small high school and then going up against a Big Ten defense in practice. It was so much fun to compete against a bunch of future NFL players on our team, even though I didn't play in any games.
After my freshman year, we got a new quarterbacks coach, which basically meant I no longer had an opportunity to move up the depth chart. I did stay as a student at Purdue my sophomore year, but instead of being on the school's football team, I helped to coach junior-high football. It might sound odd, but that's where I really started to think about priesthood seriously.
How did that happen?
I liked to help the players develop their football skills, but I was thinking of how, more than wanting them to be great football players, I wanted them to be great kids and then great men — and then spend eternity in heaven. I was more concerned about their souls than whether they could throw a spiral.
I realized God wanted me to spend more time with him, so I started a more constant dialogue with him, inquiring what his will for me was. Around this time, my parish priest and cousin helped me to transfer to Notre Dame. I studied economics, but also philosophy in the Holy Cross Fathers' Old College Undergraduate Seminary. After graduating, I went to Mount St. Mary's Seminary in Emmitsburg, Md., to complete my studies for the priesthood, and in June of 2013, I was ordained for the Diocese of Lafayette, Ind., at the age of 27.
What would you recommend to a young man considering priesthood?
The top thing is what I'd recommend to anyone considering any vocation: and that is to deepen your prayer life. If you're not praying, you're going to have a very tough time discerning God's will for you. Regular reception of the sacraments and the advice of a good spiritual director are necessary, too.
One of the classes I'll be teaching this year at the high school is on Christian vocation. Regardless of whether someone is called to be a priest, religious or layperson (single or married), we are all meant to pursue sanctity. There's no question that each of us is called to the heights of holiness.
On the other hand, each vocation has its own challenges, so we'll go into what is expected from the baptized in different aspects of life and what can be done to meet those expectations. Most of the faithful are called to be married, so we'll certainly spend time on the true meaning of that sacrament, which has been distorted in various ways as of late. Done correctly, marriage is a beautiful, life-giving source of grace.
From marriage back to priesthood, what do you think is the most important thing for a priest to remember?
It's easy in parish life to get caught up in mission statements, projects and social functions, but the first task of any parish is to become an authentic school of prayer. Priests should not only lead public prayer and engage in private prayer, they should really take every opportunity to encourage the faithful to hold a continual conversation with God. This can only be done if the priest is giving an authentic witness as a man of prayer, a man who sees the Eucharist as his sustenance.
The most important thing for all believers is to actually live the Christian life in the midst of the world, at work and even on the sports fields, and this is only possible if we're praying as we ought. Without prayer, we're just not capable of doing many of the things God calls us to. With prayer, we are equipped with the very power of God to do these things. Humble and persevering prayer brings us much-needed grace.
What are your thoughts on the upcoming seasons for Purdue, Notre Dame and the Indianapolis Colts?
Purdue has had a series of lackluster seasons, so the fan excitement around the program has deteriorated. It will be interesting to see if second-year Head Coach Darrell Hazell can start to turn things around and bring the level of play up.
With Notre Dame, I'm interested in seeing how quarterback Malik Zaire will do, after Everett Golson transferred to Florida State. With Notre Dame's rich football tradition, there are always high hopes, so we'll see if they're met this season.
The Colts have a ton of great players, and they acquired even more during the offseason. Aside from playing ability, the Colts also have some quality human beings, starting with their GM, Ryan Grigson. I'm impressed by his Christian witness in an often thoroughly secular atmosphere.
That witness is much needed today.
Sports are so much fun to play, and they can be a great way to practice virtues like temperance, perseverance and courage. I've gained so much from sports, and I know lots of others have, too. What I want to underline, though, is that sports are not ends, but means. There is a lot of confusion about this today, since pro sports have become a multibillion-dollar industry.
Sports should be given their proper due, and no more. A humorous story from my early seminary days illustrates this well. I was scheduled for my first five-day retreat at Mount St. Mary's. The retreat happened to coincide with the BCS National Championship Game. Before starting the retreat, I had serious reservations about fulfilling the media-blackout requirement. I truly didn't know if I could forego the big game.
Well, despite my apprehension before the retreat, I discovered that much more important things than football were happening around and in me. The silence blocked out the diversions of daily life, and connecting with Christ in a more profound way through the Mass, Eucharistic adoration and meditation became central. At the end of the five days, I realized that the BCS game meant nothing, and Christ was everything. Now I can laugh at my former attachment to football.
It's a reminder of how fleeting things are here. It took years to develop that belief, but I started learning it when I was 7 and my 4-year-old brother died in a car accident. It was the first time I knew that someone who had been near me on earth was now in heaven. That's our destiny as Christians, so I want to lead as many souls as possible there, regardless of what happens in football.
Register correspondent Trent Beattie writes from Seattle.