Peru Fights Back Against Gender Ideology
NEWS ANALYSIS: Pope Francis schedules visit to Peru as Church leaders support the 'Don't Mess With Our Kids' movement.
LIMA, Peru — Under the banner "Don't Mess With Our Kids" (Con Mis Hijos No Te Metas), 1.5 million Peruvians protested a new national curriculum that seeks to impose "gender ideology" (la ideología de género) on students.
The initial protest in March captured global Catholic attention. Many Church leaders vocally supported the movement, which marched in 26 cities. Participants denounced new requirements that call gender a personal choice that is disconnected from biology and mandate instruction on sexual and reproductive rights, abortion, homosexuality and transgenderism.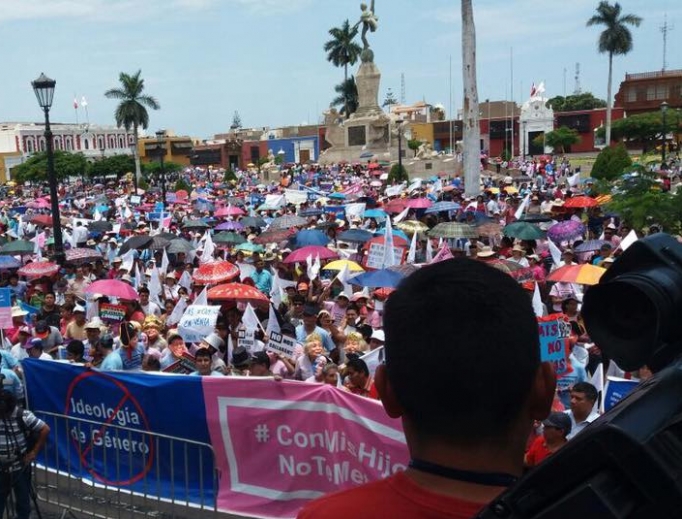 On June 1, "Don't Mess With Our Kids" deployed some 1,500 banners across bridges and major intersections to remind the elite, including President Pedro Pablo Kuczynski, the people "refuse to surrender."
Besides high-profile public protests, how have pro-family activists and the Church continued to challenge the ideologically motivated curriculum, instituted by the education ministry on Jan. 1 and condemned by Peru's Catholic bishops?
The pushback is especially relevant because 29% of Peru's 31 million people are under age 15.
Blocking Dangerous Ideology
Father Luis Gaspar, 42, episcopal vicar of the Archdiocese of Lima's Family and Life Commission, described the current state of play regarding the curriculum in an interview with the Register at his office in Lima.
Flipping through a neatly annotated copy of the document, Father Gaspar said the issue is "important because gender ideology is the source of other problems," including abortion and same-sex "marriage."
Besides public activism, lay Catholics have developed two paths of opposition, according to the priest: a legislative and a judicial strategy, with spiritual support from the Church.
First, citizens are collecting 60,000 signatures for a petition that will allow them to present a bill in parliament to block the education ministry's curriculum initiative. Opponents have a back-up plan — seeking a referendum if Peru's congress fails to pass the law.
In the courts, "Parents in Action" (Padres en Acción) has mounted a legal challenge against the Ministry of Education for implementing the guidance without consulting parents themselves.
The first hearing was held May 19 in the Superior Court of Lima and argued by a talented young law professor, Justo Balmaceda.
Who Is Promoting Gender Ideology?
The most overt source of pressure for changing the national curriculum is the United Nations, through its Organization for Education, Science and Culture (UNESCO).
In 1990, the positive-sounding initiative "Education for All" (EFA) was adopted by the United Nations to create global standards for education in every member country; in 2000 UNESCO was given the lead over six specific goals, including gender equality in education, to be achieved by 2015.
In 2011, UNESCO convened an international meeting in Paris on "homophobic bullying in educational institutions" and began interpreting the EFA goal regarding equal access to education as having special application to "LGBT" students.
This initiative culminated in UNESCO's report "Out in the Open," funded by the government of the Netherlands for close to $400,000, accompanied by a ministerial meeting, a video (co-sponsored by Norway) and a new commitment to develop "inclusive" curricula, materials and monitoring tools against "homophobic and transphobic violence."
As the Center for Family and Human Rights (C-FAM) pointed out in October in an article titled "UNESCO Promotes 'LGBT Rights' for Children," the United Nations is "using bullying as a pretext to mainstream homosexuality among children."
Peru's resident U.N. coordinator, María del Carmen Sacasa, congratulated President Pablo Kuczynski and his government by letter in March for achieving steps toward "gender equality," although the disputed aspects go beyond the need to offer girls equal access to learning.
The letter seemed timed to counter anti-curriculum marches organized by "Don't Mess With Our Kids."
Multiple Planned Parenthoods
Father Gaspar pointed to other entities aggressively trying to undermine the Church — and Peruvian values — using gender equality and access to health care as a foil: Planned Parenthood Federation of America (PPFA), Planned Parenthood Global (PPFA's international arm) and the International Planned Parenthood Federation (IPPF), which is also active in Peru.
PPFA encouraged a Peruvian group, the Center for the Promotion and Defense of Sexual and Reproductive Rights (Promsex), to complain to the United Nations about the government not providing abortion to victims of rape, using a rare case as exemplary. The U.N. committee monitoring compliance with the Convention for the Elimination of Discrimination Against Women (CEDAW) reviewed the complaint as a human-rights violation.
As a result, Peru was pressured to adopt a "therapeutic abortion protocol" in 2014.
PPFA's international presence developed some 45 years ago as Planned Parenthood Global. Peru is one of its five "focus countries" in Latin America.
Planned Parenthood Global runs a campaign Father Gaspar considers particularly pernicious: "Let Her Decide" (Déjala Decidir) portrays abortion as the necessary remedy for sexual violence, especially for children victimized by incest.
IPPF is active in Peru on the reproductive health front, promoting abortion, as well as "sexual diversity."
All three organizations consider abortion to be a facet of "gender equality" and an attribute of "sexual rights" — part of a merger of the abortion and gender ideology under the awkward acronym SRHR (sexual and reproductive health and rights) in the works via the United Nations for more than 20 years, as described in a document that portrays the Holy See as the main (and most effective) protagonist.
Abusive Programs
Carlos Polo Samaniego, the Population Research Institute's director for Latin America, has researched pro-abortion programs funded by Planned Parenthood (in its various guises) in Peru.
"These groups are abusing international programs of cooperation that were supposed to help poor people," he told the Register.
He added, "Instead of development or charity, funding is used to lobby politicians or change public opinion — even to denounce the country in front of international courts."
Polo and Father Gaspar both mentioned the existence of fear among people that the current government will continue advancing the left-wing, pro-abortion agenda from abroad.
"We are worried because the current administration is introducing gender concepts in every domain, from health to law enforcement," said Polo.
As Pope Francis explained last summer during World Youth Day: "In Europe, America, Latin America, Africa, and in some countries of Asia, there are genuine forms of ideological colonization taking place. And one of these — I will call it clearly by its name — is [the ideology of] 'gender.' Today children — children! — are taught in school that everyone can choose his or her sex. Why are they teaching this? Because the books are provided by the persons and institutions that give you money. These forms of ideological colonization are also supported by influential countries. And this is terrible!"
PPK and Soros
President Kuczynski, 78 (known throughout the country as "PPK"), is a certified globalist who went to work for the World Bank at age 23, after getting a master's degree from Princeton University. He moved on to various investment banks and the International Monetary Fund.
In 1980, he returned to his home country, Peru, to serve as minister of energy and mines for two years, but gravitated back to banking and business in the U.S.
In 2001, he returned to Peru's government as minister of economy and finance and served as prime minister under President Alejandro Toledo, who admitted taking $1 million from billionaire George Soros — a primary source of funding for "progressive" social causes around the world, from same-sex "marriage" to legalizing drugs and prostitution.
PPK himself has a long-standing relationship with Soros and his family. More than 20 years ago, he helped Soros double his investment in a Peruvian brewery, Compania Nacional de Cerveza. He helped Soros' brother, Paul, secure rights to mining deals at the Peru-Ecuador border.
And he was helpful with Newmont Mines, which owns controversy-racked Yanacocha, the largest gold mine in Latin America, located in Cajamarca, Peru. Soros has owned significant shares of Newmont stock.
The two men even serve together on the editorial board of International Economy magazine.
PPK won the presidency a year ago by a very slim margin against a conservative Catholic candidate, Keiko Fujimori, 42. However, Fujimori has the majority in the Peru Parliament, where she can block Kuczynski's agenda, which, according to local Catholics, is influenced by Soros.
Earlier this year, PPK began steps to legalize marijuana, beginning with medical marijuana, an issue Soros has passionately championed for decades.
Cultural Marxism vs. Cardinal Cipriani
At least two themes run through Soros' positions: His initiatives are destabilizing to the family and to the Church; they amount to cultural Marxism.
Tactically, he identifies local political allies and co-opts them to achieve his goals.   
Soros may have met his match in Peru, however, in the person of Cardinal Juan Luis Cipriani.
Cardinal Cipriani is a Church leader in St. John Paul II's mold: a decisive, brave leader whose vision brought peace to a place many considered lost.
The cardinal, 73, served as bishop of Ayacucho, the poorest region of the country that was gripped by a terrorist movement known as the Shining Path between 1980 and 2000. Some 70,000 people were killed as a result of the insurgency.
Father Gaspar, who comes from Ayacucho and attended seminary there, explained how Cardinal Cipriani took three specific steps to confront the endless violence.
He said the cardinal openly and publicly condemned the violence; reopened the region's seminary, closed for 15 years; and restored and reinvigorated Church charity work, despite the mortal danger for priests engaged in it.
Cardinal Cipriani retains tremendous political influence, being the only one who could arrange a meeting — as well as a shared prayer in the cardinal's chapel — between the president and political rival Fujimori.
As a result of public uproar, ministry officials now claim Peru's curriculum is simply about equality between boys and girls, but the cardinal won't back down. "Denying that gender ideology is in the curriculum plans is hiding in a falsehood," he said.
As "Parents in Action" awaits a court ruling — expected any day — on the education ministry's unilateral curriculum changes, the "Don't Mess With Our Kids" campaign is sure to maintain pressure on the government, with ongoing support from the Catholic Church. Cardinal Cipriani has proven to be fearless and would enjoy reporting a victory to his boss when Pope Francis visits Peru in January.
Senior Register correspondent Victor Gaetan is an
award-winning international
correspondent and a
contributor to Foreign Affairs magazine,
the Washington Examiner.