Ohio State Linebacker Goes From Walk-On to Scholarship Captain
Senior Joe Burger productively perseveres according to family tradition.
Coming out of high school in 2012, Joe Burger was not offered a scholarship to Ohio State University. Undeterred, he worked hard at contributing to the team in any way he could. His work has paid off, as he was awarded a scholarship last year. And now the linebacker is a senior captain of the football team.
This path to prominence is nothing new to Burger, however. His father and three older brothers all entered college without a scholarship and exited with one. It is fitting that sports are used to pay for Burger's schooling, since academics are the main reason he is at Ohio State. The engineering major is a three-time Academic All-Big Ten selection and may enter medical school after graduating in December.
More immediately, however, is the much-anticipated battle between the No. 2-ranked Ohio State Buckeyes (5-0) and the No. 10-ranked Wisconsin Badgers (4-1) on Saturday.
Register correspondent Trent Beattie asked Burger about football and faith leading up to the game.
You were initially a walk-on but eventually earned a scholarship and are now a team captain. Was that the goal as a freshman, or did you just take things one day at a time?
Getting a scholarship was in the back of my mind, but it was never the No. 1 goal. My No. 1 goal was always to contribute to the team — to put in the effort in the weight room, on the practice field, watching tape of upcoming opponents, and then, if given the shot, to play well in games. It's great to have schooling paid for and also to be a captain, but even if neither of those happened, being a productive part of the team is the most important thing.
It's funny, too, because my route in college has become a family tradition. My dad started out as a walk-on with the Notre Dame football team and then earned a scholarship; my oldest brother started out at as a walk-on at Dayton and transferred to Notre Dame and earned a scholarship; my second-oldest brother was a walk-on golfer at Dayton and then earned a scholarship; and my third-oldest brother did the same thing in golf at Xavier. So, far from being odd, what I've done is par for the course in my family.
The past four seasons Ohio State has gone 50-4 and this season is 5-0 and ranked No. 2 in the country. Do you ever get bored with winning?
That's something we're always guarding against. It's easy to become complacent and get lazy, but once you do that, the results aren't there. We have great coaches who keep motivating us. Our defensive coordinator, Luke Fickell —who is Catholic and has six kids, by the way — helps us prepare hard for our opponent each week. He says that the world will lie to you about how wonderful you are, so you need to stay focused, work hard, play each opponent one at a time, and have in the back of your mind the aim to play the very best at the end of the season.
Is it tough to be humble on campus as a football player?
For me, it's not tough, because I'm not that much bigger than your average guy and Ohio State is a huge school. I'm 6-foot-2 and 230 pounds, and there are around 60,000 students here, so most of the time I don't think other students even know who I am. In my engineering classes, no one asks for autographs or anything. They just want to learn about engineering.
What do you enjoy most about football?
The No. 1 thing is the brotherhood experienced on the field. We come together and work toward a common goal, so over the years we have shared experiences that take us beyond what we could do on our own. That's the great thing about football — you really need other teammates to do well. Everyone has to be on the same page and move forward with the same mindset. You can't do much of anything on your own in football, and I like that. It helps to bring you outside of yourself, learn about others and grow as a human being.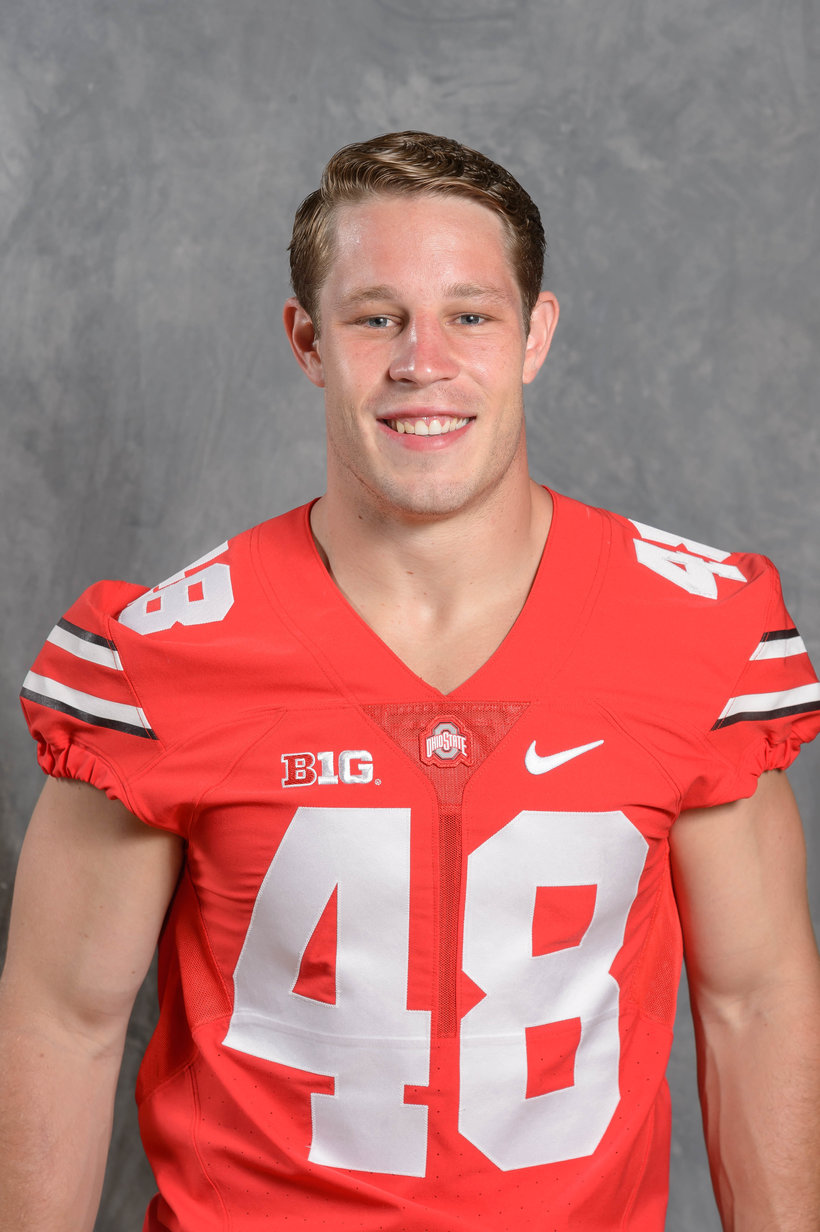 Have you grown in your Catholic faith at Ohio State?
I think so. It can be tough being away from family and in a new setting. I kind of felt isolated early on, and I did stray a couple times in college, but it seems like people are always drawing me back to where I should be. Bryce Haynes did that for me, and we would attend Mass together frequently while he was here. Coach Fickell is a great influence on me, and so is our strength coach, Mickey Marotti, who is also Catholic, as is our head coach, Urban Meyer.
One really important thing I've learned is how to pray better. Instead of rushing into prayer and then back out of it, I've learned to consciously take a second to be in the presence of God. Prayer isn't supposed to be a multiplication of words, but a simple, humble connection with God. If we don't stop to take a breath and relax in his presence, we aren't really praying effectively, no matter how many words we might say.
Oftentimes, with men in general and maybe especially for myself as an engineering major, we can try to fix things quickly. That can be a hindrance to good prayer, because we might go into it expecting a "quick fix" on the things outside of us. What I've found, though, is that when I pray well, it's not usually a matter of things outside me being changed, as it is a matter of things inside me being changed.  There's an improvement of life simply because I'm looking at things with eyes of faith.
Do you have a favorite Catholic book?
My engineering studies keep me pretty busy, but The Pope and the CEO by Andreas Widmer is a book my dad gave me. The author was in the Swiss Guard and then became a businessman. In the book, he gives leadership lessons he learned while protecting Pope John Paul II and which he expanded in his business career. He's now director of entrepreneurship programs at Catholic University of America.
It's not a book, but I did read the recent interview with Patrick Towles at the Register. He and I both received the "That's My Boy" award in high school — him for northern Kentucky and me for southwest Ohio. I saw him only once after that, so it was great to see what he's up to. I knew he was faithful in general, but I didn't know he was Catholic. It's impressive how he has a mature view of things at his age.
What do you plan on doing after you graduate in December?
I'm still thinking about that. I'll probably get into collegiate coaching or go to medical school. My dad, just like Bryce's dad, is an orthopedic surgeon, so with coaching or medicine, I'll be doing something I'm familiar with already. Whatever path I end up taking, I'm thankful for the experiences I've had at Ohio State — not just the football ones, but the academic ones, too.
That's something my parents like to remind me of — that the No. 1 thing about college is academics. Even though football is the most visible thing, it's really an added benefit, rather than the main deal. My parents — and my grandpa — also like to remind me to pray and go to Mass. "Be sure to get to Mass tomorrow" is something my dad will say when we talk on Saturdays, and my grandpa will remind me of how important prayer is, and he mentions St. Joseph specifically, since he is an awesome saint and I have his name. It's easy to be a Catholic with the family, friends and coaches I have been blessed to be connected with.
Trent Beattie writes from Seattle.
His book, Fit for Heaven (Beacon, 2015), contains numerous Catholic sports
 interviews, most of which have appeared in the Register.