Murder of Mississippi Nuns Stirs Questions, Revives Death-Penalty Debate
The families of Sisters Margaret Held and Paul Merrill have said they would ask local prosecutors not to seek the death penalty for confessed murderer Rodney Earl Sanders.
DURANT, Miss. — Amid her busy days as a nurse practitioner in rural Mississippi, School Sister of St. Francis Margaret Held looked forward to celebrating her 50th anniversary as a woman religious in 2017.
But on Aug. 25, the Wisconsin native, along with her colleague and friend, Sister of Charity Paula Merrill, was found brutally murdered at her home in Durant, Miss.
The killings of the two 68-year-old religious sisters have shocked Catholics across the country and left an impoverished local community without two experienced nurse practitioners.
A suspect, Rodney Earl Sanders, 46, of Kosciusko, Miss., is already in custody and has been charged with two murders, after confessing to the crimes. 
Yet in the immediate aftermath of the stabbing deaths, the sisters' families and members of their religious orders made clear that they would ask local prosecutors not to seek the death penalty.
"We want to reiterate our beliefs as women of faith, that we value life," read the joint statement released on Aug. 28 by the Sisters of Charity of Nazareth and the School Sisters of St. Francis.
"For years now the Sisters of Charity of Nazareth and the School Sisters of St. Francis have worked to abolish the death penalty, even as we seek justice and truth. Let us hold everyone involved in prayer."
During an Aug. 29 memorial service for the sisters at the Cathedral of St. Peter in Jackson, Miss., Franciscan Father Greg Plata, the pastor of the sisters' parish, St. Thomas the Apostle Church, affirmed Catholic moral doctrine, which opposes the use of the death penalty in most cases.
"I said in my homily, 'A heinous crime deserves punishment, but it does not deserve revenge,'" Father Plata told the Register in a telephone interview that applauded the position of the two religious orders.
"One of their own sisters was taken from them, yet they are willing to put Christianity on the line and say, 'The taking of another life is not acceptable.'"
Meanwhile, Bishop Joseph Kopacz of Jackson has sought to provide further context for Church teaching.
"If we execute someone, we take away any opportunity they have to repent and develop a relationship with God in this life," explained Bishop Kopacz in comments made available to the Register.
"We recognize the need to keep violent or unstable people away from society, but we must also give them the opportunity to heal from what may or may not have happened to them. We must treat them with dignity and mercy."
"God will be their ultimate judge. We are looking for justice tempered with mercy," said Bishop Kopacz.
Weighing Capital Murder
Under Mississippi law, capital murder is a killing committed along with another felony, and punishment can extend to execution by lethal injection or life in prison.
The suspect has been charged with two counts of capital murder, as well as one count of burglary and one count of grand larceny.
According to an Associated Press report, Sanders did not provide a motive when he confessed to the killings.  The brutal nature of the double homicide could influence the sentence.
"Unbridled love and care for mankind has been met with unparalleled savagery," read a statement released by Mississippi Secretary of State Delbert Hosemann, who called for "swift" justice.
"We are going to consider the heinous nature of the crime and their wishes," District Attorney Akillie Malone-Oliver said in an Aug. 29 statement, which referred to the clearly stated position of the religious orders and the families of the sisters.
However, it is too soon to say whether the religious orders will be able to influence the outcome of a high-profile murder case.
John Czarnetzky, a law professor at the University of Mississippi, emphasized that Catholics represent a tiny percentage of state residents, and most Mississippians support the death penalty.
"The average Mississippian is going to be pro-capital punishment, and the Catholic perspective would be a distinct minority perspective," said Czarnetzky, a Catholic, who applauded the important ministry of women religious in his state.
"Will the example of the sisters' families be a moral impetus to change people's minds?"
"My prediction is that it will be something that people admire," Czarnetzky added, "but I am skeptical whether it will move the needle on this issue."
But even as the shocking case has revived a public debate about the morality of capital punishment in this state, those who loved and cherished the two sisters have struggled to gain spiritual solace as they celebrate a legacy of service to the poor and consider the dark events that accompanied the sisters' deaths.
'Outsized Role' in Local Community
Both sisters worked as nurse practitioners at Lexington Medical Center, which served an estimated 8,000 people over the past year, including patients who struggled to pay for medications that help with chronic conditions, like diabetes. 
"Both Sister Paula and Sister Margaret did a lot of advocacy, working with pharmaceutical companies to help patients get the medicine they needed," Sister of Charity Maria Vincent Brocato, 86, told the Register.
"And when a woman wasn't able to be cared for at home, the sisters were able to place her in a nursing home."
While the clinic provided primary health care to about 25% of the local population in this racially mixed community that mostly depends on jobs in agriculture, the sisters also served as informal counselors.
"Sister Paula would say, 'People don't care how much you know until they know how much you care,'" said Sister Maria, who has known the younger sister for more than 50 years, and then paused to gain control over her emotions.
School Sister of St. Francis Michele Doyle, a frequent visitor to Durant, was also struck by the sisters' outsized role in their small local parish, where they participated in weekly Bible study, sung in the choir and brought Communion to the sick.
After the sisters' deaths, Sister Michele attended the packed prayer service at St. Thomas the Apostle Church, where hundreds gathered to mourn their loss.
"It was so touching. The sisters were so loved by the community — black, white, priests, religious, Catholics, non-Catholics — they all felt the same about Sister Margaret and Sister Paula," said Sister Michele.
Sam Sample, a parish leader at St. Thomas the Apostle, which shares a pastor with three other churches, told the Register the sisters had a gift for being fully present to the person in front of them.
"When you spoke with them, you thought, 'I am the most important person in this person's life.' They seemed to be truly interested in everybody," Sample said.
Sample and his wife, Jamie, the parish music director, were close friends of Sister Margaret and Sister Paula. And on Aug. 25, after someone called to say there were inquiries about one of the sisters' cars, Sample drove over to their home and found police cars parked in front.
He was shocked to learn that the police had found the two sisters' bodies and had begun an investigation into a double homicide.
"It felt like a horrible dream. This doesn't happen here," said Sample, who stood vigil at the sisters' home until their bodies were removed.
Though Sample also opposes the death penalty, he is struggling to make sense of the events that led to the sisters' deaths.
"What could have gone through" the killer's mind? he mused, as he described the sisters as "two of the most gentle souls you could ever come across."
"If someone came to the door and asked for anything, they would have given it," he said.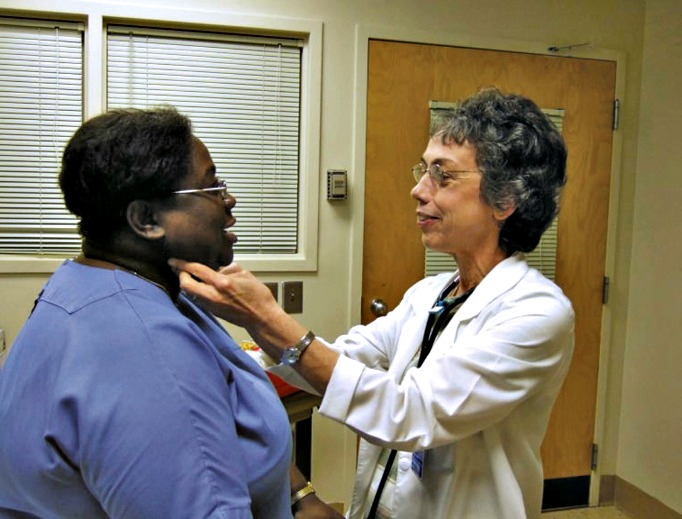 Transcending This Dark Moment
The senseless killings have left the Samples and many others who knew the sisters heavy with grief and searching for answers. But their deep loss has been lightened by unexpected moments of transcendence.
Diane Curtis, a spokeswoman for the Sisters of Charity of Nazareth, described an unforgettable encounter between several Sisters of Charity and the wife and stepson of the suspect.
On Aug. 28, four members of the Sisters of Charity community traveled to Durant for the arraignment of the suspect, Sanders.
After the arraignment, when Sanders was escorted out of the courtroom at the Durant Police Department, his weeping stepson walked over to Sister of Charity Susan Gatz and embraced her.
Both the teenager and Mrs. Sanders "apologized to the sisters and family members. It was a very powerful, grace-filled moment," said Curtis.
The experience of reconciliation in the face of savage violence offered solace to all those present in the courtroom, though Curtis acknowledged that many questions remain unanswered for the time being.
"All we know is that these two sisters are gone. We don't know why," she said.
For now, those who mourn the sisters' death can only turn to their common faith for strength during the difficult days ahead.
"The day after the nuns were murdered, the Gospel reading was Matthew 25:13: 'Keep awake, therefore, for you know neither the day nor the hour,'" when Christ will come for us, noted Sam Sample.
More recently, he opened a book of daily reflections from Pope Francis and pondered an exhortation to "respond to evil with good."
In this Jubilee Year of Mercy, Sample has not questioned the Church's teaching on capital punishment. But he does believe that his capacity to forgive and to find hope amid the gathering darkness is being tested in deeply painful and unexpected ways.
"Something is going on that we can't begin to understand," he said quietly.
That said, he also believes that Sister Margaret and Sister Paula continue to guide his spiritual progress during this uncertain time, and he pointed to the readings cited above as an example of the help they have provided.
"Right at the time that we need them," he said, "the sisters seem to be working behind the scenes to provide us nourishment for our souls."
Joan Frawley Desmond is the Register's senior editor.