Monks, Beer and Christendom
A New York Gathering for Religion and Culture
NEW YORK CITY — When St. Benedict founded his famous abbey at Monte Cassino in 530, he aimed to sanctify his fellow men by the worship of God. It never occurred to him that his monastery would be a major step in the eventual formation of Christendom: the centuries in the later Middle Ages when European society and culture were infused with the ideas and principles of the Catholic faith.
Now, nearly 1,500 years later, a group of New York-based Catholics are looking to St. Benedict's sons in hopes of reviving these faith-based principles in an America that has grown increasingly secular in recent decades.
On Oct. 7, the feast of Our Lady of the Rosary, the Lumen Christi Association of New York (LCA) hosted a well-attended evening of conversation and conviviality as a fundraiser for the Benedictine Monks of Norcia, Italy, who came to New York to share their mission — as well as their newly released Gregorian chant CD and the beer that they brew on their monastic grounds — with guests from the New York metropolitan area.
Lumen Christi draws its inspiration from the Catechism of the Catholic Church: "By constantly evangelizing men, the Church works toward enabling them to infuse the Christian spirit into the mentality and mores, laws and structures of the communities in which they live" (2105).
To help bring religious truth back into the American cultural conversation, the LCA invited the Benedictine monks and Ross Douthat, a Catholic and New York Times columnist, to discuss the issues of secularism and religion in America and the West today.
"There is an inextricable link between religion and culture," explained Father Richard Munkelt, chaplain of the LCA and emcee for the evening's program. "Religion is culture's very soul."
Without religion, Father Munkelt continued, culture breaks down into a number of competing secular claims, none of which is capable of speaking to the human heart or of properly ordering society. When the truths of Christianity become an accepted guide to public life, society and culture are able to flourish and help direct citizens toward their true end, God. For this reason, the LCA exists to promote events pro fide et cultura, for the benefit of faith and culture.
After an hour of informal conversation, during which guests were able to sample the monks' two types of beer, Father Cassian Folsom, prior and founder of the Benedictine community, addressed the audience. Father Folsom began his own rebuilding project in 2000, when his then-two-year-old community was invited to take up residence in an empty monastery in Norcia, the birthplace of St. Benedict. Abandoned 200 years earlier, during a period of anti-religious fervor under Napoleon's rule of Italy, the Benedictines moved into the monastery that was missing 90% of its roof and began rebuilding. For this community of 20 monks, which includes many Americans, the physical tasks of rebuilding parallel the spiritual rebuilding that is needed in the increasingly secularized West.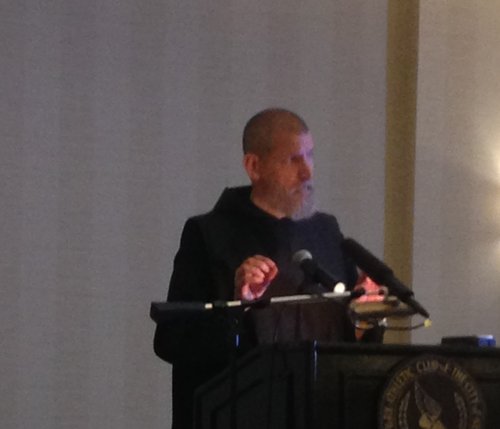 Father Folsom spoke about the challenges of building a monastic culture — one in which the Benedictine life of prayer, work and consecration to God infuses one's entire life — in a world so saturated with secular images and messages. He said that the monks' primary objective is the worship of God, which then shapes everything else that they do. This includes their work of brewing beer, a task begun by the initiation of a monk from Texas in order to provide income for the monastery.
"Beer is a hook for evangelization," Father Folsom explained. "People come to the monastery to buy beer and end up talking about more serious things." To great laughter from the audience, he presented a slight alteration of a famous line from Hilaire Belloc more in tune with his monastery's work: "In Catholic circles there is much good cheer, with fine friends and strong beer. At least I've always found it so. Benedicamus Domino."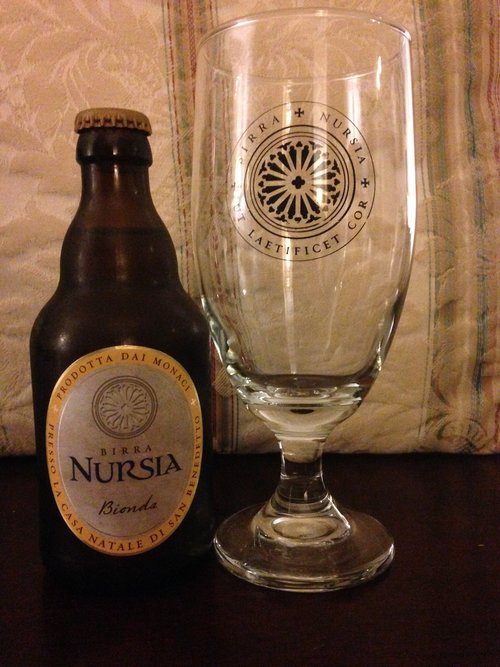 Keynote speaker Douthat then addressed the audience on the topic of "Religion and the Fate of the West: Being Catholic in a Secular Age." Douthat, who converted to Catholicism along with his family at age 16, declared that "secularism is weaker than you think. The ordinary run of human experience tends for people reaching for the numinous." He cited surveys and polls that show that as many people today believe in the supernatural as earlier generations. What has declined is not belief, but institutional religion, and he gave four reasons for this: political polarization, the sexual revolution, cultural affluence and relativism. He noted that the bestselling book Eat, Pray, Love "is St. Augustine's Confessions" for today, since it clearly presents the individualized spiritual yearnings of so many people today.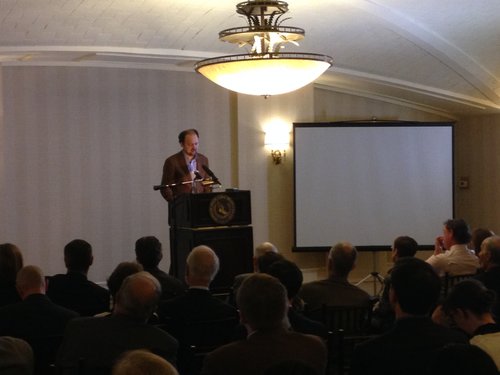 At the end of the evening, when asked to predict the future of Catholicism in America, Douthat hesitated. "I'm wary of saying that because we know the past we know the future."
He was, however, positive about current prospects for evangelization, which "is easier because people do have a spiritual yearning." In a world where people are hungry for authentic relationships, he stated that "Christian community rightly lived is attractive to people" and can help bring them to the faith. He pointed to the Benedictine monks as a tremendous living example for this: "The revival of monastic tradition is the type of project that can contribute to the revival of Christianity."
In the heart of New York City, perhaps the most secular city in America, those in attendance, enlightened and enthused by the presence of the monks and by their fellow believers, could not help but agree.
David G. Bonagura Jr. writes from New York.