Indianapolis Colts Have the Reitz Stuff in the NFL
The Colts' offensive lineman Joe Reitz searches for perfect balance of faith, family and football.
For someone who did not play football in college, Joe Reitz has come a long way. The 6-foot, 7-inch, 320-pound Indianapolis Colts' offensive guard helped his team get to the AFC Championship Game last season and is hoping to go even further this season. He knows this will not be easy, but he enjoys making the necessary effort every day to make it more likely.
Reitz also enjoys spending quality time with his wife and three children, who inspire him to reach beyond himself and be a better man. Reitz's image of manhood has matured through his familial interactions, which are interwoven with a greater understanding of his Catholic faith. The Indianapolis native, who turns 30 on Aug. 24, has learned by trial and error that the most important part of life is relying on God.
Reitz spoke of his life's journey with Register correspondent Trent Beattie in anticipation of the Colts' preseason opener against the Philadelphia Eagles on Aug. 16, which the Eagles won, 36-10.
In the playoffs earlier this year, you defeated the Cincinnati Bengals and Denver Broncos, but then lost to the New England Patriots in the AFC Championship Game. What are you expecting this season?
What drives every NFL team is the goal to hoist the Lombardi Trophy over their heads at the end of the season. That's our team aspiration, but in order to achieve it, we have to take care of business now, one practice at a time and one game at a time. We're trying to be the best we can be, today, and after so many "todays," we can hopefully look back and see the path to victory. It will be tough, though, because 31 other teams have the same idea in mind.
You were an all-state football player at Hamilton Southeastern High School in Fishers, Ind., but did not play football in college. How did you get into the NFL without that experience?
Growing up in Indiana, you're fed the importance of basketball from birth. It's the top sport in the state, so that heavily influenced my decision to focus on it rather than football when I went away to college. That decision helped and hurt me, as far as the NFL goes. The help was that I gained some athleticism and footwork that contribute to being an offensives lineman, and I probably stayed a little healthier than I would if I had played football. The hurt was that I lost the extensive football experience that other players were getting.
After playing four years of basketball at Western Michigan University, I decided to try to get onto an NFL team. I tried out for the Baltimore Ravens in 2008 and made their practice squad. That lasted for a few years; and then, in 2010, I joined the Colts and eventually made the active roster. It's not too often that you hear of someone making an NFL active roster without having played football in college, but I was blessed to be able to do it.
What do you like most and least about playing football professionally?
What I like most is found in the game itself, not just the professional aspect. That's playing on an offense of 11 guys, especially the other four making up the offensive line, who all have to be on the same page if we're going to get the job done. We have to function as one cohesive unit, rather than a bunch of individuals. Even if only one of the 11 guys messes up, it can ruin the whole play.
That leads into the toughest part about the NFL. Here, you're at the pinnacle of football.  There are no easy days at practice or games, as if you could just coast along. Everyone else in the NFL is talented and athletic, so if you're not prepared, you'll get embarrassed really quickly. Being kept "on your toes" is a good thing, but it certainly doesn't make practices or games easy.
One of the things that helped me so much early on in my career was getting advice from older, more experienced players like Matt Birk. He was selected to the Pro Bowl six times, so he knew what he was doing. He had learned a lot from veterans when he was a young player, and then I gained a lot of football intelligence from him while we were both with the Baltimore Ravens.
Not only was Matt a great football player, but he was — and is — a great man of faith. He has deeply held beliefs that guide his life, which is inspiring to me. Matt has six kids, so you know his pro-life comments are not just empty words; they're something he lives out in his own family.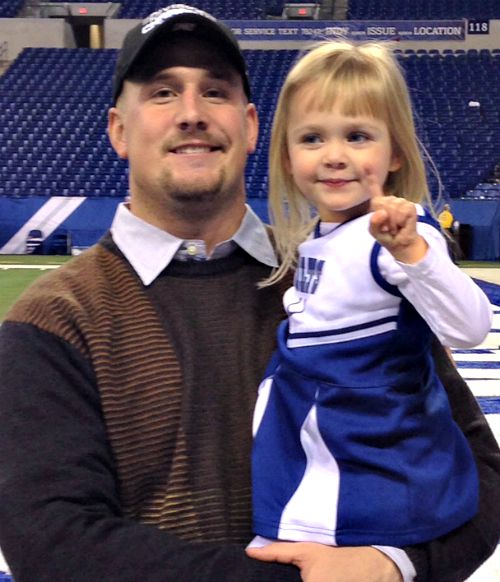 What do you appreciate most about family life?
I really like how it makes you more selfless. You have to think of your wife and her needs, but we both have to be especially attuned to the needs of our three kids. They always seem to have something that demands our attention, so we can't just put them off until later; we have to help them now.
Being part of a family makes you more humble, because you see that your own interests don't matter, and if you open yourself up to others through love, their interests actually become your own. You even delight in putting self aside and loving your kids without expectation of another reward, because the loving itself is the reward. Being a father means you're blessed to bring kids into the world and be a guiding force in their lives.
I also like praying as a family every night. It shows the kids how important faith and prayer are and how we are all one united family. My wife, Jill, is a convert, so it makes things even more special, because we don't take it for granted that we all have the same beliefs. It's something we're able to see as a real blessing.
What do you appreciate most about the Church?
The universality of the Church, or in other words, its very catholicity is something I value. The word "catholic" means "universal," so it is a fitting description of the Church, because Jesus wanted every man and woman from every nation to be a part of it. He didn't tell the apostles to teach and baptize some nations, but all nations, because his love extends to everyone.
My parents helped me and my three siblings to see this as we were growing up, in that my parents were big on doing good works for others. We would regularly volunteer at the local food pantry, which makes you get outside of your own limited social circle and into the greater community.
Something else I like to do is go to a men's group at my parish here in Carmel, Ind. We meet every week to talk about faith and family, what it means and what it takes to be a loving husband and father who leads his wife and children to heaven.
I also like to do an indoor football and basketball camp at the parish I grew up in every February. Around 60 to 70 kids come every year, and a lot of parents and high-school students help out in order to make things run well.
Do you have a favorite Bible verse?
Philippians 4:6-7 is a favorite passage of mine. It reminds us of how essential it is to put God first, because then everything else drops into its rightful place. When we praise, thank and petition God, we're demonstrating how he knows best and wants to help us. This brings down the grace we need to live out his commandments.
When I look back on my own life, I can see that the times that did not go smoothly were those in which I did not put God first. I wasn't praying or reading the Bible as much as I should have, so it should have been expected that things would be rocky. When things started getting better, it was because of how I made an adjustment and become a more committed Christian.
I've also found that the "peace that surpasses all understanding" in Philippians 4:6-7 comes from the sacraments. Going to reconciliation brings a ton of peace, because things are put in the right order. You're admitting that God is in charge, you're the sinner, and you need God's help. This process of salvation is capped off by receiving the body of Christ in the Eucharist, the perfect medicine for our souls.
Do you have a patron saint?
I chose St. Michael the Archangel as my confirmation patron. I was drawn to the image of him conquering the dragon with his spear or sword, because it was a masculine ideal I wanted to emulate in high school. At the time, it may have been more about earthly battles centered on sports, but, as the famous St. Michael Prayer makes clear, life is really about winning the battle for salvation. This is what St. Michael helps members of the Church militant to do, so that one day we can be a happy family with our Father in heaven.
Register correspondent Trent Beattie writes from Seattle.