Drawing Saints: Seattle Artist Puts Love of Holy Lives on Canvas
Tracy Christianson combines her talent for portraiture with her devotion to the Church.
Looking for a picture of a particular saint? Ask artist Tracy Christianson, who paints portraits of saints.
Providence appeared to lead the way to this artistic vocation. Christianson remembers how, in first grade, she was already drawing presidents. Later, she worked for a sportswear company illustrating the company catalog.
"I always loved to draw and always loved portraiture," she told the Register joyfully. Then she started doing celebrity likenesses, but soon received word that, legally, celebrities own the rights to their images.
That fork in the road prompted Christianson to combine her love for portraiture with her love for the Church.
"I started drawing angels, then Our Lady, and everybody loved them."
"Nobody own the rights to the saints," the Seattle-based artist also realized, so she began drawing holy images.
"There are over 10,000 canonized saints, so I'll never run out."
It didn't take long for her sister Dixie Foster to convince her to set up their website, Portraits of Saints (PortraitsofSaints.com) in 2011.
"The demand was great," Christianson said, "and every day I get requests from people — 'Can you do this saint? Can you do that saint?'" She enjoys hearing about people's special devotion to particular saints.
Medium Is the Message
For her portraiture, Christianson's medium of choice is colored pencils. "You can use colored pencils so well," someone once advised her. "Do what you do best."
As a result, she has been told her portraits are beautifully detailed, with a depth in the way they communicate. They are meant to seem to be reaching out, with a spiritual purity reflected in their faces and postures. In her efforts to make the saints approachable, Christianson said she often hears: "They look like real people."
In addition, her portraits of Jesus' agony in the garden are depicted so as to draw viewers to enter into his suffering, and ones of Mary are meant to capture her sublime innocence.
"I do a lot of praying," Christianson explained of her painting methodology. "I do ask the saints to intercede for me. There's a God-given talent, and you have to love what you do and love what you're drawing. I love the saints, I ask for their help, and I feel like it shows. That's what people tell me — 'I can really pray to that saint.'"
Christianson researches each saint before she picks up her pencils. "There's as much time spent in researching the saint as in drawing them," she said. She will use photos or a portrait of a saint done during his or her lifetime as a guide, but she added, "I try never to copy anyone else's work. I look at everything done, then create my own."
For saints without readily available images, she creatively details what they might have looked like, discerning what symbols are associated with them to include. Her imagery of St. Thérèse of Lisieux, of course, includes roses and a crucifix, while St. Louis holds a crown of thorns because he owned what was believed to be the relic of Our Lord's Crown of Thorns.
Famous to Unfamiliar Saints
Christianson's gallery of 280-plus portraits — new images are added regularly — includes many of those readily familiar with Catholics — Sts. Joseph, Thérèse, Francis of Assisi, Anthony of Padua, Pio, Rita and Patrick. But she also draws saints who aren't household names.
"We get email for very hard-to-find saints; people come to us for the not-so-popular ones," she said, "and they get pretty excited when they find they are available."
A wide range of saints are available, including Sts. Adrian of Nicomedia, Aidan of Lindisfarne, Margaret of Scotland, Hubert, Helen, Afra, Appolonia, Scholastica, Isidore the Farmer, Oliver Plunkett, Martha, John de Lalande, Louis de Montfort, Gregory the Great, Margaret Clitherow, Rosalia of Palermo, Rocco, Polycarp, Peregrine, Emma of Gurk and Tarcisius.
 Portraits of saints at young ages are also available.
"My priest told me to draw the saints as children," Christianson related. The advice prompted precious renditions of Jesus, Mary, Joseph, John the Baptist and Thérèse as small children. Christianson and her sister are members of North American Martyrs parish in Seattle.
The Holy Family is ever popular, with a new version offered every year for Christmas.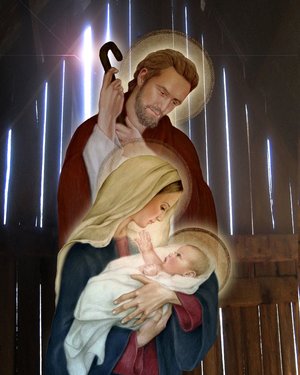 Christianson regularly adds newly canonized saints and blesseds. She recently painted Sts. Louis and Zélie Martin, parents of Thérèse, whose feast day is July 12; as well as mother-and-physician St. Gianna Molla, Kateri Tekakwitha, Marianne Cope, John XXIII and John Paul II.
She also draws those whose canonization causes are ongoing, like Venerable Archbishop Fulton Sheen, Servant of God Father Emil Kapaun and Blesseds Pier Giorgio Frassati, Elizabeth of the Trinity (who will be canonized this fall), Jose Sanchez del Rio and Mother Teresa (who will be canonized on Sept. 4). The artist also has drawn Mother Mary Angelica of the Annunciation, foundress of the Poor Clares of Perpetual Adoration and the Eternal Word Television Network.
Favorite Works
The artist organizes her work via the liturgical calendar's feast days, but "if there are lots of requests for a particular saint, that one goes to the top of the list," she said, cheerfully adding a footnote, "Of course, every saint is important."
Like everyone else, she has her personal favorites: Sts. Thérèse, Catherine of Bologna (the patron of artists) and Mary Magdalene.
But the people's most popular pick is also her very favorite. Our Blessed Mother "sells better than all others put together," Christianson said. "People love Our Lady, as I do. She's my favorite and everybody else's favorite, too."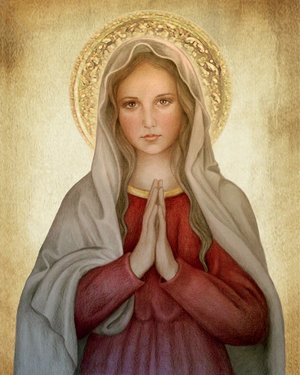 Our Blessed Mother is the most difficult one to draw for this artist. "I always struggle with Our Lady because the hardest one to please is myself, because I'll never get her beautiful enough," she explained. "I'll never be able to create her as beautiful as she is."
Patron Saints
Christianson's artistry is popular in the United States and abroad. Here, individuals, churches and rectories have obtained portraits. Several schools have purchased images of their patron saints for each classroom, such as St. Catherine of Bologna for St. Catherine's Catholic School in Grand Prairie, Alberta, Canada. The Capuchin Friars at the Pittsburgh province purchased 15 large prints of St. John Vianney, and St. James Academy in Kansas chose 39 large prints of various saints.
Catholic families also enjoy purchasing their children's patron saints.
As Christianson says of the primary aim of her art: "It's to educate the people about these saints and to make them known, venerated and loved."
Joseph Pronechen is a Register staff writer.
INFORMATION
The portraits come either as unframed fine-art prints, ranging $14-$22, depending on size, or in hardwood frames handcrafted in the U.S., ranging $49-$69 due to size. The portraits also come in holy cards, starting at $3. Anything over $10 also includes shipping.
The sisters donate 10% of sales to the Priestly Fraternity of St. Peter to help aid the training of new priests and the society's work of evangelization.