Catholic 'Shark Tank': Start-Up Founders Pitch Products With a Purpose at SENT Summit Competition
Entrepreneurs with businesses grounded in their Catholic faith participated last month in a competition for a $5,000 cash prize.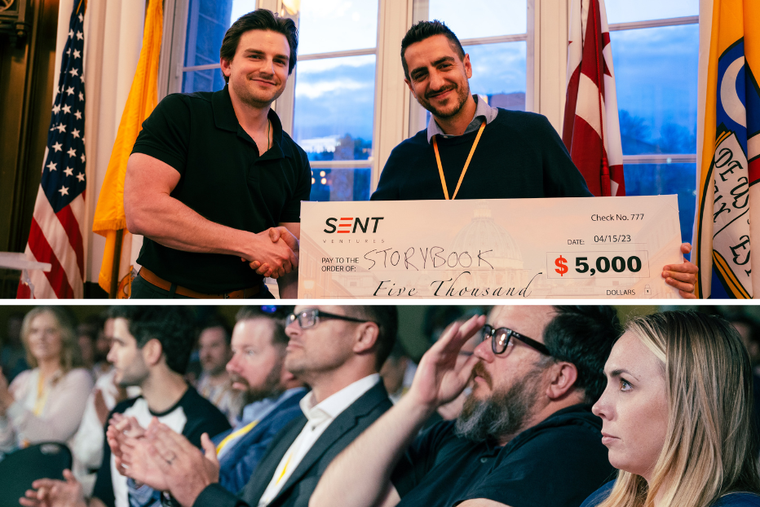 WASHINGTON — In a Shark Tank-style competition with a twist, Catholic founders recently pitched their start-ups and faced questions from a panel of judges while highlighting the importance of the Catholic faith in their businesses.
The event was the culmination of the SENT Ventures Summit at The Catholic University of America last month, a gathering of Catholic CEOs and founders looking to foster connections and grow in their faith.
Zak Slayback, a partner with the 1517 Fund, a venture capital fund supporting start-ups at early stages, is on the management team at the new Catholic investor group Catholic Angels that hosted the event. He told the Register that the competition "provided a chance for faith-driven entrepreneurs to present their start-ups to an audience of aligned partners and investors." The winner took home $5,000 cash for their business as well as "credits for various start-up resources, swag and direct opportunities with SENT's Catholic Angels investor network."
The four early-stage start-ups selected as finalists were chosen out of more than 60 teams that applied to present at the competition. These four finalists told their stories to the judges, emphasizing their faith alignment, qualified team, user growth, the market for their product, and why the product works in today's market.
Caring for the Elderly
Nigel Mould, CEO at StackCare, talked about how his business was born out of the growing need to care for the elderly while preserving both their dignity and the peace of mind of caregivers.
"We designed and built a passive monitoring system based on discreet, infrared motion sensors combined with machine learning and data science to learn activity patterns and analyze them 24/7," Mould explained. "StackCare delivers alerts directly to family members and/or caregivers, and we do it all without being intrusive, while being HIPAA (Health Insurance Portability and Accountability Act) compliant, and making sure that we deliver on our core promise of dignity and independence for seniors and peace of mind for families."
While their system is not a medical device, it does provide "insight to developing and/or potential problems: poor sleep, frequency or length of bathroom visits, skipping meals, activity levels, and much more." It also features "a web portal providing an overview of hundreds of clients instantaneously with recorded history, built-in analytics, and the ability to drill down into minute-by-minute detail."
Mould said StackCare already has paid contracts in several states from Connecticut to California and is also establishing partnerships with paid installations at national home-care providers.
"The plea of the elderly in Psalm 71, 'Do not cast me away when I am old,' and the lack of caregivers today and in the future, for us is almost an invitation," he said, "to use technology to allow seniors to age in place as they want to, but at the same time letting families and caregivers know when they might need help."
Reaching the Indian Catholic Community
Tania Kottoor, founder and CEO of West by East, began her presentation by telling the story of a first-generation Indian-American woman who grew up in a Catholic community and also enjoyed watching Bollywood films, envisioning herself as a traditional bride in a sari.
When her wedding planning actually came around, she discovered a shortage of traditional options both online and in the few stores that were hours away. This scenario is how her company, West by East, was born, Kottoor recounted.
"Our solution is a seamless experience that is transparent, reliable, and can be done from the comfort of your own home," she said. "Our customers can go to our website, they can select a silhouette, color, fabric; and then they can use their phone to take their measurements virtually in 60 seconds. This allows us to capture their avatar, to create a 3-D rendering of the complete outfit on their actual body."
"My co-founder and I have 20 years of experience in luxury fashion and manufacturing," she said. "We both grew up in an Indian-Catholic community, as well as an immigrant household, and we realized that you need faith to succeed."
"The values that we learned in Church we brought into our business, and we realized that what's really important is that we need to build an inclusive community; and as we grew as a company, our community grew with us," she continued. "Now, we have a crazy waitlist of over 2,000 folks, which equates to over half a million dollars in potential revenue. We have demand, but we're at capacity. Now, we're raising $1.2 million to be the market leader and to unlock that waitlist."
She told the judges that their business has sold more than 1,500 units and 500 of those were to people of Catholic backgrounds. "We really lean into our own community to grow the business," she said.
She hopes their business can one day expand to other diasporas like East Asian, African and Middle Eastern communities. "I've seen so many brands come and go in the past few years," she said. "No one's doing it for other Catholics as well in all these diasporas."
Making Food Safer
Paddy McNamara, the founder of Allera Tech, asked audience members to raise their hands if they knew someone with a food allergy.
"Almost all of us do," he pointed out, then he shared a near-death experience he had due to his tree-nut allergy.
"It taught me that allergens are not just a problem for individuals with food allergies, but food manufacturers, as well," he said. "The average recall costs $10 million, and allergens are the No. 1 reason for recalls — so allergens are expensive. They're also life-threatening."
He said that for some of these food-manufacturing companies, "their quality-assurance data is entirely pen and paper. So right now, someone on the floor writes it down, pen and paper, hands it to a manager, who manually types it into Excel, and then it's put into a filing cabinet for five to seven years for FDA audit."
Allera Tech is addressing this circumstance with a software platform to input, store and analyze data. The system, he said, would replace "pen and paper, which is prone to error; it helps mitigate risk for expensive recalls and other expensive mistakes; and it actually turns this pain with pen and paper into an asset, with data where we can leverage analytics to help these companies cut costs."
He explained that sanitizing and testing equipment for allergens currently takes a company about 15 minutes.
"For a food manufacturer, an hour of down time equates to about $40,000," he said. "Some of these companies do hundreds of tests per week."
In the longer term, his company is attempting to shorten the time involved in testing.
"We're building a rapid allergen-screening device which uses FTIR [Fourier Transform Infrared] technology, it gives 60 second results," he said. "They already use it in the pharmaceutical industry for chemicals and toxins, but we're applying it to the food-safety space. It's simple and sustainable to use, and it's digitally integrated, as well."
The company has several contracts with companies utilizing their software as well as a partnership with a top-10 food producer to build an allergen testing solution.
McNamara was raised Catholic, but drifted from the Church and had a turning point during volunteer experiences serving the poor in AmeriCorps for a year in Missouri and a few months in El Salvador.
"It was the mystics like Thomas Merton and Teresa de Avila that taught me how God sustains us through intense service experiences," he said. "I found myself just always returning to the Catholic expression that I left." He shared a picture of his recent confirmation at the Easter vigil this year.
"When you're supporting me and you're supporting Allera, you're supporting us to live out this very explicit Catholic expression of accompanying the marginalized," he said. "Thirty million Americans live life with food allergies. They live in fear of food and going to the hospital. At Allera, we're making food safe for everyone, especially this group, because it's how we're called to love the world."
Family Bonding Over Stories
Francisco Cornejo, co-founder and CEO of the "Storybook" app, and his wife and co-founder, Daniela Vega, came up with the business idea after their experience moving from Ecuador to Australia with their two young children, then ages 1 and 3, as Cornejo was completing his master's degree. Due to their busy schedule, there was stress and anxiety at home.
"Daniela realized that she needed to connect with the kids," he said. "Through faith and prayer, she found out about infant massage and how this was such an important tool to connect through the importance of physical affection; and while she was practicing this with the kids, she used to tell them stories. She had an iPad and candles, and she'd create this fantastic bedtime routine."
"The kids started to fight each other about who's going to go first," he said, "but, more meaningfully, that was the moment we started to really bond with them."
Their award-winning Storybook app combines relaxation techniques like guided reading and infant massage with bedtime stories and music to improve families' emotional well-being and physical health. The app is free to download with yearly subscription plans and also has partnerships with schools and health providers.
Their database of more than 100 original audio stories in Spanish, English and Portuguese, including Bible stories, continues to grow and is for children ages infant through 12.
"Seventy-nine percent of the parents using Storybook told us that their kids are sleeping better, are sleeping up to four times faster," Cornejo said. "Eighty-nine percent of them told us that they feel more connected with their kids. We have been the No. 1 app in 90 countries. We have been called the 'best for bedtime' by Apple. We have surpassed 2.5 million downloads, more than 10,000 five-star reviews."
And the Winner Is …
While the judges showed interest and appreciation for all the pitches, the Storybook app won the evening. "The Storybook team impressed our panel of judges with their ability to identify a real problem and bring Christ in a solution to their audience," Slayback said.
Cornejo told the Register via email that "being among faith-driven founders was inspiring, and winning was a true blessing. It has already opened doors, leading to promising conversations with potential advisers and investors." He also praised the SENT Summit, calling it "a unique blend of faith and business, a testament to the transformative work God is leading us all to undertake."
Vega saw the win as "a deeply touching affirmation of our mission."
"We know that God does not inspire the impossible; we are sure that our company is the work of God and that he uses our small forces to put us to work to rescue the family that today is so attacked," she said. "This is more than a job for us — it's a calling."