What I'd Say to the Pope
Editor's Note: This is a longer version of the column that appeared in Sept. 20 print issue.
Like many Catholics, I am planning on paying close attention to the news coverage surrounding Pope Francis' Sept. 22-27 visit to the United States. A friend asked me recently, "What would you say if you were granted an audience with Pope Francis when he visits America?"
I have met many celebrities, both accidently and intentionally. Every time it has been exciting. But what would I do and say if I were allowed to sit down with Pope Francis for 15 minutes?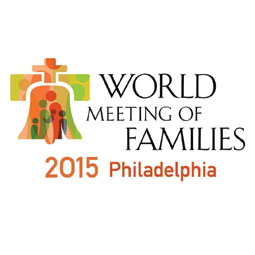 First, let's examine what we know about him. We know he had welcomed with affection a man disfigured by neurofibromatosis. We know that he likes to focus on the sick, the disabled, the old and homeless, like his namesake, St. Francis.
When Archbishop of Canterbury Justin Welby met the Pope, he described him as "humanity on fire."
And when he was a cardinal, Pope Francis liked to travel on buses to meet with those in need. When he learned that he was elected pope, his response was, "Yes, even though I am a great sinner."
In Austen Ivereigh's biography of Francis, The Great Reformer, he wrote, "There are two keys to Pope Francis. One: You can't eradicate poverty except by loving the poor. The other is you can't love the poor if you cling to stuff, your schemes and your ideas — and that if you can let go, you can let God be God."
With all of this in mind, maybe I would just say, "Thank you" to Francis upon meeting him.
After all, he truly is making it his mission to show the Catholic Church is an example and representative of Jesus' work. Maybe I would say, "God bless you" for all that he is trying to do. Maybe I would ask him what I can do to try to spread the Gospel of Jesus like he is doing.
Perhaps meeting Pope Francis is not unlike being in the presence of Jesus. I knew someone who had such an experience, and she talked about it as the most amazing thing that ever happened to her.
Dorothy was her name. She was my mother. She was hospitalized for a serious illness when she was 80 years old. At one point, she suffered cardiac arrest and nearly died. She survived this experience and was able to go home. I made it a point to visit her the summer after she came home. She couldn't wait to tell me about her experience during those moments when she was so close to death. She was convinced she was in heaven and in the presence of Jesus. She described feeling such immense peace and love.
"Think of the most amazing moment in your life," she said to me, "and multiply that by a billion — and you still have not come close to what it feels like to be in the presence of perfect love with Jesus."
That's when it came to me: Being in the presence of the Pope would be an honor. But all of us will have to face Jesus.
What would we say if Our Lord wanted to have 15 minutes with us face-to-face? My mother said she talked about her nine children and her family that she grew up in. She talked about her life.
I am still not sure what I would say with Pope Francis.
But if I were in the presence of Jesus, I hope I would say simply, "Thank you for all you have given me. Thank you for suffering and dying on the cross, so that all our sins would be forgiven. "
Catherine Mendenhall-Baugh writes
from Hillsboro, Oregon.
CNA and Archdiocese of New York Facebook photos