Walk for Life West Coast Continues to Gather Pro-Lifers to Rally for the Unborn
Joe Scheidler, founder of the Pro-Life Action League, will receive 'St. Gianna Molla Award' this weekend.
SAN FRANCISCO — The 14th-annual Walk for Life West Coast Jan. 27 will include pro-life testimonies, a rally and walk through the streets of downtown San Francisco to protest legalized abortion and raise awareness of the harm it has caused both individuals and society as a whole.
The walk draws tens of thousands from California and the western United States, serving as a peaceful witness to the evil of abortion.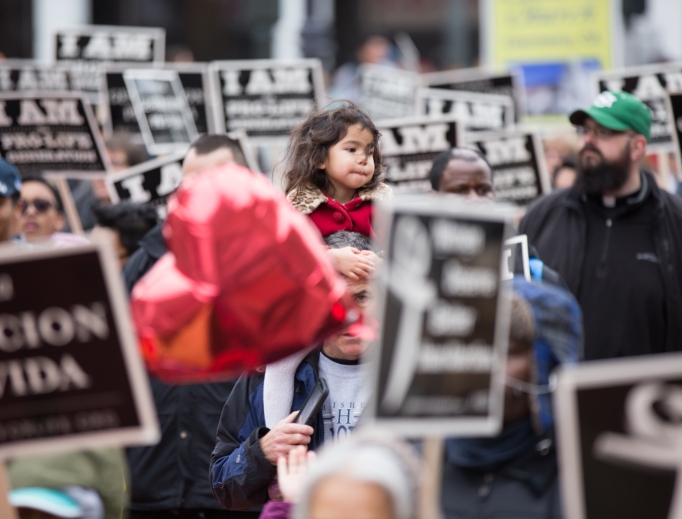 "Our goal is to raise awareness for the pro-life cause and have people turn out to show their support," said Eva Muntean, a founder and organizer of the walk. "While it's hard to measure the impact we've had over the past 14 years, we have had people tell us that they've come over to our side as a result of the walk."
The event will kick off at 10:45am, with pro-life testimonies, an "Info Fair" and rally at the San Francisco Civic Center. At 1:30pm, participants walk up San Francisco's famous Market Street for nearly 2 miles, ending at Justin Herman Plaza on the Embarcadero, which runs along San Francisco Bay.
While there may be a smattering of counterprotesters along the way, the walk is always positive, upbeat and dominated by young people who declare themselves to be "the pro-life generation," Muntean said.
The event is well attended by priests, seminarians and religious, as well as parish and Catholic school groups. While organizers encourage non-Catholic groups to participate, as Muntean said, "Walkers are typically 90% Catholic. It's the Catholic Church that has always led the pro-life fight."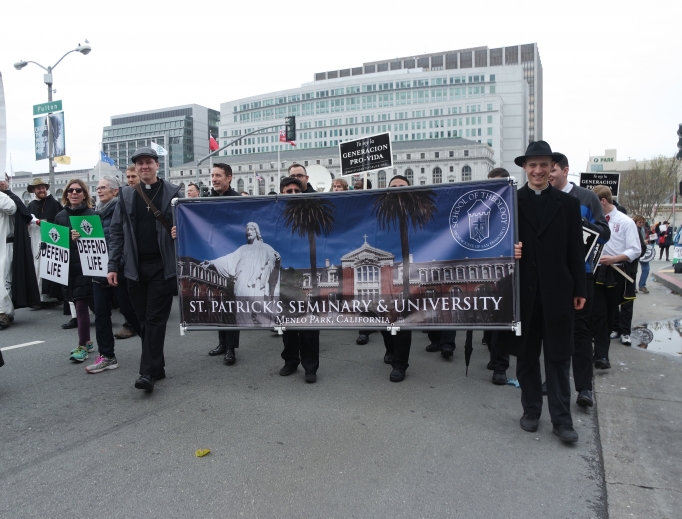 Rally speakers include Terry Beatley, the founder of the Hosea Initiative, a nonprofit that carries on the work of former abortion doctor and co-founder of NARAL Bernard Nathanson (1926-2011), who became a pro-life Catholic. Also speaking is Dr. John Bruchalski, a former abortion doctor who returned to the Catholic faith of his youth and who today supports a variety of pro-life initiatives. Rev. Clenard Childress, a Protestant pastor from New Jersey, is a returning speaker. He preaches about the evils abortion has wrought in the black community.
Beatley is a first-time speaker and participant at the walk. She spent many years as an evangelical Protestant before returning to the Catholic Church of her baptism, in part due to her embrace of the teachings outlined in Pope Blessed Paul VI's 1968 encyclical Humanae Vitae (The Regulation of Birth). She met Nathanson in 2009, when he was terminally ill with cancer, and has subsequently devoted herself to sharing his message about the pro-abortion lobby's "eight-point propaganda campaign" to persuade Americans to legalize abortion, including a "Catholic strategy" to neutralize the Catholic Church's opposition, which she'll share in her remarks.
"Hearts and minds are changing to the point where abortion is no longer acceptable to many Americans," she told the Register.
She is currently working on a movie about Nathanson's life and wrote What If We've Been Wrong? about Nathanson and the effort to legalize abortion.
Childress has been a regular speaker at the walk for the past 14 years. He believes pro-life efforts are winning over the country, "but the final surge may prove to be the most difficult. There must be a presence in the public square continually demanding the right to life for the last segment of our society that has been denied access to the American dream."
Georgette Forney, co-founder of Silent No More, will coordinate speakers talking about the adverse effects of abortion in their lives; she has participated in eight of the past walks, including the first one. "It's a wonderful event," she said. "People are marching not in a protest-oriented, mean-spirited fashion, but in a way that brings the love of Jesus into the community, along with a belief that life is sacred."
The walk will honor 90-year-old pro-life veteran Joe Scheidler, the founder of the Pro-Life Action League, with its "St. Gianna Molla Award," named for the holy Italian pediatrician, wife and mother who gave up her life for her unborn child. Scheidler will be flying out from Chicago to receive the honor. As Muntean said, "We give the award annually to a pro-life warrior, which Joe is. He's my hero."
It will be Scheidler's first time participating in the walk. He said, "I'm looking forward to it. It's been growing every year and has become a real competitor in size to the March for Life in Washington, D.C."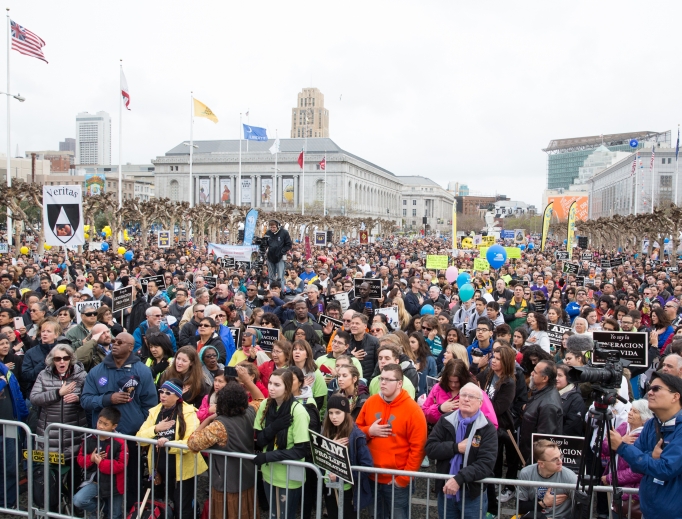 He plans to do the entire 1.8-mile walk, "even on my bad knees."
While the San Francisco police have been "fantastic" in keeping the peace when walk protesters appear, local elected officials have been cool to the walk, Muntean said. City and county officials adopted a "Stand Up for Choice Day" resolution "in response to our first walk in 2005" and a 2013 resolution celebrating the 40th anniversary of the Roe v. Wade decision and supporting a counter demonstration to the walk. Additionally, in 2014 and 2015, the San Francisco Board of Supervisors approved resolutions condemning banners along Market Street that advertised the walk beforehand with the message "Abortion Hurts Women."
"Our recently deceased mayor [Ed Lee] would give interviews telling the media that we are lying and not welcome in San Francisco," Muntean said.
But the negativity does not deter the walkers. Muntean said participants, volunteers and donors are all welcome: "We hope to continue to raise awareness and that many against us will have a change of heart."
David Bereit, former CEO of 40 Days for Life, is a past speaker at the walk who looks forward to returning this year as a walker.
"In a city that can be as challenging to be pro-life as San Francisco, to see tens of thousands of pro-life walkers in the streets who are joyful, peaceful and loving gives me great hope."
Register correspondent Jim Graves writes from Newport Beach, California.
IN PERSON
Jan. 27, 2018
ONLINE
ON TV
The walk and related coverage will be broadcast on EWTN. It will also be livestreamed at the walk's website. After the fact, the walk may be viewed on the EWTN YouTube channel.
COMPANION EVENTS
In addition to the rally and walk, there will be a variety of companion events that participants are invited to attend. On Jan. 26, the Dominican friars at St. Dominic's Church will host a prayer vigil 5-7:30pm, which includes Mass. Sts. Peter and Paul Church in San Francisco will host an all-night "Adoration for Life" prayer vigil from 8pm to 7am.
On the morning of the event, Jan. 27, San Francisco Archbishop Salvatore Cordileone will celebrate Mass at St. Mary's Cathedral in San Francisco, concelebrated by visiting priests. Mass in the extraordinary form will be offered at 5pm at the National Shrine of St. Francis of Assisi in San Francisco (a short walk from the end of the walk). And Star of the Sea parish will host a free barbecue and presentation by the Sisters of Life at 7pm, followed by a Holy Hour. For additional events, visit the walk website: WalkforLifeWC.com.
— Jim Graves