'Verily' Promotes True Femininity
New Magazine for the Modern Woman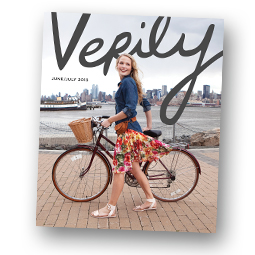 True confession: I love glitzy women's magazines. Glamor, exotic fashions, celebrities — they are hard to resist.
Then again, I'm a Catholic mom.
Those covers, with images of half-naked women and those crude headlines, assault me. Worse, they assault my children. I once wondered to a store clerk: "Why do supermarkets offer a candy-free lane and then put this stuff at a kid's-eye level?"
Now, I flip them over quickly. What's on the back? Hard-liquor ads. Sigh.
You don't have to be a mother to know that these things are destructive. A report from the Dove Campaign for Real Beauty states that the majority of teens get depressed after reading such magazines — after just a few minutes. Magazines' self-centered goals offer cheap substitutes: pleasure rather than affection; conquest rather than intimacy; competition rather than friendship.
Are we having fun yet?
Ever since the 1960s, when the late Helen Gurley Brown put a busty blonde on the cover of Cosmo, millions of women have fallen for its empty promises. Other magazines smelled the money and followed. A self-sustaining market was created. Each issue both creates an unfulfilled need and promises to satisfy it.
It starts quite young, at supermarket eye level, in fact.
Why the positioning of those magazines? Just marketing to the next generation. As Jess Mary Aloe on the website Feminspire put it, "If I could not read and understand them until I was older, I still saw them, internalized them and knew that my own burgeoning interest in sex was not something of which to be ashamed. Thank you for that, Ms. Brown."
Now you know why I flip the magazines over.
But no matter how much I flip, they aren't going away.
That's why I'm happy to see Verily.
Verily has the glam we love without the trash. A beautiful girl looks confidently out at you from the cover — and she's fully clothed. She's lovelier than I ever was, but she doesn't make me feel inadequate or ashamed.
Her beauty is her gift, and I can appreciate it instead of feeling assaulted by it.
Verily is professionally staffed and based out of New York City. Its high production value and use of real models are a must if it hopes to compete in the marketplace.
Told in a non-religious voice, the articles pose questions like: Why do we care about organic food and then pump ourselves full of carcinogenic birth-control pills?
Lest you think it's pre-1950s about women's achievement, it offers advice for the professional woman — "How to Network Like a Pro" — as well as inspirational profiles of successful young women trending upward.
The magazine explores traditional vs. contemporary cultural issues, like one article by a Muslim woman about her parents' desire for her to marry young vs. her desire for an education for its own sake.
Brought to light are the hidden moral issues presented by the new media: how texting makes it easy to confide in someone — and just as easy to discard the friendship later.
"We are aiming to show style that respects our dignity, instead of compromising it; to explore our relationships, not just sex; and feature thought-provoking articles, not just rhetoric," says Kara Eschbach, the editor in chief.
"This is a magazine for real women. Verily was started as a response to our own feelings that the current narrative about women in the media — the fashion, the approach to relationships, the career advice — didn't reflect how we felt about ourselves or the trajectory of our lives."
Then there's all the fun stuff that most of us don't have time or resources to do ourselves but which we love to read about: pretty hair styles, interesting travel and gourmet food. Then again, maybe we do have time and money to prepare "a simple supper" and present it in gourmet style.
"Too many women today — single and married; Catholic and non-Catholic — are under the impression that modest means frumpy, beautiful means sexy and virtuous means boring, which, of course, isn't true," says Emily Stimpson, author of The Catholic Girl's Survival Guide for the Single Years. "Verily helps women see that, and it does so in a way that's fresh, relevant and faithful. What the magazine does is offer young women clarity about the feminine genius in one highly professional, glossy-paged package."
I enjoyed seeing the latest trends in pretty, feminine clothes and shoes. And even though I'm married, I also enjoyed finding out what every girl wants to know but is afraid to ask: what guys (good guys) say never to do on a first date.
The preview issue of the magazine really got me with a full spread about my favorite costume drama, Downton Abbey.
For those seeking more than the empty promises of other women's magazines,Verily meets a need.
As 24-year-old Clare Behe puts it, "I feel uplifted after reading their stuff, not bogged down and depressed by society, which is my reaction to Glamour or Cosmo."
Are we having fun yet? I am. I just finished reading Verily.
Susie Lloyd writes from
Whitehall, Pennsylvania.
INFORMATION
VerilyMag.com
You may also like: Dignitas, DignitasMagazine.com; Darling, DarlingMagazine.org; and Radiant, Be-Radiant.com.