Massachusetts Campus A-OK for TAC
Thomas Aquinas College gets green light for New England expansion.
NORTHFIELD, Mass. — After a year's delay, Thomas Aquinas College (TAC) is back on track to open a branch campus in New England that will replicate the Great Books program for Catholic liberal-arts education already taught at its campus in Santa Paula, California.
TAC, based in Santa Paula, California, announced Oct. 23 that it had received "unanimous approval" from the Massachusetts Board of Higher Education to operate a branch campus in Northfield, Massachusetts, and award Bachelor of Arts degrees in liberal arts.
Thomas Aquinas College's East Coast branch, or TAC East, is now set to start the 2019-2020 academic year next August. Northfield is 86 miles from Boston and 193 miles from New York City.
The decision means TAC now has the green light to start recruiting students, donors and benefactors for the New England branch. According to college officials, they are anticipating full accreditation from their West Coast accreditor, the WASC Senior College and University Commission, to be extended to the new campus as early as January.
"There's a real appetite out there in young Catholics for a rigorous, serious and fully orthodox liberal-arts education," Michael McLean, the president of Thomas Aquinas College, told the Register. "Our experience is that students who come benefit very much from it."
In 2017, Thomas Aquinas College acquired its new 110-acre Northfield campus, which includes 22 buildings and a chapel, from the National Christian Foundation. The property began as Christian girls' and boys' schools, under the auspices of 19th-century Protestant evangelist Dwight Moody. The schools merged in 1971 and left the historic property in 2005, which eventually passed into the hands of the National Christian Foundation.
The foundation was given the property by Steve Green, owner of Hobby Lobby, who bought the campus in 2009. The foundation, mindful of the Moody "history of education and evangelism," eventually bequeathed half the property to TAC, with the other half going to The Moody Center, which would set up a museum to honor the Protestant evangelist's legacy.
TAC had planned to open the new campus in August 2018, but McLean said that, in retrospect, that timetable was "too optimistic." The approval process with the state education board took approximately 450 days, which TAC communications director Anne Forsyth explained was within the average range of approval in Massachusetts.
However, the board's grant of authority for TAC to operate a Massachusetts campus comes with some stipulations: The college must submit annual status reports during its initial five years of operation; and the college can only admit Catholic students to the East Coast branch.
McLean said the "Catholics-only" stipulation was required for the TAC East branch to be covered by the state's religious-liberty exemption (to claim religious-liberty exemptions, the school needs to have only Catholic students). He said TAC's board judged the school could comply because the California campus will still be able to admit non-Catholics and be covered under California's religious-liberty protections.
As it stands, the college has been turning away many Catholic prospective students because the annual admissions cap at TAC is 102 students per year, and the waiting list is just too long.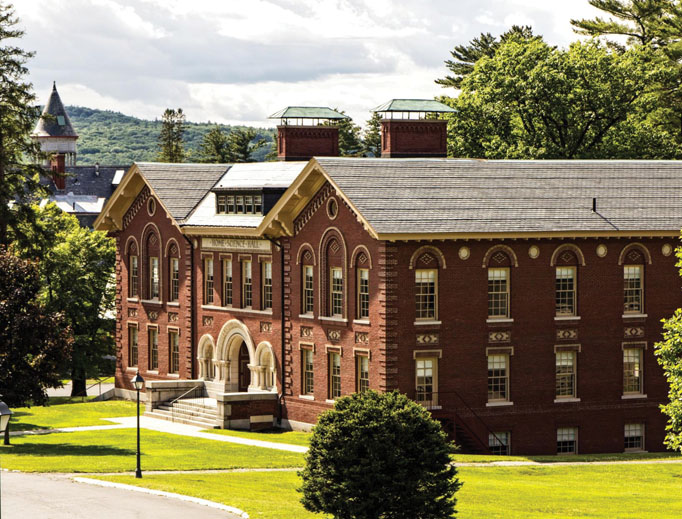 TAC East Excites
TAC's expansion to an East Coast branch stands out against a backdrop of liberal-arts schools closing and consolidating. More than a quarter of the country's 500 small, private liberal-arts colleges have either closed, merged or abandoned their original mission over the past 50 years, and many analysts believe more will close when the "education bubble" bursts.
McLean said the demand is there, and TAC's faculty and staff are grateful to have the confidence of their donors, benefactors and alumni. He added that the National Christian Foundation has been a key partner, providing TAC with a $5-million matching grant over five years.
Thanks to the generosity of TAC's donors, he said, the college has already raised $4 million of the $5 million for TAC East.
McLean said TAC has also managed to keep its liberal-arts education attractive by capping student debt accrued over the course of four years at $18,000, thanks to generous donors and benefactors. As a result, TAC students who get married to each other after graduation end up taking on a combined student-loan debt burden of no more than $36,000. "We make every effort to make this education available to [our students]," he said. And TAC's alumni have responded: The college reports one of the highest rates of alumni giving in the U.S.
Cyndi Montanaro, a TAC graduate-parent living in Virginia, told the Register that she and other alumni are excited that the TAC education they received will be available on the East Coast.
"Because Thomas Aquinas College has a unique program in which students study the Great Books in a seminar style, that unique offering is going to be available to a large number of Catholic students that otherwise would not have considered it due to the distance involved in traveling between the two coasts," she said.
Starting Plans
TAC East plans to start the 2019 academic year with a freshman and sophomore class, each composed of approximately 35-40 students.
Forsyth explained the California campus has already taken on the extra students destined for the New England branch, so that when they arrive at TAC East, they will have spent a year imbibing TAC's academic culture on the California campus.
Forsyth said the plan also helps make sure TAC's professors, or tutors, bound for the East Coast branch have the "same spirit of the place." A team of four professors, or tutors as they are styled at TAC, will start the 2019 year in Massachusetts. The following academic year, the initial team will be joined by five more tutors, one a former TAC tutor on the East Coast and the other four new hires currently at TAC West.
McLean said the plan is that the faculty will grow in pace with the growth of the student body. Eventually, TAC's New England branch will have the same capacity of 350-400 students as the California branch.
"That's the plan for this campus in the long run," he said.
Lori Murphy, a graduate of the Class of 1988 and a resident of Cheshire, Connecticut, told the Register that she and her husband, Bob, are looking forward to the opening of TAC East. They have two children who graduated from TAC, and three are currently enrolled.
"Whether my children went into graduate work or business, they did very well," she said, crediting TAC's education model that puts students in direct dialogue with thinkers such as Aristotle or Euclid by reading the original works of such giants in the Western canon.
Murphy said they are looking forward to the intellectual stimulation the TAC East campus will provide. Back in California, she said, TAC would have a lecture and concert series open to the public.
Rich in History
Murphy said their freshman daughter has not indicated whether she'd like to switch from the sunny clime of southern California to the bucolic countryside of Northfield. But she anticipated prospective Catholic students on the West Coast would probably be joining the New England campus to experience another beautiful part of the country.
The area of TAC East's campus has a wealth of history going back to the colonial era of Puritan New England. The Northfield area also has its own Catholic history. During Queen Anne's War in 1704, a combined force of French troops and 300 native warriors led by the Catholic Mohawks of Kahnawake, St. Kateri Tekakwitha's village, carried out a devastating raid on nearby Deerfield, Massachusetts.
The Catholic Mohawk carried back a bell, which remains in the St. Francis Xavier mission in Kahnawake, where St. Kateri is buried. They also adopted many of the captives, one of whom refused to leave her new Mohawk life, husband and Catholic faith. The incident would fuel anti-Catholic, anti-French and anti-Indian propaganda in New England that would play into later conflicts.
Murphy thinks the ecumenical dimension of TAC East, bringing together beautiful traditions of Protestant and Catholic education and evangelization, would be a fitting addition to the region's history. She said it is a blessing this was made possible by Hobby Lobby's Green family.
"I think it is really beautiful that a very dedicated Christian family, and a dedicated Catholic school, could come together on such a large project like this," she said. "I think it sets a very good example of humility in doing God's work."
Peter Jesserer Smith is a
Register staff writer.
This story was updated Nov. 20 to correct the explanation
of the religious-liberty exemption.