Father Michael Gaitley Comes to Northeast Catholic College
Marian missionary is set to be college's director of formation.
A big change coming to Northeast Catholic College — beginning in the fall semester — is stirring excitement on the Warner, New Hampshire, campus. The college will put the spiritual formation of its students in the hands of Father Michael Gaitley of the Marians of the Immaculate Conception and the Marian Missionaries of Divine Mercy. Father Gaitley will be director of formation at the college, the same role he has with the Marian Missionaries.
During their time at Northeast Catholic, students will be immersed in the spirituality of Sts. John Paul II, Thérèse of Lisieux, Faustina Kowalska, Teresa of Calcutta and Maximilian Kolbe.
"We all think this is going to be a new chapter in the life of the college," explained George Harne, president of Northeast Catholic College.
"It's going to bring a level of intensity to what we're already doing and a force to change the life of our students."
President's Vision
"This new partnership fits with our mission in a unique way," Harne said, pointing out the mission is to form the laity for work in the world. The college also encourages religious vocations.
This partnership is not something out of the blue.
Father Gaitley has come to speak on campus. And quite a few of the students have read his books and used his 33 Days to Morning Glory Marian consecration-focused book, Harne said, also noting that Northeast junior Ruben Mendoza-Medrano was a member of the Missionaries of Mercy and now "is one of the best students, a wonderfully formed young man of deep spirituality. We need more people like Ruben."
Considering the college's interest in lay-formation work and the Marian Missionaries of Divine Mercy being a lay group, Harne said that Father Gaitley approached him about this venture.
"God brought us together," Harne explained. "The more we talked, the more we realized we share a common compass and purpose. His spirituality can take root in young people in a new way. Young people respond very positively to him. He has a message they particularly need to hear, particularly in this year of 2018: It's the message of Mary and message of mercy. This also fits with our emphasis on John Paul II because he himself emphasized the message of Mary and Divine Mercy."
"Many of our students — all of us, in fact — need the message of mercy," Harne added. "It was at the center of John Paul II's pontificate and should be at the center of our own lives."
Already, the college has a major celebration on St. John Paul II's feast day in October. He's the college's patron saint, along with Mary Magdalen. The college's motto is John Paul II's famous call, Duc in altum — "Put out into the deep."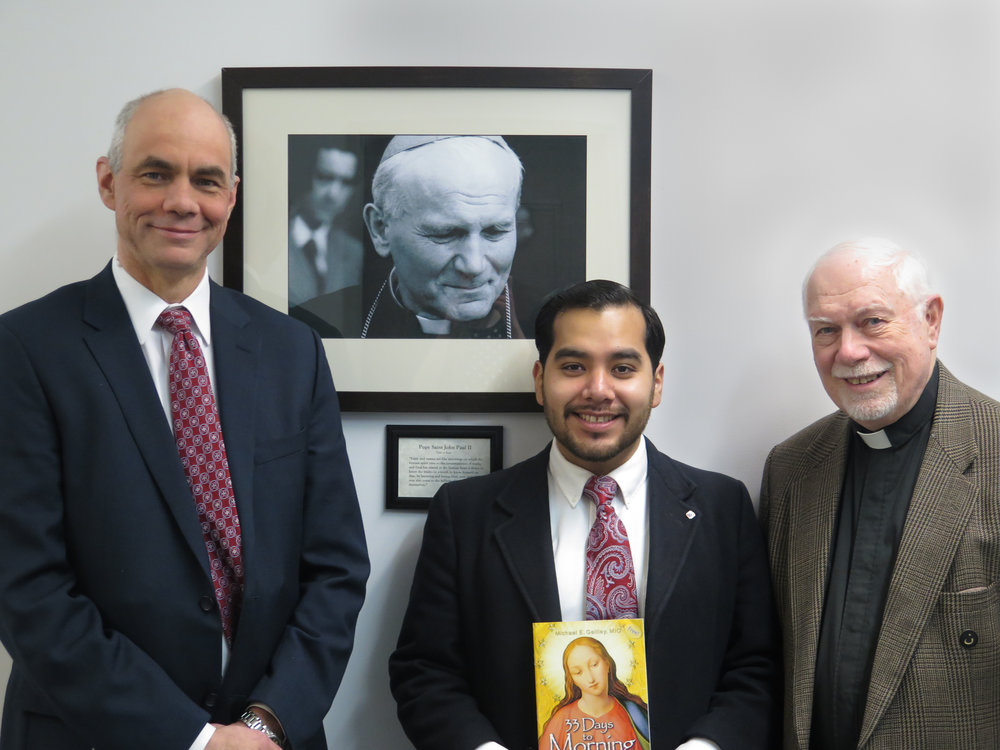 Students also read John Paul II's works, particularly Fides et Ratio and Centesimus Annus, on faith and reason and the Church's social teaching, respectively, and read his play The Jeweler's Shop.
"We take him as a model, said Harne, "because he was also deeply rooted in the traditions of the faith and at the same time building bridges with contemporary society, taught the theology of the body, and worked very well with young people."
Additionally, students will be going through Father Gaitley's "Hearts Afire" program at the college.
Father Gaitley's Plan
Well acquainted with the role of director of spiritual formation, Father Gaitley detailed how, over the last four years, from the National Shrine of the Divine Mercy in Stockbridge, Massachusetts, he has been helping to form young men and women in the spirituality of the Marian Missionaries of Divine Mercy.
"That spirituality focuses on the renewal called for by the Second Vatican Council, with a special emphasis on the merciful and Marian teachings of the following saints: John Paul II, Thérèse of Lisieux, Faustina Kowalska, Maximilian Kolbe and Mother Teresa," he told the Register. "My work at Northeast Catholic College will essentially be an extension of that work in Stockbridge, namely, forming the students in the spirituality of the Marian Missionaries."
He plans to accomplish that goal in three ways.
First, there will be a focus on peer leadership of the Marian Missionaries themselves, he explained. Specifically, several missionaries who have completed the intensive yearlong formation program in Stockbridge will attend Northeast Catholic College as student missionaries. "They will then assist with the spiritual formation of the students on campus and lead regular mission trips with the students" to the homeless in Boston and New York City.
Second, Father Gaitley will lead students in an online two-semester, weekly formation class with the focus on Marian consecration, Divine Mercy and the beauty of our Catholic faith.
Third, he and other senior Marian missionaries "intend to visit the campus on a monthly basis for supplemental conferences and special events to deepen the spiritual formation of the students," he explained. "We also plan to bring students to the National Shrine of the Divine Mercy for retreats and to offer opportunities for summer internships at our farm and with our pilgrimage and retreat ministries."
Harne sees these opportunities for retreats and going out to serve, coupled with the spirituality, as a great benefit with this partnership. He explained Father Gaitley places lots of focus on the corporal works of mercy. "For him, the spiritual journey at some point is going to lead us to serve others and be spiritually present to them. Thus, corporal and spiritual works of mercy both are emphasized."
"It's a unique opportunity," Harne said. "I haven't seen anything like this anywhere else." He also finds the students had "extraordinary positive reactions" once they learned of this partnership. So did their families.
A Student's Take
Junior Ruben Mendoza-Medrano was a Marian Missionary of Mercy before coming to Northeast Catholic. He traveled to parishes around the country, sharing about consecration to Our Lady, and went "to be a presence to our brothers in the streets" in New York, Boston and other localities, he said. While discerning what God wanted him to do, he said that "Father Mike [Gaitley] recommended that I come to school and study."
Naturally, he was excited to hear the Marian Missionaries were coming to Northeast Catholic and expects the missionaries' presence will help Northeast to flourish.
Mendoza-Medrano sees his role as twofold: to stay focused on his studies and  to support the spirituality and the prayer life that the Marian Missionaries will bring to campus.
"It's great just to have that and make it more available to the community," he said. "That's my hope."
He strongly believes the students will benefit from mission trips focused on the works of mercy: "We want to show God's love for the other just by being interested in them. If I love this person so much, how much more God loves this person."
Father Roger Boucher, the college's chaplain the past five years, also sees the benefits of this partnership. He told the Register, "To accept the Marian Missionaries at Northeast Catholic College with an open heart is to have confidence that God is blessing us. If I were a parish pastor again, I would hope for a community that is aggressive with the corporal and spiritual works of mercy and devoted to Christ and Our Lady."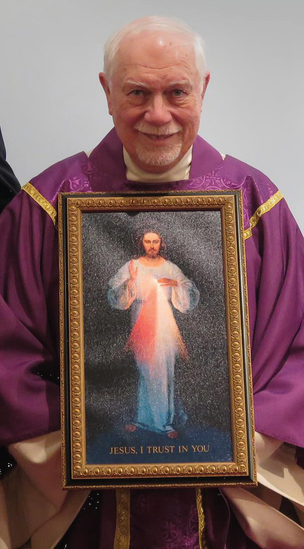 "It is just this formation that the missionaries have and which will complement the good spiritual and liturgical life we have on campus," Father Boucher added.
"We are always called to be the friends of God, and I am confident that our new friends will help us, and we them, in our shared witness for Christ."
He will be supporting the sacramental and liturgical life and initiatives of the partnership via such efforts as the Confraternity of St. Joseph and the Sodality of Mary.
Overall, Harne concluded, "This is a match that was really coordinated by Our Lady. All I had to do was get out of the way and cooperate."
Joseph Pronechen is a
Register staff writer.