Downloading DOCAT
Young people answer Pope's call to put Church's social doctrine in action.
When DOCAT, the companion to the popular YOUCAT (Youth Catechism) was released at World Youth Day in Krakow, Poland, the response was "tremendous," as Ignatius Press President and CEO Mark Brumley described. "The Holy Father donated thousands of copies of the DOCAT app. And, of course, he urged young people to pick up the DOCAT book, to learn from it and to act on it, as true disciples of the Lord Jesus."
DOCAT, the popular adaption of the social doctrine of the Catholic Church, draws on Scripture, YOUCAT, the Catechism and the Compendium of Catholic Social Teaching to help young people answer the question: "What do I do?"
DOCAT also features a foreword by the Holy Father. "As Pope Francis says in the introduction to DOCAT, the purpose of the book is to help its readers undergo conversion in Christ, then to bring the Gospel to the transformation of our world — first to people and situations immediately around us, and then to the wider world," explained Brumley.
Converted to Christ
"DOCAT also recognizes, as Pope Francis has noted, that do-goodism isn't enough," Brumley elaborated. "We need conversion to Christ. Society needs conversion. And to foster conversion in the social order, we must act rightly by the power of the Spirit and not just talk about it."
The Kowitz siblings went to World Youth Day in Poland with the goal of having deeper conversions to Christ.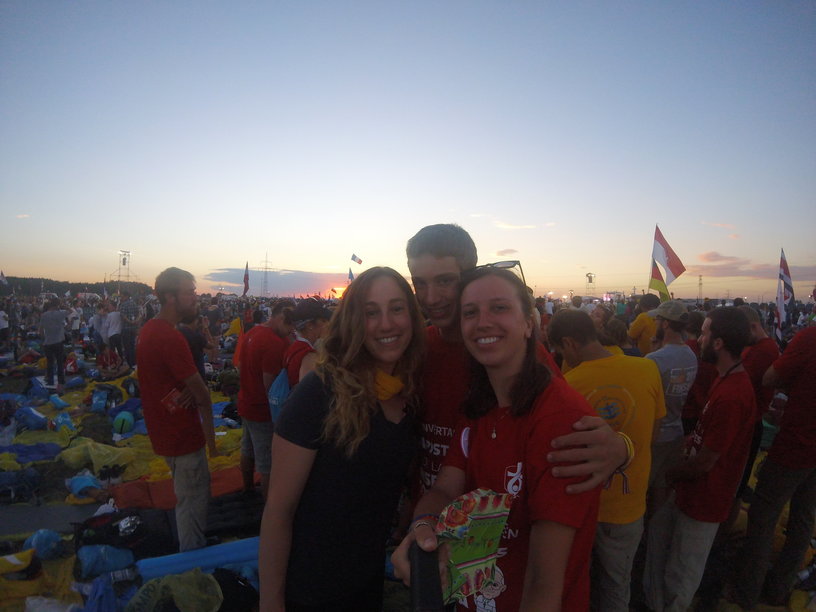 "The pilgrimage came at a good time for us, as we lost our dad a year ago. It was very healing to be in Poland, the home country of John Paul II, whom we all have a strong devotion to," said Mary Kowitz, a 28-year-old physical therapist from St. Paul, Minnesota. "JPII has been a source of comfort for me this past year in prayer, as he had lost his entire family and yet still found joy in Christ, grew in holiness and answered God's call for his life. For me, the pilgrimage reinvigorated my hope."
She already puts the Church's social mission into practice by serving the poor on mission trips, volunteering as a catechist at her parish, helping new mothers with child care and household duties and treating her patients with compassion and love. But she still felt an urge to be more attentive to poverty around her.
"Looking at the problems I see here in the U.S., the spiritual poverty really stands out to me," she said. "There are many lonely people in nursing homes to visit, many young people who need good formation for the sacraments and many people who struggle with understanding the Church's teaching on contraception. Attending World Youth Day has increased my sense of urgency to take action in these ministries."
Shared Goal to Serve
Paula Kowitz, a sophomore at Belmont University in Nashville, Tennessee, found both World Youth Day and her journey on the famed pilgrimage route of El Camino de Santiago (The Way of St. James) with her siblings to be transformative and motivating experiences in her effort to put mercy into action. The pilgrimage, as she mentioned, "helped reaffirm my choice of a career path in nursing. My dad was a physician, and to see how he brought his faith into his work and helped bring healing to his patients, not just physically, but also spiritually, inspired me. I'm just really excited to see all of the good I can do in my career."
The student is active in works of mercy on her college campus. Along with sister Mary and their younger brother, Robert, a high-school senior in Watertown, South Dakota, she was moved by Pope Francis' encouragement during World Youth Day. As Robert continues teaching catechism to fifth-graders and discerns a vocation to the priesthood, he, along with his sisters — three of whom attended World Youth Day in Poland, but six in total — recognize the value in having shared the experience of World Youth Day.
"I feel very blessed to have siblings who I can experience these great faith events with," Robert said.
Inspiring Youth
Youth ministry is looking at DOCAT as an affirmation of the interests of young people, especially in the Year of Mercy.
"Statistically, millennials have a natural desire to do acts of justice and serve," said Everett Fritz, executive director of St. Andrew Missionaries in Littleton, Colorado, who has more than 10 years of experience working in youth ministry. "They have compassion for their neighbors."
Fritz works with his students every year to "identify the marginalized that they are naturally passionate about, empowering them to serve or even start an apostolate" in order to help that group of people. He offered some examples: "We have had groups sew clothes for babies and then donate the clothes to pregnancy centers. We have had groups put together and host a mother-daughter tea. We had a boys' group that secretly snuck into the kitchen to do all of the dishes at the mother-daughter tea so that the girls didn't have to. We also had a group that prayed every week in front of an abortion clinic."
Fritz plans to use the DOCAT app with his current discipleship group of high-school boys, believing that Pope Francis' example has inspired young people to become the generation of "walking, talking social doctrine" in their own communities.
"The youth have noticed Pope Francis' humility, his simplicity and his love. The Church has untapped potential. Inspire the youth, incorporate them into the mission of the Church, and they will change the world."
Katie Warner writes from Florida. Her website is CatholicKatie.com.