Casting for Christ and the Blessed Mother: Sculptor's Latest Project Focuses on Rosary
Artist Profile for the Month of Mary
Sculptor John W. Gilliam recently completed an epic project spread over 18 years — sculpting all 20 Mysteries of the Rosary in bronze.
Like all his sculptures, this project comes from his heart.
People might not recognize the signature "J. Gilliam" on a work, yet, every day, people see his life-size statue of Mother Teresa of Calcutta as they visit St. Patrick's Cathedral in New York. And others see one of his other four identical bronze sculptures of the saint at Loyola University in Chicago, the Cathedral of St. John the Evangelist in Boise, Idaho, St. Gabriel the Archangel parish in Cave Creek, Arizona, and St. Joseph Regional Health Center in Lewiston, Idaho.
Working from his Bear Paw Studio in Lenore, Idaho, Gilliam is most comfortable working with clay and bronze, capturing emotions, dramatic looks, intense meaning and even movement (his work is online at JohnGilliam.net).
He shared why he wanted to sculpt Mother Teresa. "I felt strongly about the right-to-life movement, which she represented," he told the Register, "and I was wanting to bring significance to the pro-life movement."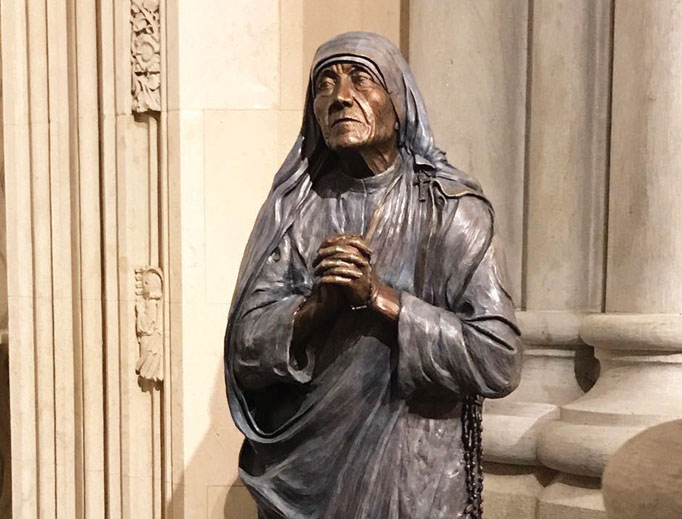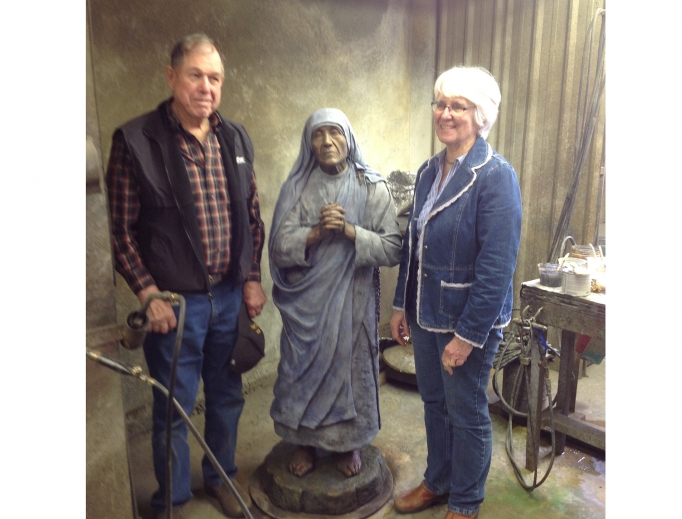 This particular sculpture had its inspiration in the 1990s, when Gilliam was first asked to do a bust of Mother Teresa, now in the Knights of Columbus Museum. He produced another, which he gave to his parents, Kenneth and Dorothy, who took it to Gallup, New Mexico, where Mother Teresa happened to be visiting one of her houses.
After she saw the piece and touched it, after a while, he decided to write her to ask her permission to make a life-size version. She answered at the time, indicating "no more." So he followed her wishes. But after she died, her nuns gave him permission to create a life-size statue.
"Tears flow when folks observe Mother Teresa and the I Am an American," he says, referring to another of his sculptures.
The Rosary
For his Rosary project, Gilliam worked steadily for almost 20 years. He completed all 20 Mysteries — Joyful, Luminous, Sorrowful and Glorious — cast in bronze and mounted on granite bases.
All the figures are in the same proportion, with Christ being about 21 inches tall. Several of the mysteries include patinas. The patina applied during the bronze casting process is a premature aging process, producing color with heat and acids so that, for example, Mary's veils are blue, lambs are white, and Jesus' scourge marks are red.
"The Rosary is something I've had a special devotion to my whole life," Gilliam explained.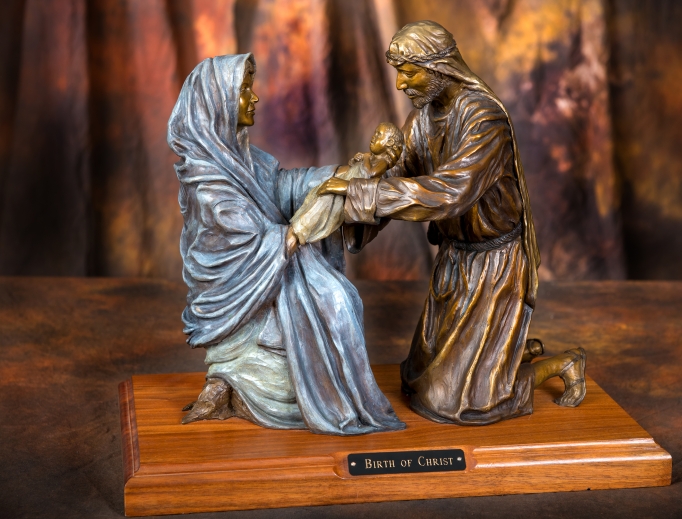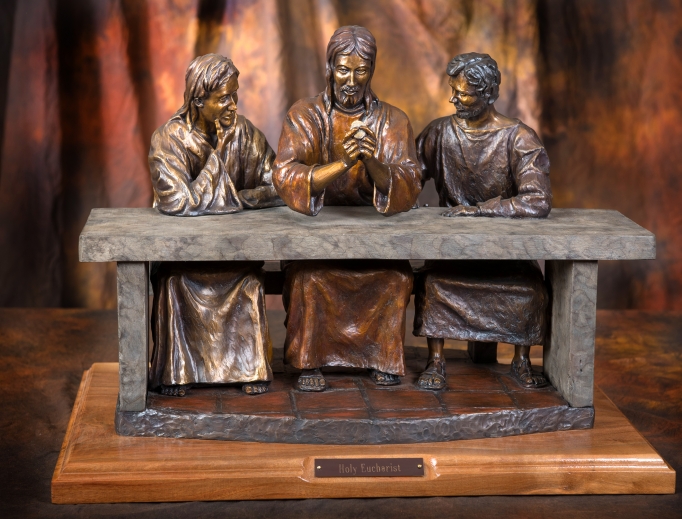 When he began sculpting in Idaho, where he moved with his wife, Judy, and their five sons, he made mostly western pieces because of his background: He was raised on a large ranch in northern Arizona. His involvement in the Cursillo movement influenced his decision to bring spirituality into his sculpting. He explained, "Seeing how sculptures communicate with people, I said to myself — 'Why wouldn't the Rosary explain the life of Christ in a three-dimensional way?' Bronze sculptures can be viewed, touched. They hold a person's attention."
"I think Christ commissioned me to do it," he added of his Rosary artwork. "For some reason, I felt I should do this. What I tried to do on my Rosary [project] was to make it as close as possible as it was historically." Gilliam also uses the sculptures as an evangelizing tool.  "I think it's a tremendous way to tell the world, including non-Catholics," Gilliam said, about the Marian prayer. "The Rosary, to me, isn't [just] a Catholic prayer — it's for everybody."
Currently, all 20 Mysteries of the Rosary Reflections in Bronze grace St. Augustine Church in Moscow, Idaho, in the St. Augustine Center Chapel and Church at the University of Idaho.
Father Chase Hasenoehrl, the pastor of the St. Augustine Center, says he is honored to be hosting all 20 Mysteries.
"These profound depictions of the mysteries of the Rosary really help convey our faith," he said. "I regularly have people come and say how profound they are." Even small children as young as age 2 "become mesmerized by them. People of all ages are touched by the bronze."
Because the process in casting remains basically unchanged from ancient times, except that now multiple sets can be made, Gilliam would like to see people obtain a whole set for a convent, a seminary, a shrine and the like.
Divine Intervention
Gilliam began sculpting in 1984.
"It's a 'disease' with me since then," he said with a laugh. "There is so much that can be done with good art."
Even without any formal training in sculpting, Gilliam says he is gratified his work touches people's hearts and gives rise to contemplation, like the Mysteries of the Rosary do themselves. He sculpts 90% with his hands.
"Touch — that's what is so effective about bronze," Gilliam says.
Gilliam's Divine Intervention captures compelling drama and movement in a true incident that happened to his father, a wagon boss on a huge Arizona ranch. His father took after a runaway horse and roped it. In the ensuing struggle, the rope caught under his horse's hind legs, catapulting the horse into a somersault.
His father shouldn't have been able to get out of the saddle, but, somehow, he jumped and made a soft landing. Gilliam's dad would tell him, "I knew I couldn't get away, but Somebody jerked me by the shoulders and dragged me out of that saddle."
Faith themes are found in nearly all of his sculptures, including the larger-than-life I Am an American, commissioned by the Lewiston, Idaho, Veterans' Home as a memorial. A second is displayed at Battle Mountain, Nevada. Viewers of the prototype were said to be moved to tears.
The soldier depicted is a medic, a rosary showing from his pocket, who is tending to an injured Iraqi boy whose arm is in a sling. It is a tribute to the corporal work of mercy.
Influencing Many
"I try to research with different sources," Gilliam explained of his methodology, citing the Bible, some books and, especially for Crucifixion and Passion scenes, Dr. Pierre Barbet's A Doctor at Calvary. Barbet was a French physician and surgeon who researched the Shroud of Turin in the 1950s.
The four-foot corpus on the crucifix in St. Theresa Catholic Church in Orofino, Idaho, shows a Suffering Christ looking down. "I went as close as I could to the historical facts, with the nail through the right wrist," explained Gilliam of one detail.
The Diocese of Boise commissioned a monstrance and tabernacle from Gilliam. Both are on the University of Idaho campus in St. Augustine Chapel. The work is meant to "emphasize the true nature of the living body of Christ," Gilliam said. He designed the figure of Jesus to actually be the monstrance atop the tabernacle. The Lord holds a Host in a luna. The tabernacle's brass door pictures a Host, chalice and the words, "This Is My Body." As Gilliam said: "My goal is to expose Christ's life to everybody in a form they could understand. My goal is to get to heaven and help as many people as I can to do the same."
Father Hasenoehrl — who has met with New York Cardinal Timothy Dolan, who, he said, "just loves" the statue of Mother Teresa —  is blessed by the faithful's reactions: It's "very beautiful to see the profound impact they've had on those who pray with them and are reminded of the mysteries of the faith," he said. "From conversations I've had with them, being able to visualize the mysteries has given them deeper appreciation of the Mysteries of the Rosary."
Joseph Pronechen is a
Register staff writer.