'Box of Joy' Gives Christmas to Needy Children Worldwide
How presents offer hope this special season.
Alcide Wilson held the little multicolored plastic blocks in his fingers, a puzzled look on his face. The Lego blocks were the only thing the 14-year-old student had trouble understanding after he opened a gift box recently delivered from the United States to his school in southwest Haiti.
As he thumbed through the rest of the "Box of Joy," he found socks, a comb, basic toiletries, pencils, shampoo and a few toys.
"I've never had a present before — ever," he said in Haitian French through a translator. "I felt very excited when I opened the box because I found things that I don't have, things I have no money to buy, like socks."
Wilson was one of more than 100 children and young adults at Ecole Espoir (School of Hope) to receive a Box of Joy last spring.
The program is a project of Cross Catholic Outreach, a Florida-based development organization.
Since it was founded in 2001, Cross Catholic has given more than $1 billion in aid to help the poorest of the poor in more than three dozen developing countries around the world.
The Box of Joy program, piloted in two dioceses in 2014, has grown from 2,000 gift boxes for children in Guatemala three years ago to more than 60,000 gifts in four countries this fall, according to Steve Bostian, director of the program for Cross Catholic.
"Now the program is nationwide, with participation from 47 states," he explained, "and we think it's going to continue to grow. Catholics in the U.S. are super excited about this program."
The volunteer-led program, administered by Cross Catholic, has attracted the participation of 476 clubs, parishes and schools to pack nonperishable items into a shoe box-sized Box of Joy for a poor child. Bostian says participants and volunteers also come from families, Scout troops, civic clubs, Coast Guard reservists and high-school students working for their service hours.
Alexis Lieu, 10, says she and the rest of her 15 fifth-grade classmates at St. Agnes Academy in Dalton, Massachusetts, enjoyed participating in the program.
"It feels pretty good because we're giving this to kids who don't have anything, and it feels good in our hearts," she said.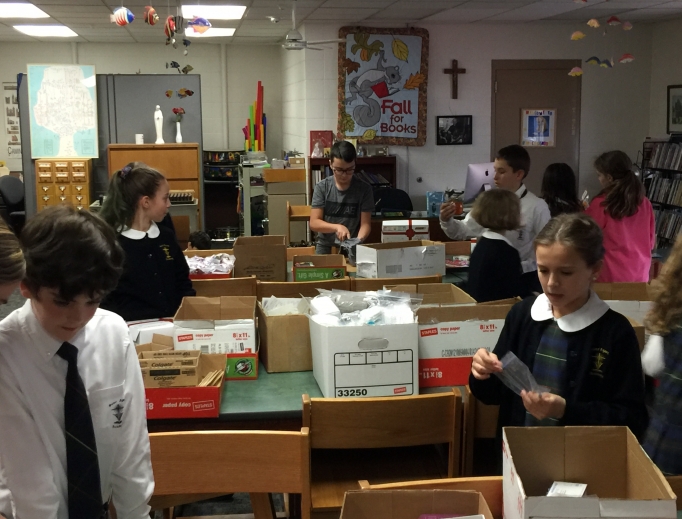 Her classmate, Ava Gianacopoulos, also 10, said that the packing party in the school's library brought the entire school and parish community together for a good cause.
"We had big boxes of combs and toys and pencils, stuff they needed," she said. "Then we packed it up into the boxes so we could send them off."
The St. Agnes community put together 362 boxes, which were shipped to Cross Catholic Outreach's screening center in southeast Florida.
"We've developed a network of regional drop-off locations so that, during Box of Joy week, which is always the second week of November, there is a drop-off center nearby most people," Bostian said. "At the screening center, our volunteers go through each box to make sure everything in there is safe and appropriate for a child and then prepare the boxes to ship overseas to our partners."
The rationale for the program, Bostian says, is simple.
"The one thing you find in chronic poverty, natural disasters or man-made disasters is that children are always the ones who suffer. So, through a simple project and a demonstration of Christ's love through giving a Box of Joy, we can help a child to enjoy some toys, some school supplies and practical items, to just enjoy being a kid and enjoy Christmas — something we all take for granted.
"It means the world because most of these children have never received a single gift."
This year, the program will deliver boxes to poverty-stricken children in Haiti, the Dominican Republic, Guatemala and Nicaragua.
Kristin Lloyd coordinated the Box of Joy program at Our Lady of Light parish in Fort Myers, Florida, this year. The parish got involved last year after Lloyd heard about the program on Catholic radio.
"Box of Joy opens our eyes to the fact that not everyone is as materially blessed as we are in this country, and it provides a way to experience the giving of Christmas, rather than the receiving of Christmas — and the fact that there's a real child on the other end of this box who's receiving joy, the joy of Christ," she said.
The parish packed more than 340 boxes this year — nearly double last year's count.
"We made a point of praying for the child who is receiving the box and for everybody whose hands touch the box along the way," she said.
That spirit is in complete accord with Cross Catholic Outreach's mission, said Jim Cavnar, who founded the ministry in 2001.
"People in the U.S. are very wealthy by world standards, but overseas we do see incredible faith and a witness of faith and love of God among the poor and those who serve them," he told the Register.
Box of Joy is a new and popular Cross Catholic program. The local "Day of Joy'" celebration events, where the Boxes of Joy are shared with needy children, are organized by local Catholic ministry partners.
"Our focus is empowering the Catholic Church and Church-based ministries to help the poor," Cavnar said. Cross Catholic mobilizes overseas "by providing resources to empower the local Church and Church-based ministries that are effectively helping the poorest of the poor — and who are ministering to them spiritually, as well as having effective education programs, housing and micro-financing, water and community development. Those things are critical, but we look to mobilize and empower especially those who are also committed to sharing the Lord with people."
Cross Catholic's mission stateside is "to rally and mobilize the Church of the poor," he said, "and to help them recognize the poverty overseas, which is far more severe than most people in the U.S. understand. It's almost hard to communicate unless you bring them here."
Amy Galvez, a paraprofessional and kindergarten teacher at St. Agnes Academy, has seen the impact of programs like Box of Joy firsthand. Her husband is Guatemalan. "We lived in Guatemala for two and a half years," she said, "and we got a chance to see how people live there. We got to see the villages, and the people always have smiles on their faces, so I can only imagine what it's like to see their faces when they get one of these boxes!"
Patrick Novecosky is a veteran
journalist and a former Register correspondent.
He recently returned from a trip to Haiti,
accompanying Cross Catholic
Outreach on its 'Box of Joy' distributions.
Novecosky is vice president of coalition
relations for the
Cardinal Newman Society.
This story was updated online after posting and after it went to press.
INFORMATION
If there isn't a drop-off center in your diocese, you can ship your 'Box of Joy' directly to the national screening center (address below). Please also include $9 per box because of the cost involved in shipping your gift from the U.S. to a child overseas. Boxes must be postmarked by Christmas Eve.
Cross Catholic Outreach-Box of Joy
c/o MIQ Logistics
11210 NW 91st St, Suite 1
Miami, FL 33178