'Born of Hope'
Book Pick: Open Mind, Faithful Heart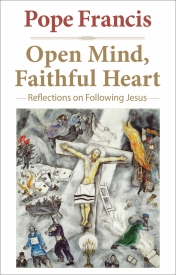 OPEN MIND, FAITHFUL
HEART
Reflections on Following Jesus
By Cardinal Bergoglio/
Pope Francis
Crossroad Publishing, 2013
320 pages, $29.95
To order: (800) 888-4741 or crossroadpublishing.com

Open Mind, Faithful Heart contains the texts of 48 meetings Cardinal Jorge Bergoglio had with priests in Argentina.
While the contents of the book, replete with Scripture references, were meant primarily for the clergy, the laity can certainly gain insights from them.
Some of those insights, however, may be unwelcome initially — because they involve conquering our own pride.
The person who does not connect in some way with Open Mind, Faithful Heart is either spiritually blind or a veritable saint.
Readers will be relentlessly but lovingly challenged throughout the book, now available in English, to remove all barriers between themselves and the sacred humanity of Christ.
Three common barriers are impatience, unfaithfulness and lack of surrender in prayer.
Regarding impatience, Cardinal Bergoglio taught priests in Buenos Aires the following: "In attempting to skip over stages of growth, the impatient heart ceases to be a creature; it becomes, instead, a creator of shallow projects of protest that are inherently self-seeking."
So what's the answer? Christian hope: "In [Christ] we learn that God is great above all, that sin is ephemeral and that patience and constancy are born of hope." This is why, the cardinal explained, the kingdom of God does not come about suddenly, but is slowly realized until the final coming of Christ.
Regarding unfaithfulness, Cardinal Bergoglio pointed out: "When we are unfaithful, we usually betray not just ideas, but concrete persons."
"Joy is the sign that our hearts have found what is good for them. But the ultimate good for our hearts does not consist in our domination of any situation," he stated. "Our ultimate good lies in our love for concrete persons: for our neighbors, for Our Lady, for [the] Father, Son and Holy Spirit. Over and above these concrete persons, there exists no ideal realm of values that merits our zealous efforts."
Behind unfaithfulness, impatience or any other failing is a lack of surrender in prayer, he said. We should heed the advice in Open Mind, Faithful Heart: "Our ability to seek out, discover, define and orient our mission — and be obedient to it — comes to us and grows in us only through prayer."
The fulfillment of this destiny takes a mind open to the truth of God and a heart faithful to that truth, as Cardinal Bergoglio well reminds readers.
Trent Beattie
writes from Seattle.