Do Your Tax Dollars Pay for Abortion? It Depends on Where You Live
Pro-lifers like Dr. Ingrid Skop, an OB-GYN and vice president of the Charlotte Lozier Institute, argue that Medicaid funding for abortion amounts to 'eugenic action.'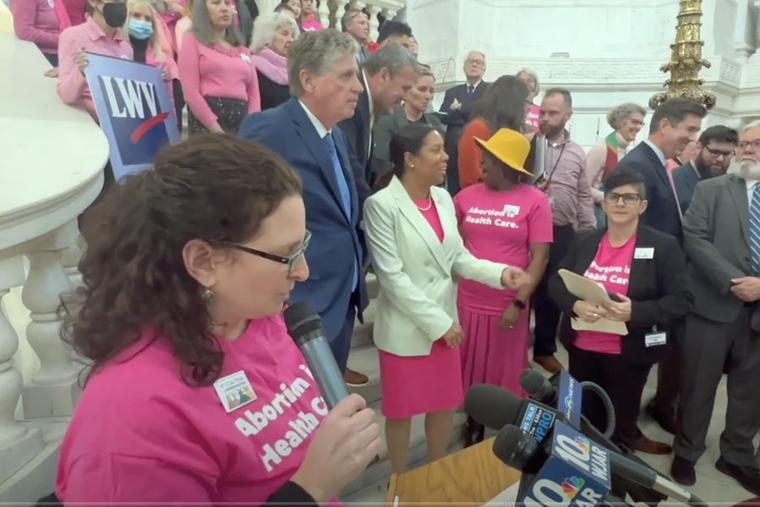 Last Thursday Rhode Island Gov. Daniel McKee signed a bill extending abortion coverage to Medicaid and health insurance plans used by state workers.
Rhode Island joins 16 other states funding abortion through Medicaid, despite a federal policy known as the Hyde Amendment prohibiting the use of tax dollars to pay for abortion.
Because Medicaid is jointly funded by the state and federal government, tax dollar funding for abortion through Medicaid is severely restricted in most states.
So, how can Rhode Island and these 16 other states get away with having their taxpayers subsidize abortion?
Here's what you need to know.
What is the Hyde Amendment?
First passed in 1976, the Hyde Amendment — named for Illinois Rep. Henry Hyde, who introduced it — is a budget policy that restricts federal tax dollars from being used for abortions.
For years the amendment enjoyed bipartisan support, with Democratic senators such as Joe Biden advocating its usage in the Senate.
Because the amendment has never been made permanent law, Congress chooses whether to include Hyde each year when passing the annual budget package.
This makes Hyde particularly vulnerable to Democratic efforts in Congress and the White House to simply drop it out of the budget. Despite this Hyde has successfully passed and been attached to every annual federal budget package since 1976.
As at least half of Medicaid funding comes from the federal government, according to a Medicaid overview recently published by the Congressional Research Service; most states do not cover abortion in their Medicaid plans.
So, how can states use tax dollars to pay for abortion?
Robert Destro, former assistant secretary of state for the Bureau of Democracy, Human Rights, and Labor, told CNA that "the short answer is that Hyde does not govern what states do with their own money."
According to Destro, it's essentially a question of state vs. federal tax dollars.
Since 1976 Hyde restrictions have kept federal tax dollars from being used to pay for abortions.
Hyde does not, however, restrict states' ability to use state tax dollars to pay for abortion. So, while federal funding cannot be used for abortion, state funding can.
Rhode Island's new bill amended state law to include abortion in its Medicaid provisions. The state claims it will only use state funds to pay for abortion, thus not violating the Hyde Amendment.
"California and New York have been doing this for a long time," Destro explained, adding that "what Rhode Island is doing is nothing new."
Though it may appear that states are using a legal loophole to work around Hyde, Michael New, senior associate scholar at the Charlotte Lozier Institute, told CNA that "there is no loophole."
Normally, the federal government reimburses states for a percentage of their Medicaid expenditures at a rate called the Federal Medical Assistance Percentage.
States that want to pay for abortions through their Medicaid program could do so out of their own coffers and simply just not be reimbursed by the federal government.
While clarifying that "the federal government does not provide reimbursements or matching funds for elective abortions paid for by state Medicaid programs," New explained that "states have always been free to use their own tax dollars to cover abortions through their own respective Medicaid programs."
According to a list compiled by the abortion research organization the Guttmacher Institute in March, other states covering abortion in their Medicaid plans are California, Oregon, Washington, Montana, Minnesota, Illinois, New York, Vermont, Maine, Massachusetts, Connecticut, New Jersey, Maryland, New Mexico, Alaska, and Hawaii.
This means that if you live in any of these states your tax dollars are being used to pay for abortion.
Though New said that there has been some litigation in some states to challenge the constitutionality or legality of covering abortion in a state Medicaid program, he is not aware of any current efforts challenging the practice.
"In 2017 Gov. Bruce Rauner of Illinois signed legislation requiring the state Medicaid program to cover elective abortion. The Thomas More Society, a pro-life nonprofit, subsequently sued, arguing that legislation failed to go through the proper budget process. The lawsuit was unsuccessful," New said.
Impact of Including Abortion in Medicaid
Proponents of Medicaid funding for abortion have argued that it is a necessary step to ensure abortion access for impoverished communities.
Rhode Island's new law claims that "restrictions on abortion coverage have a disproportionate impact on low-income residents, immigrants, people of color, and young people who are already disadvantaged in their access to the resources, information, and services necessary to prevent an unintended pregnancy or to carry a healthy pregnancy to term."
The bill concludes that "the purpose of this legislation is to promote equity in access to reproductive health care."
Yet, pro-lifers like Dr. Ingrid Skop, an OB-GYN and vice president of the Charlotte Lozier Institute, argue that Medicaid funding for abortion amounts to "eugenic action."
"Rather than provide the emotional, relationship, material, and financial support that women in crisis need to allow them to give birth to their children," Skop said, "apparently, many states would prefer to rid themselves of the children of impoverished women before birth."