Photographing a Saint
Republished photographic journal by Michael Collopy follows the life and work of Mother Teresa in a series of black-and-white photos with minimal text.
"Too many words. … Let them just see what we do." ~ Mother Teresa
With that simple line, I was drawn into the recently republished book from Ignatius Press entitled, Works of Love Are Works of Peace. Originally published in 1996, the photographic journal by Michael Collopy follows the life and work of Mother Teresa in a series of black-and-white photos with minimal text.
"Welcome everyone as you welcome Christ himself. Show great love and respect."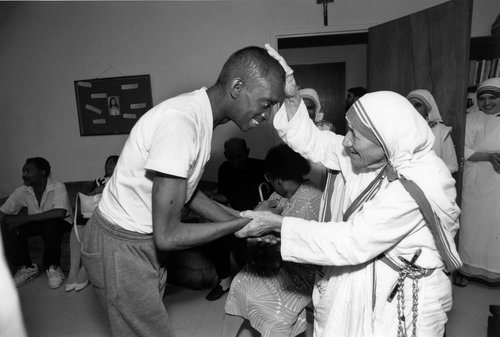 In the introduction, photographer Collopy describes his attempts to get Mother to sit for a formal portrait session: something that only happened after two years of close association with the sisters and their work.
He writes, "Mother finally gave in and agreed to be photographed, more as a favor to me and the sisters than anything else, I suspect."
His work presents a vivid and compelling story of the life and work of Mother Teresa and the apostolate of the Missionaries of Charity. She comes to life in the pages of this book, and the photos, in turn, become a gift back to all of us.
The hands of Mother Teresa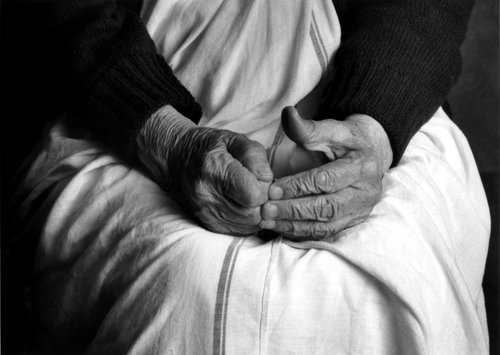 But the photographer also cautions readers, saying, "The photographs that you will see in this book, though taken over the period of 10 years, offer merely a glimpse into the life of this multifaceted religious community and the people that they love and serve. Much of the life of the Missionaries of Charity is hidden in hours of prayer. Everything that they do flows from and is an expression of their loving contact with God in prayer. In fact, their work cannot be understood properly outside the context of their prayer life."
And then he quotes Mother Teresa as saying, "We did not come to be social workers, but to belong to Jesus. Pray with Jesus, and Jesus will pray through you. All we do — our life — has no other reason or motivation. This is a point many people do not understand."
Inside their life of prayer and service, the photos also reflect great joy — like this one of a sister jumping rope with children:
Children's Summer Camp, Oakland, 1993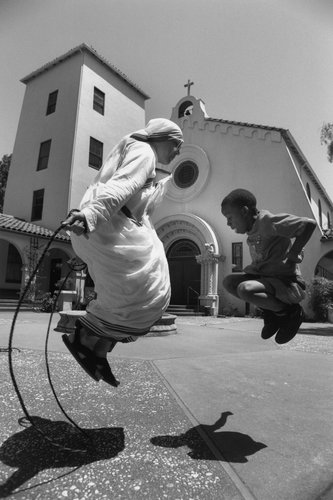 The sisters themselves shine through the pages. We see final professions, with moments of joy, and hard moments of work and toil. One of the photos is vividly captioned, "We pray together. We eat together. We work together. And we fight together." Another is a direct quote from Mother Teresa: "What could I have done without my sisters?!"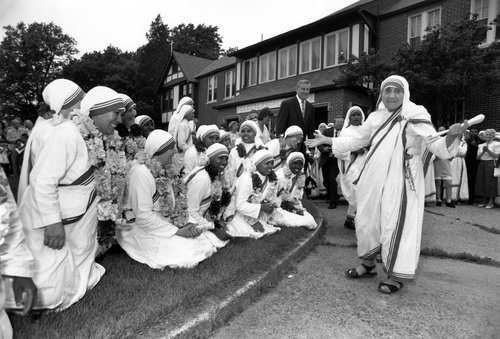 Fittingly, the book concludes with a series of prayers and meditations from Mother Teresa, including her beautiful letter, I Thirst. The prayer that especially moved me was the one that the sisters pray before leaving for apostolate:
Dear Lord, the Great Healer, I kneel before you, since every perfect gift must come from you. I pray: Give skill to my hands, clear vision to my mind, kindness and meekness to my heart. Give me singleness of purpose, strength to lift up a part of the burden of my suffering fellow men and a true realization of the privilege that is mine. Take from my heart all guile and worldliness, that, with the simple faith of a child, I may rely on you. Amen.
Mother greeting and blessing her sisters, as they now carry on her work.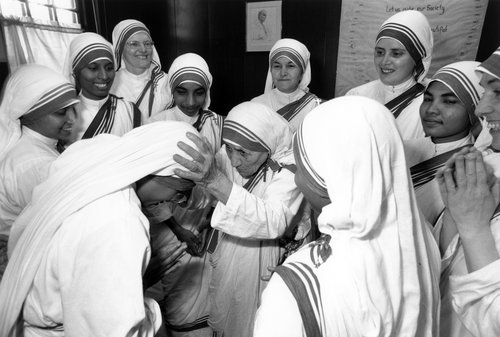 Ignatius Press, 2016
224 Pages, 24.95
To purchase: ignatius.com
Also order by calling: 800.651.1531
All photos used with permission from Ignatius Press;
photo credits: Michael Collopy, from Works of Love Are Works of Peace.