Oh, That Final Verse!
The other day, my sister posted the sheet music for a lovely Christmas carol I haven't heard in many years. It's called "Would I Were Nigh," and it's from An Irish Carol Book (published by McLaughlin and Reilly) compiled by Fr. John Fennelly, arranged by Fr. Fennelley and "J.G.P." who is J. Gerald Phillips, my sister's choir director in college. I can't find a recording anywhere, so here is the music (thanks to Sam Schmitt for hunting down and sharing the sheet music!):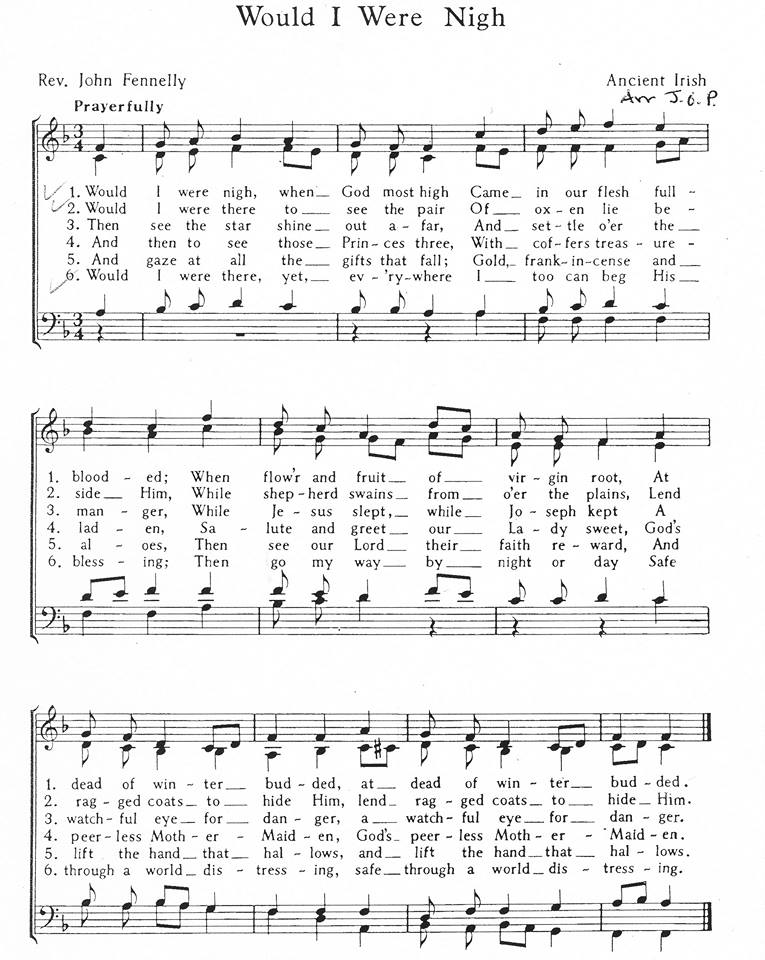 This is my favorite kind of Christmas carol: gentle, tender, and spare, with enough details to make the scene human, but also eliciting a sense of wonder.
The sheet music above shows that the choir director wanted the singers to perform the first verse, to skip verses 3-5 for brevity, and to end with the final verse. Oh, that final verse! It's there for a reason. Many's the time we've sung a hymn at Mass where we praise the Father for one verse, then start over again to praise the Son, and then the organist apparently thinks, "Well, that's enough of that," and the poor Holy Spirit is left out in the cold, just proceeding from the Father and the Son without being sung about at all. Ha.
Anyway, the final verse here, too, is a vital one. The first five verses express a subjunctive longing to have been present at the actual birth of Our Lord – to see "the oxen lie beside Him" – to watch Joseph keep "a watchful eye for danger" while the baby sleeps -- to see the shepherds "lend ragged coats to hide Him."
But the final verse is even more reflective: "Would I were there . . . " he says, "Yet everywhere, I too can beg His blessing; Then go my way, by night or day, safe through a world distressing." And that one thought deftly rescues the entire song from any hint of fantasy or sentimentalism: we don't have to daydream or wish, because no matter who, where, or when we are, the scene is real. The Incarnation of our Lord is present to us. The luminous child lights the way through every era.
If you've driven down the road on December 26, you'll see a bunch of denuded Christmas trees, tossed out on their ears by the garbage bins, because their owners think Christmas is over. This is because they haven't heard the "final verse," as it were – they haven't listened to the song all the way through. They don't realize that Christmas is a beginning, not an end. 
We make the same mistake if we pin all our hopes for peace and joy and love on Christmas day, or really on any single day: We haven't listened to the song all the way through. We're leaving off the final verse, and that one is vital.
What do I mean? I mean that the final verse, in anything that God is trying to tell us, is, "This story, your story, doesn't end with death." If you're not getting everything you need in this world, if you don't feel satisfied, if you feel adrift and alone and incomplete, that's because we haven't gotten to the end of the song yet. You haven't yet gotten to the final verse, which rescues all the others from fantasy.
 
The most accurate "final verse" we can sing is the one the Church teaches us: We wait in joyful hope. Don't skip that verse, as you work your way through these final days of Advent. Keep reminding yourself that we're looking ahead. It's important to be fully present in the world around us, to see and touch and hear the people and things in our life right now . . . but it's also vital to remember that the light of the Christ child is not meant be contained in a single day. It stretches from that night in Bethlehem to our present day, and it also stretches out ahead of us, into the future, as we wait for Him to come again and set all things right, in our own lives and in the "world distressing."
So if this season feels all too distressing to you – if you are alone, or if you are suffering, or if bad memories seep through and make this time of year awful – remember that we're all still in that subjunctive phase, and there's nothing wrong with you if you feel incomplete. The final verse is yet to come. Oh, that final verse! It's a good one.