Mary in All Her Glory
Crowned images from the Vatican highlighted in new exbihit.
For centuries, Mary has been the subject of glorious devotional art in many genres. In May one rather unique style of Marian art arrived directly from the Vatican for display at the Knights of Columbus Museum in New Haven, Conn.
This major exhibit — Full of Grace, Crowned Madonnas of the Vatican Basilica — highlight more than 90 paintings of crowned images of Mary that span several centuries. The Vatican restored them all over the last eight years. Not only is this matchless collection the major part of 120 such images at the Vatican, but it's the first time they've ever left St. Peter's in as large a group.
In fact, this exhibit's curator is Pietro Zander, the Vatican's chief archaeologist connected with Fabbrica di San Pietro that maintains St. Peter's and its sacred art.
They are part of what once was a very large collection: 1,300 images of Mary were crowned worldwide between 1636 and 1881. The crownings were documented in these paintings that traditionally copied the original images of Mary in the particular churches, shrines or sanctuaries and then sent to the Vatican.
Each image of Mary has particular significance.
For instance, the image of Madonna di Gallivaggio (Lombardy, June 1742)  honored Our Lady's appearance there in 1492, which was witnessed by the local bishop.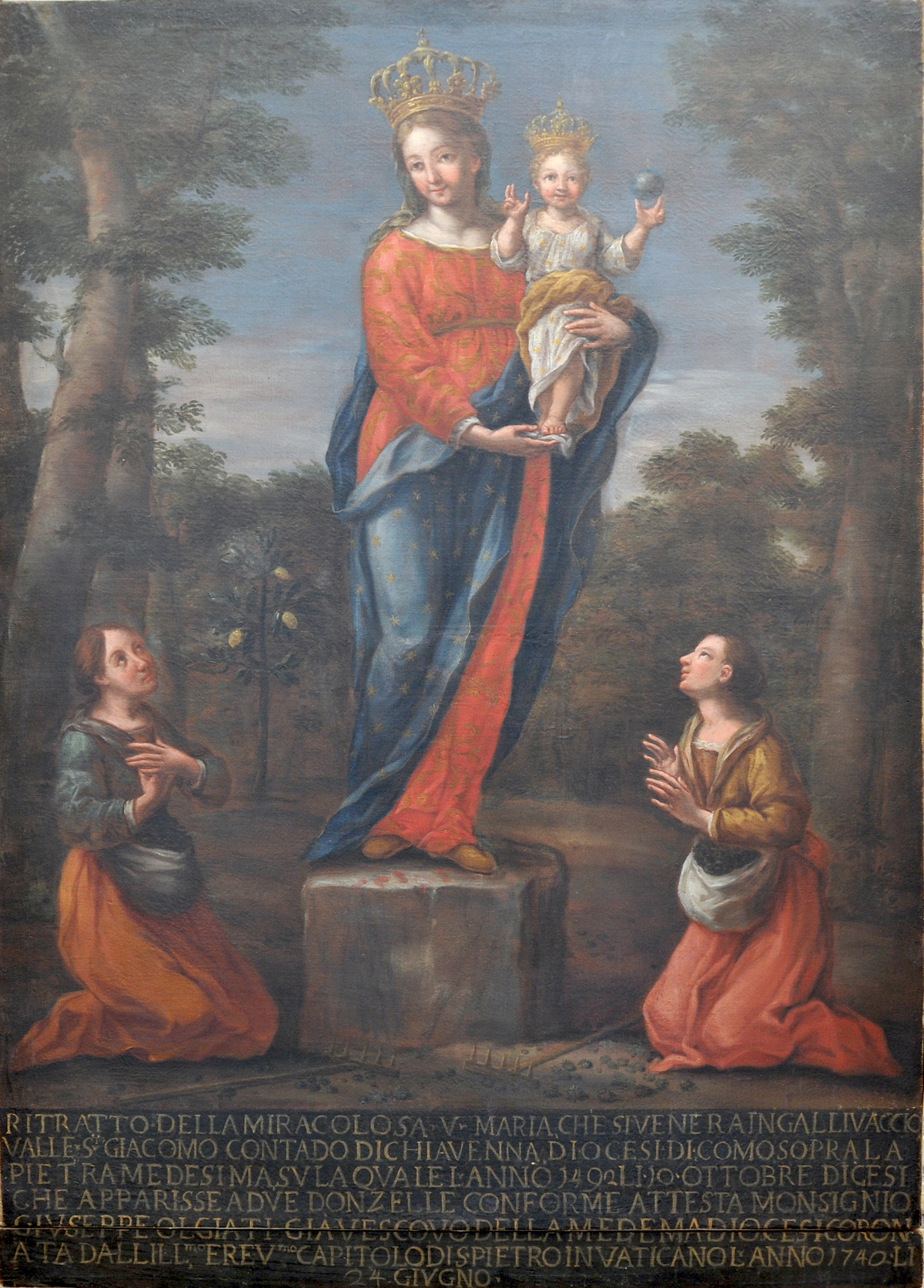 Notice the documentation the paintings carry that briefly explain a reason or detail connected to the crowning.
Another image is the Beata Vergine Lauretana from Lombardy, crowned Aug. 17, 1732. This image of the miraculous Blessed Virgin of Loreto was honored by crowning for the Blessed Virgin's protection of Cremona and her liberators from the plague of 1630.
Mary appears in a painted "frame" and is surrounded by cherubs. Notice the Holy Spirit below the crown.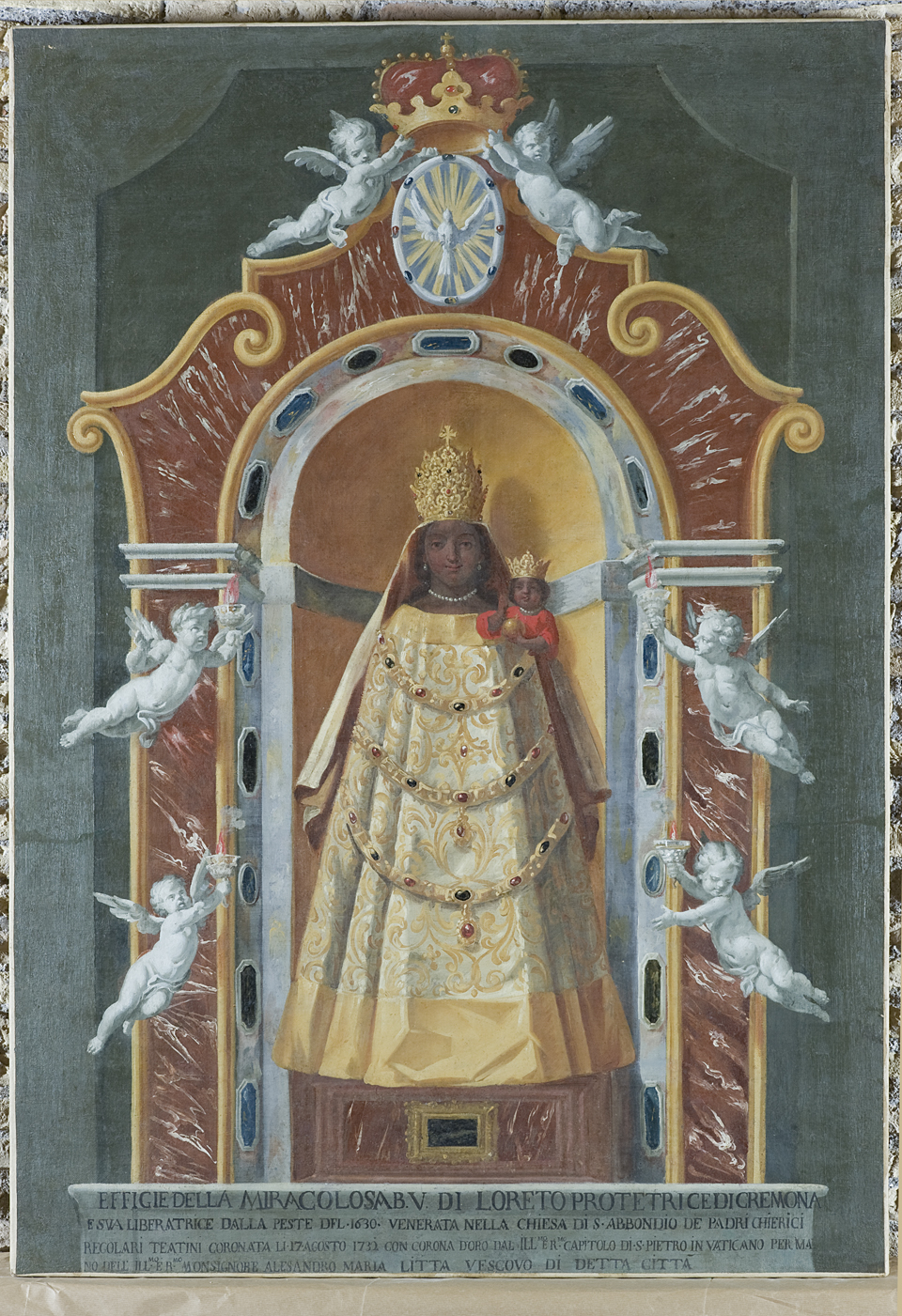 Our Blessed Mother appears in many ways, in titles sometimes unfamiliar, and in elaborate to simple dress. One lesson is the universality in devotion to her and her universal motherhood of us all. Take, for example, Madonna della Libera from Italy.

Not only does Mary wear a huge gold crown, but the elaborate chain around her neck holds a pendant with her golden heart aflame. Note the golden crosses she displays on palms with hands held high. Even when she doesn't appear with the Child Jesus, as she often does, she reminds us of her Son and his sacrifice for us with her gesture.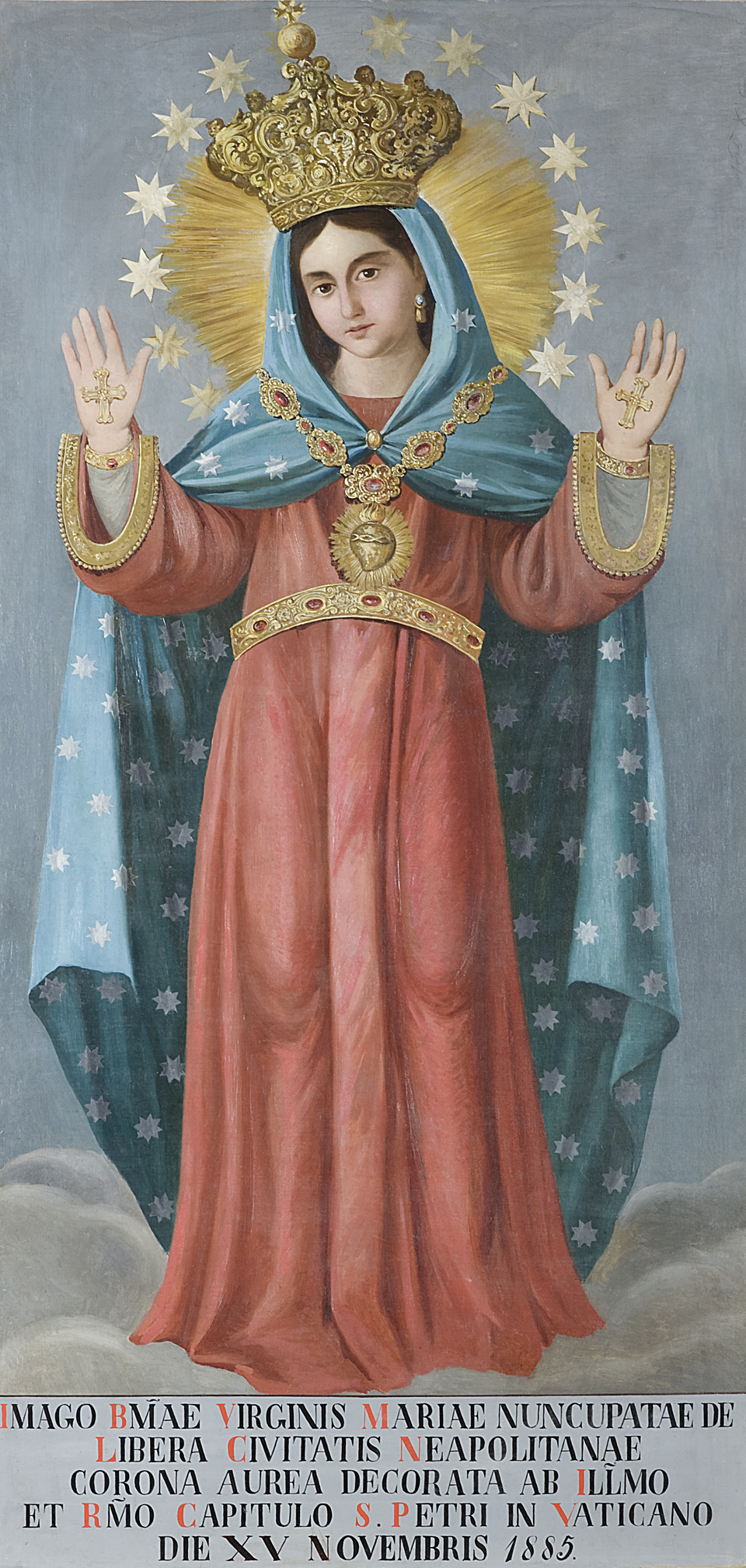 Next, as Madonna di Barbana, crowned on Aug. 15, 1862, observe the elaborate royal dress embroidered with flowers that Mary wears. In many of these paintings, Jesus usually appears with a similar crown.
Observe the rose Mary holds, and the cherubs surrounding her, as they do in many of the paintings. This painting-document includes a view of the church which honors her.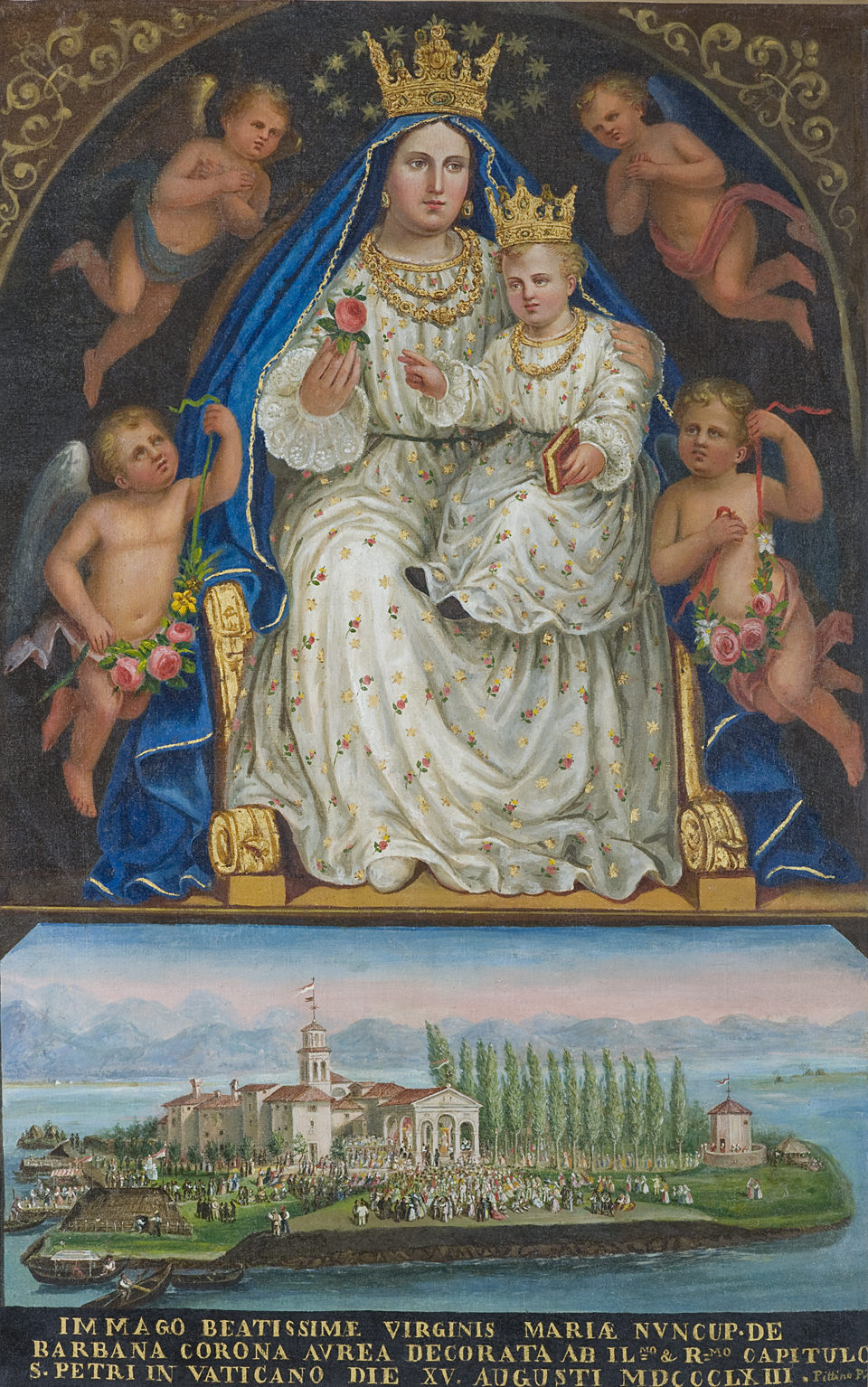 A monastery and local mountains play a part in Madonna della Quercia, also from Italy and crowned Sept. 5, 1920.  Mary appears on a cloud at mid-tree height. The shepherd girl kneeling in awe and the scene itself brings to mind a more universally known title: Our Lady of Fatima.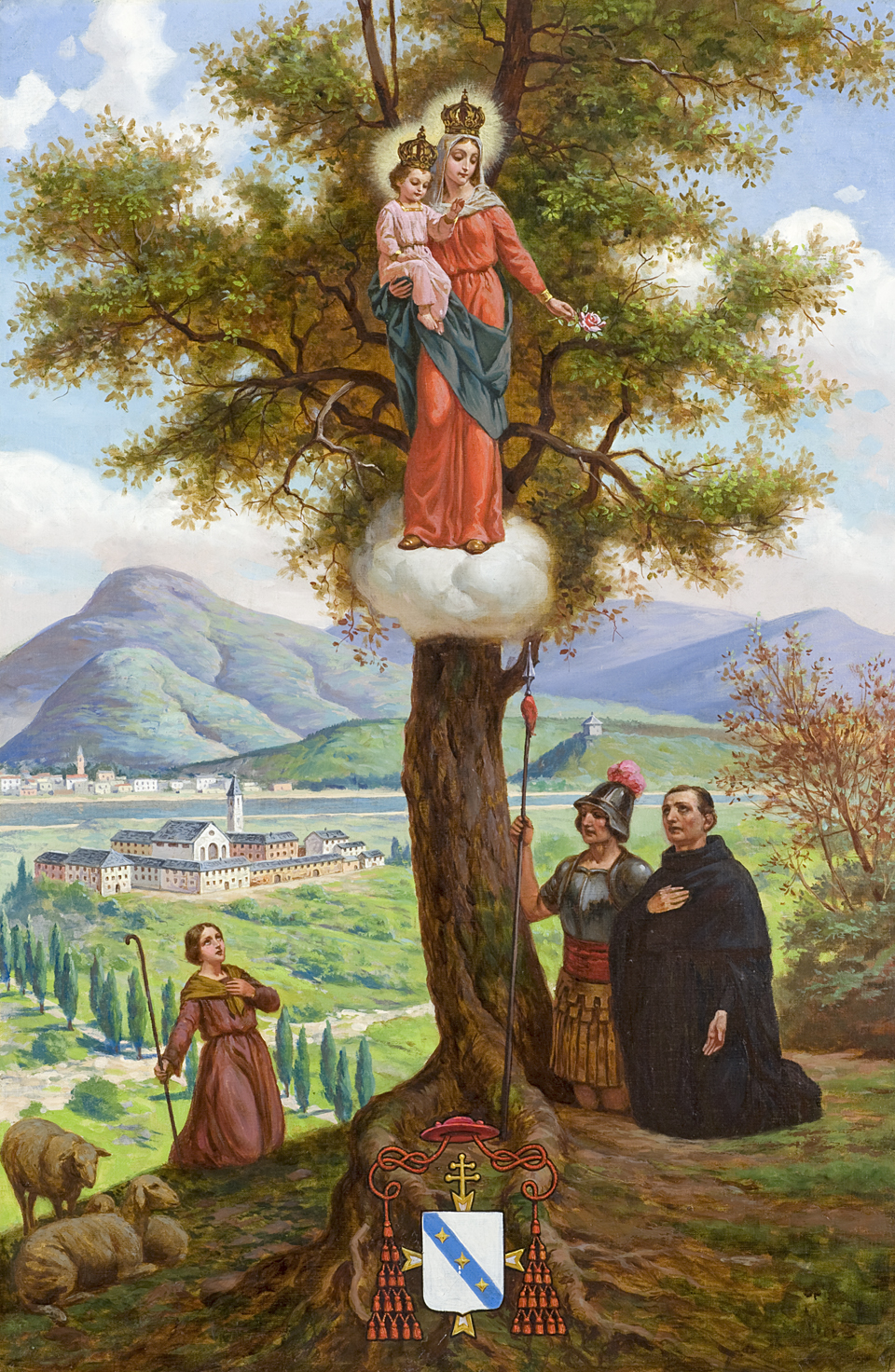 The original crowned images honor Mary in a variety of ways or titles. Many are statues, like the alabaster Blessed Mother of Consolation from a shrine in Genoa. Others are wood panel paintings, frescoes, mosaics, and so on. And while many titles are unfamiliar, others are not. Take the beautiful Santa Maria Annuniziata, crowned Aug. 17, 1919, in Campania, Italy, at a shine of the same name. 

There is the Renaissance look of an old Dutch master. An Old Masters' quality also appears in a crowning honoring Mary as the Madonna del Prescipio from 1784.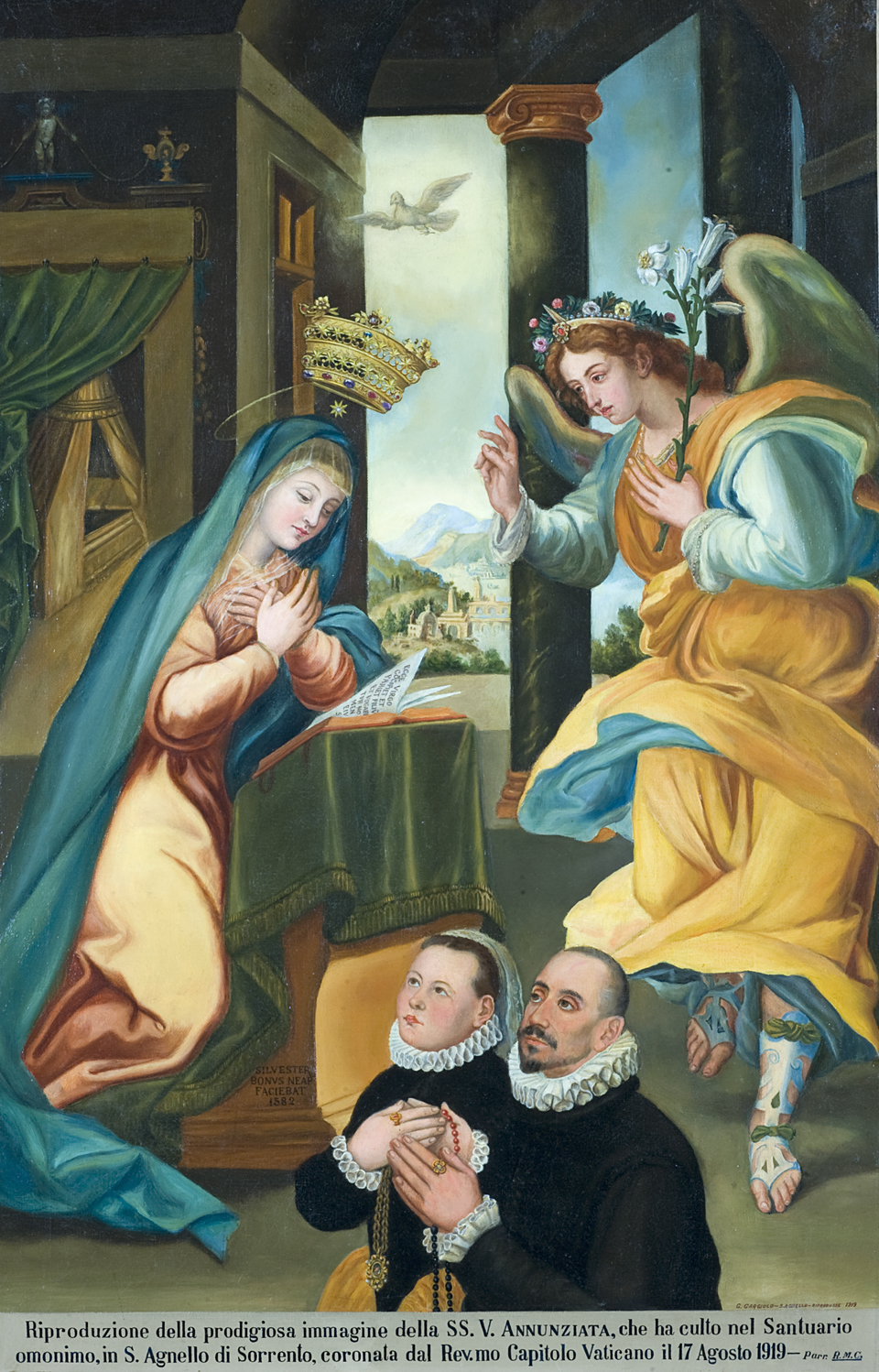 There are also very simple images documented, like the Madonna del Pasco from Italy's Piedmont region. The original crowned image is in the Church of the Madonna del Pasco and was crowned Aug. 15, 1900. Notice that Mary holds a cherry and so does the Child Jesus, who feeds it to a bird.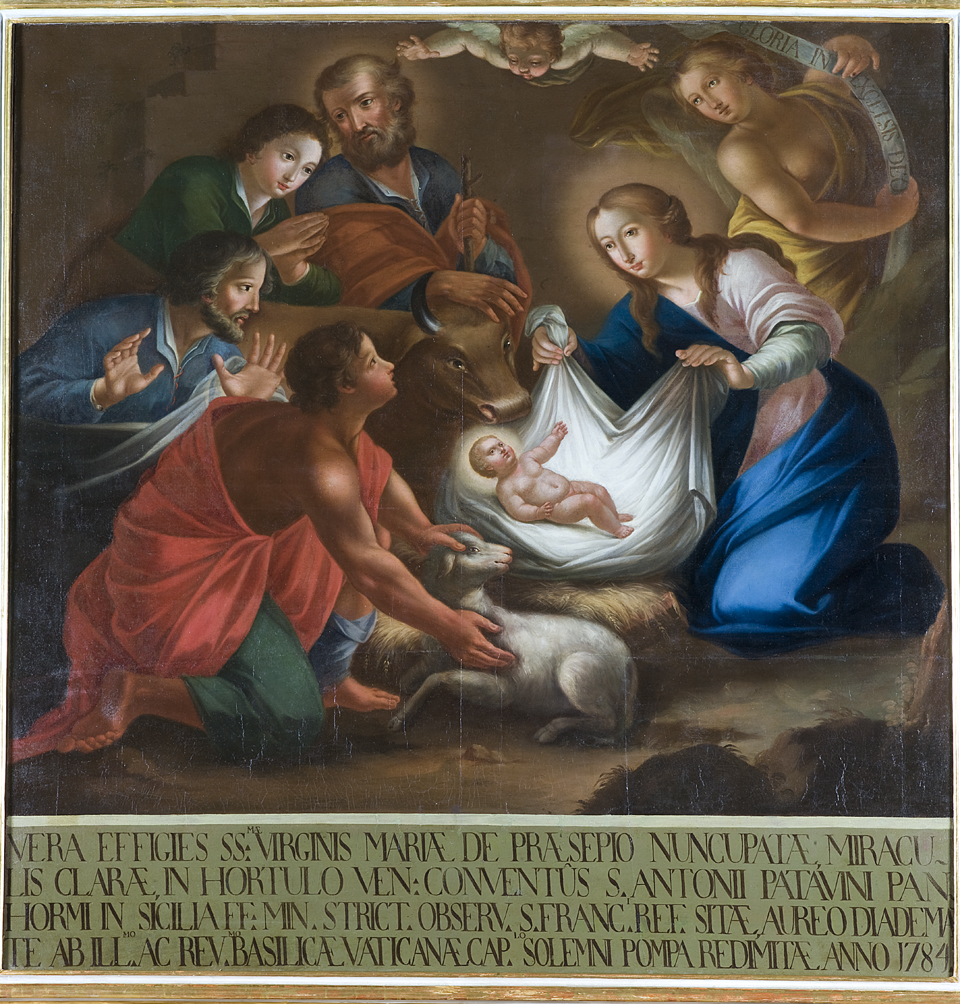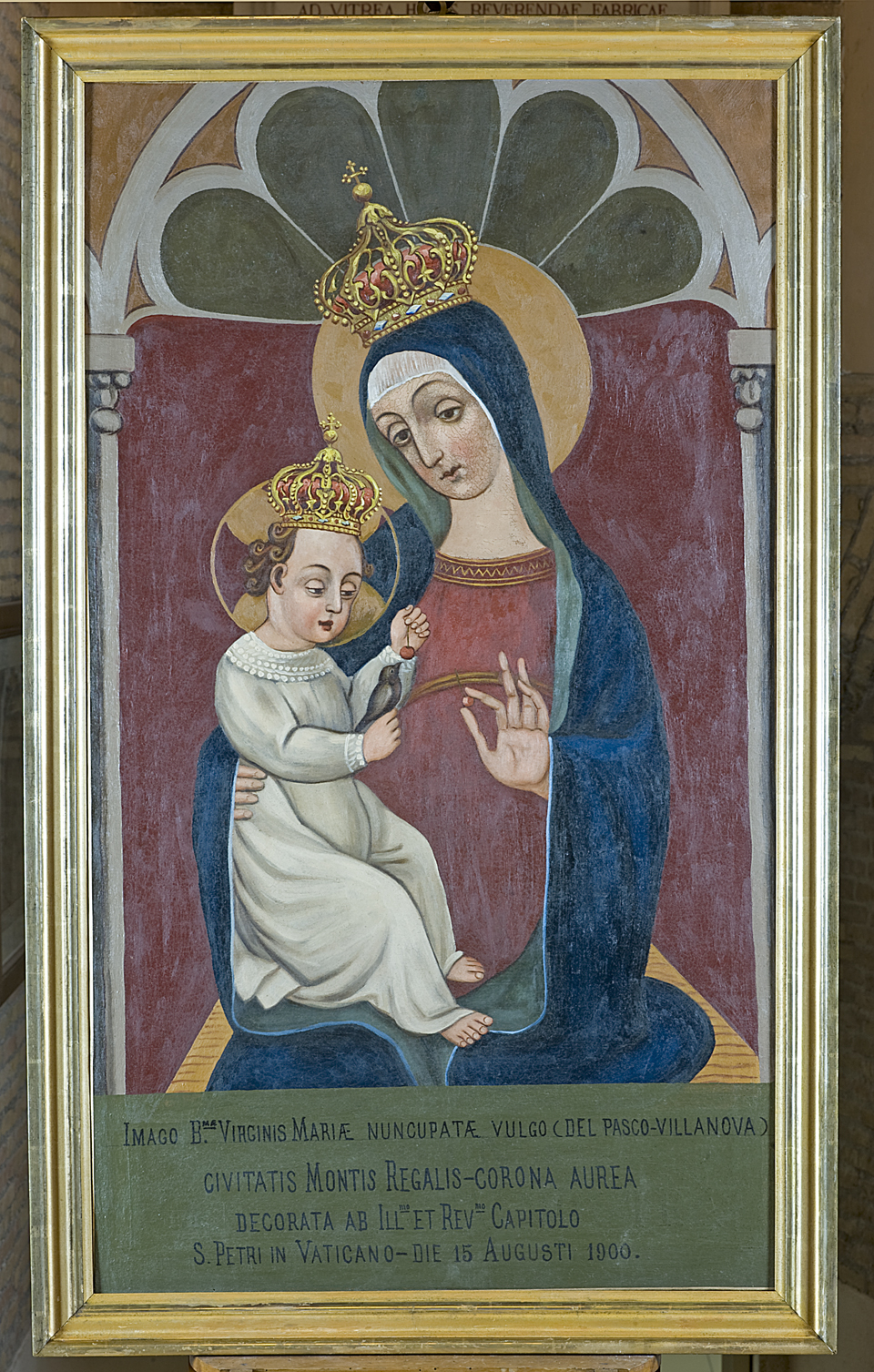 Some crowned images hold a different kind of surprise, because we don't normally think of them as being crowned. One is Michelangelo's Pieta (and is actually on loan here (not from the Vatican but from Vescovo Buonarroti Art), which is one of nine bronze reproductions authorized by the Vatican.
The other is Madonna della Grazie (Our Lady of Grace) from Lombardy in 1872 (one of several Madonnas of the same title but different renditions in the exhibit). This image presents a sorrowful Mary at the Crucifixion.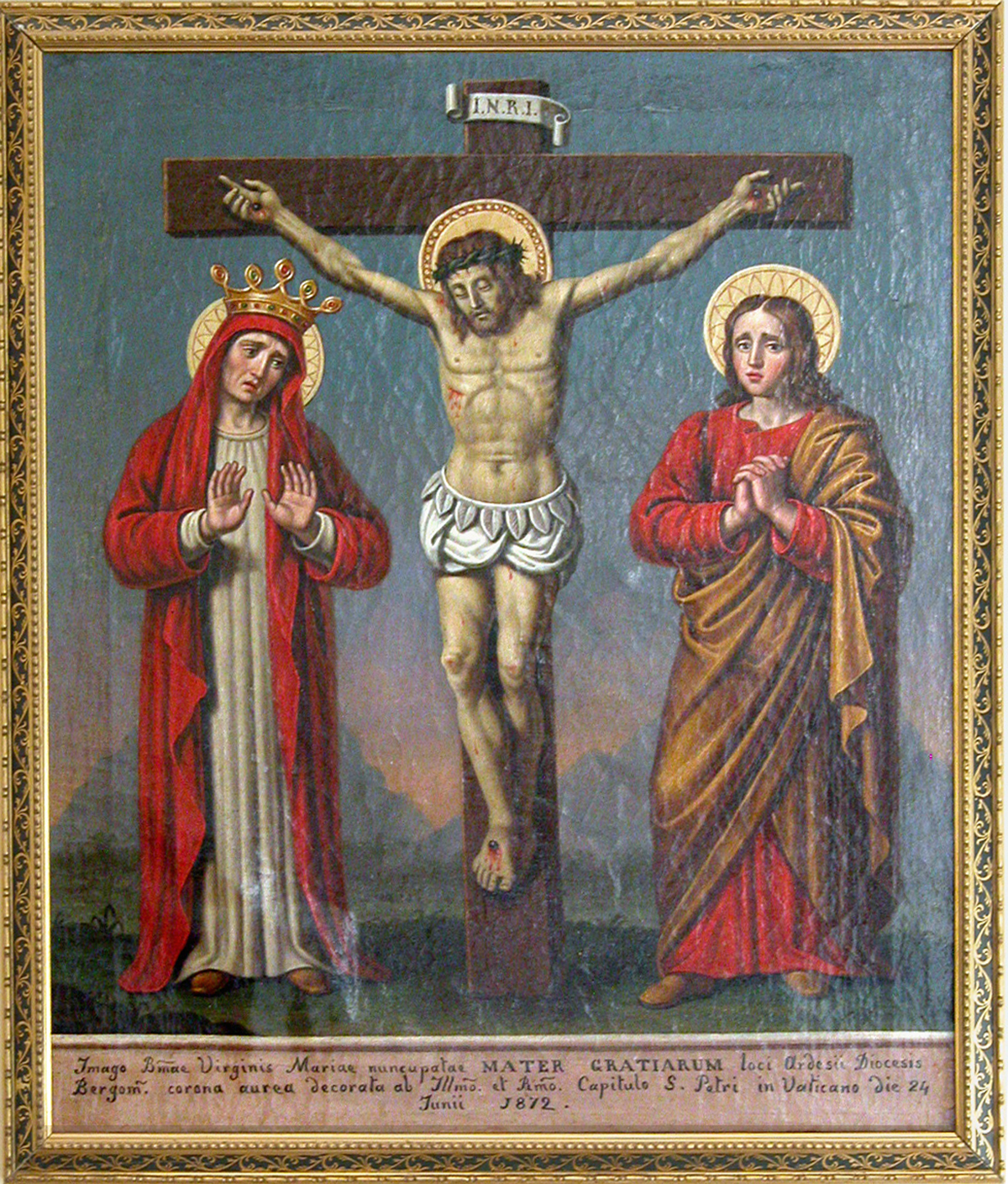 While the majority of these crowned images come from Italy, there are a number from Latin America and other European countries. Two from France show us a very royal queen Mary. They remind us she is Regina Coeli, Queen of Heaven. Others are more simple, like the newest Madonna of Czestochowa that was crowned on April 2, 2005, and is now in the Chapel of the Polish Nation in St. Peter's Basilica.
Other similar, more simple images on display are also from Poland, both Our Lady of Piasek and crowned in 1764.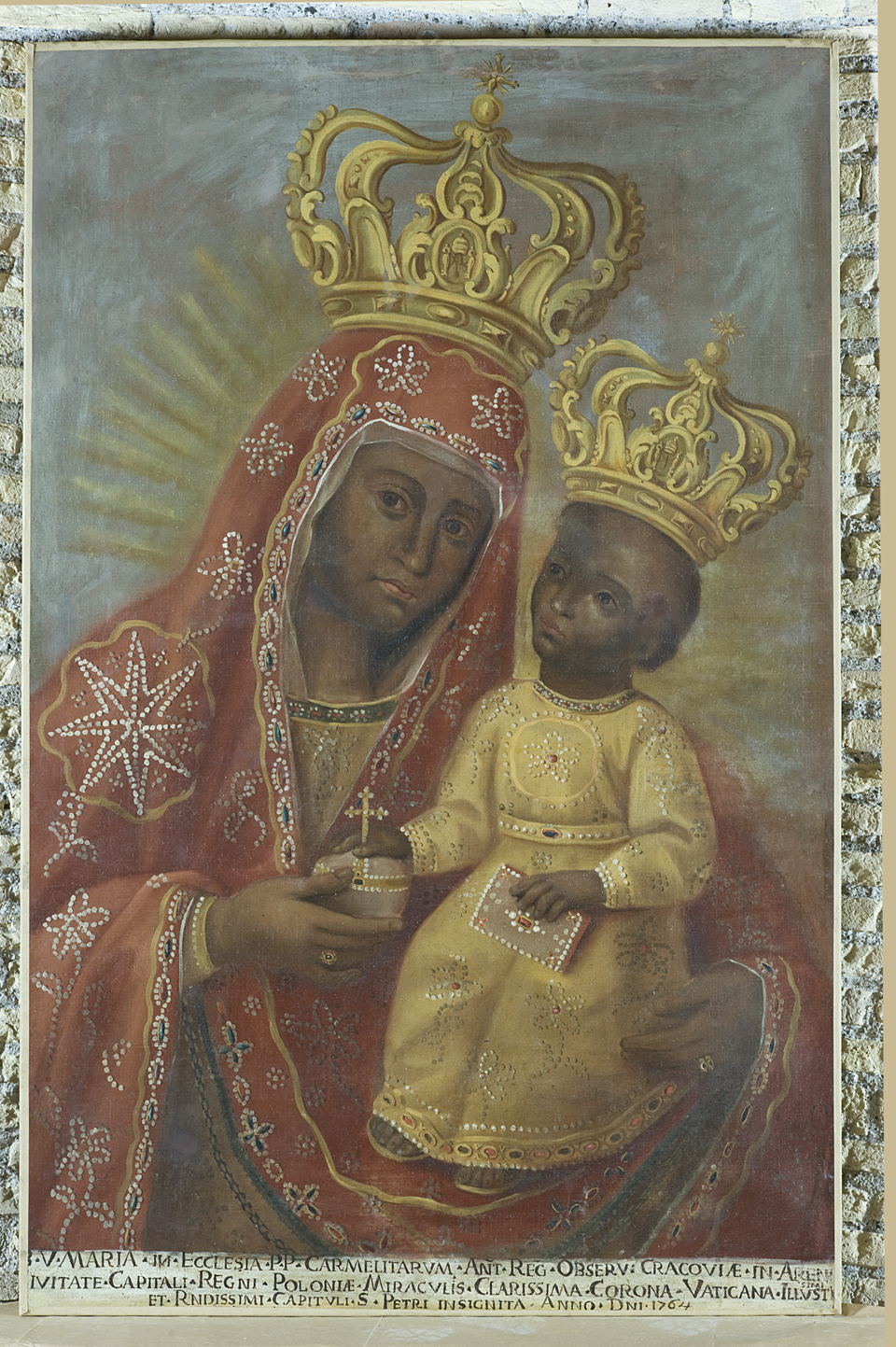 And there's the miraculous Our Lady of Chelm, also crowned in the 1760s.
Spain depicts our blessed Queen in more elaborate ways, such as crowning her image of Virgen de los Ojos Grandes (of the Large Eyes) on Aug. 15, 1904. Notice how Jesus looks lovingly into, and contemplates, the face of his queenly Mother.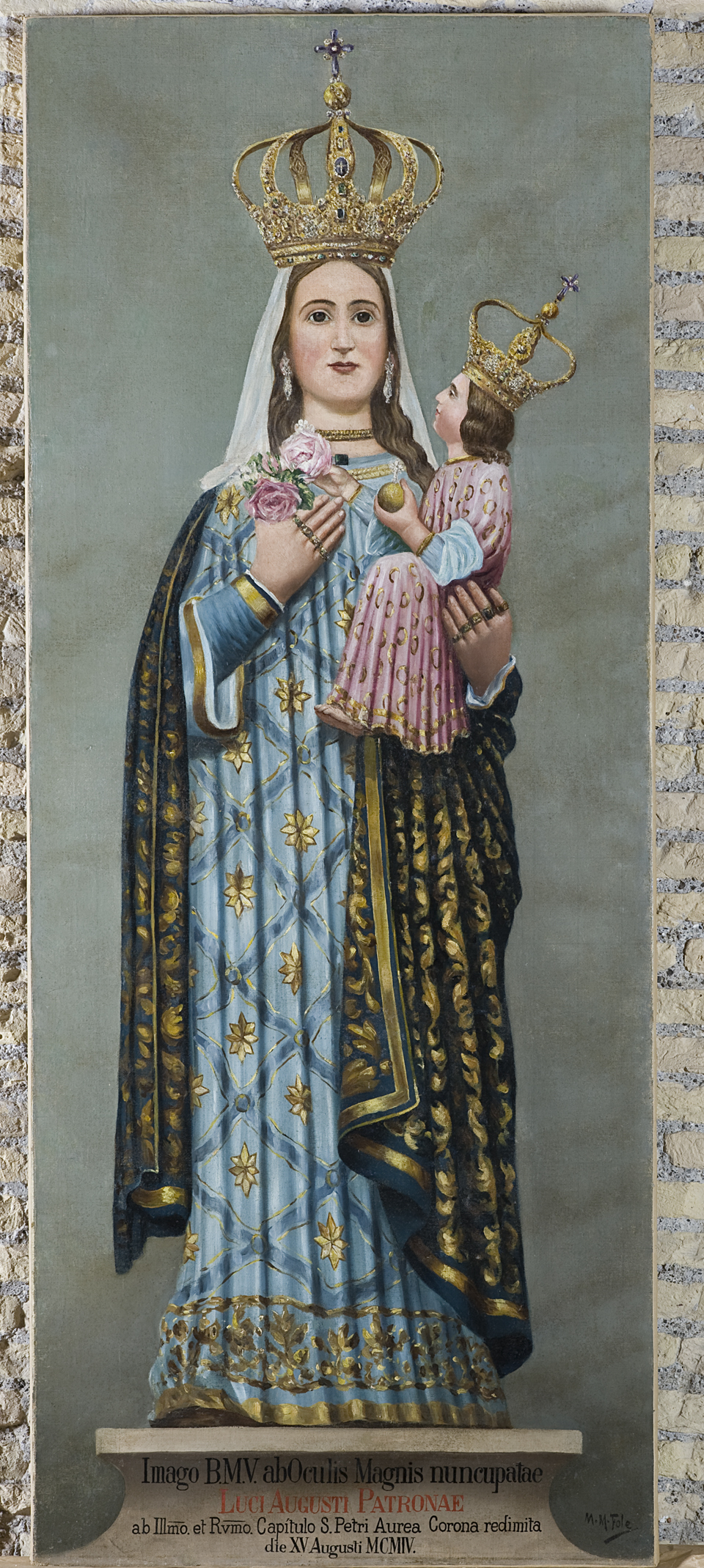 Gazing at her in this exhibit reminds us we should have the same love and admiration for our Mother Jesus gave to us. She's queen of our hearts as well as Queen of Heaven.

Register staff writer Joseph Pronechen writes from Trumbull, Connecticut.
Full of Grace: Crowned Madonnas From the Vatican Basilica runs through Jan. 8, 2012. Visit KofCMuseum.org.