LA Archdiocese Moves 'Always Forward' With Launch of Catholic News Platform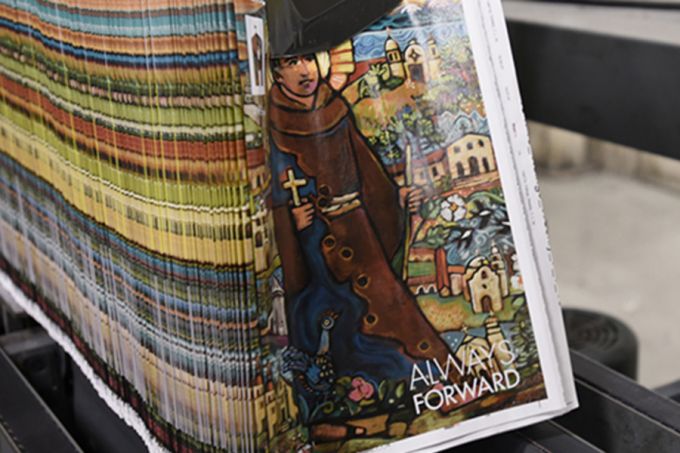 LOS ANGELES — "Always forward, never back." St. Junipero Serra's motto in proclaiming the Good News in California captures perfectly the Archdiocese of Los Angeles' vision for Catholic news as it launches this week its new multimedia platform, Angelus News.
 At a time when many dioceses have decided to cut back or even shutter their newspapers, the Los Angeles archdiocese has taken a bold step forward to embrace the cutting edge of communications and the mandate of Vatican II in Inter Mirifica, the decree on social communications, for the Church to meet or exceed the excellence of its secular counterparts.
"When we talk about the New Evangelization, we have to meet people where they are," Angelus News editor-in-chief, J.D. Long-Garcia told the Register.
"We're offering an invitation for people to get to know the faith better. We want to help renew Catholics in their faith, but also be a gateway to those who might not know the faith yet."
Angelus News aims to serve a potential audience for more than five million Catholics in the Archdiocese of Los Angeles and beyond, and reach out to a non-Catholic audience as well, with both print and digital news products that will enable it to engage the Church's message with a diverse demographic that spans all ages and a variety of cultures.
Angelus News has also assembled a powerhouse of Catholic contributors: L.A. Archbishop José Gomez; L.A. auxiliary Bishop Robert Barron; John Allen Jr., the editor of Crux.com; Inés San Martín, reporter for Crux.com; Latino columnist Ruben Navarrette, Jr.; Dr. Grazie Pozo Christie, policy advisor for The Catholic Association; Kathryn Jean Lopez, former editor and current editor-at-large of National Review Online; prolific author Mike Aquilina; biblical scholar and apologist Scott Hahn; theologian Father Ronald Rolheiser, O.M.I.; and Heather King, whose meditations appear regularly in Magnificat.
EWTN's Catholic News Agency will also provide the mainstay of its daily news offerings.
The archdiocese chose the Angelus name for its media outlet to honor the Blessed Mother Mary, Queen of the Angels, and St. Gabriel the Archangel, who announced the news of the incarnation, and was the namesake of the first mission built in the archdiocese.
The archdiocese launched Angelus, its weekly newsmagazine, on July 1, the feast of St. Junipero Serra. The newsmagazine replaces The Tidings, its newspaper product, which had faithfully served the archdiocese since 1895. Long-Garcia explained that the transition will build on the legacy of the newspaper.
"We still have a lot of people into print, so we don't want to discontinue our print offering or even slow it down," Long-Garcia said. "A lot of people in our archdiocese still prefer that medium — we're just changing it to a format that has weathered the industry change a lot better over newsprint."
The mainstay of the new platform is AngelusNews.com, a complete daily digital platform that incorporates video, audio, photo galleries and slideshows, alongside its news articles, updated throughout the day. EWTN's Catholic News Agency Readers can subscribe to a daily digital newsletter called "Always Forward" after the motto of their other patron, St. Junípero.
Angelus News will also have social media channels including Facebook, Twitter, and Instagram.
The archdiocese sees its expanded range of digital products as key for the archdiocese to connect with Catholics who regularly get their news in digital formats, and with those who had not been exposed to its Catholic news and commentary.
"We also wanted to be more in conversation with younger Catholics than before," Long-Garcia said.
The timing with Pope Francis's pontificate also could not be better, Long-Garcia said. He said the Holy Father's likeability and positive rapport with the broader public has lowered psychological barriers, and thus allowed Catholic communicators to have a conversation with them about the faith and the Church's views.
The Angelus News launch is part of a major communications overhaul following the vision of David Scott, the archdiocese's vice-chancellor for communications. Long-Garcia said Scott brought his expertise from running Our Sunday Visitor and Catholic News Agency to the vision and strategy for Angelus News, and "assembled a remarkable team" to get the project off the ground.
 "It really feels that Angelus News is about a lot of people coming together to make this work," Long-Garcia said.
But most of all, the Angelus News editor added,  the new platform is a work of the Lord who "brings people from all sorts of different backgrounds together for one common mission."
"They're usually very different people — from tax collectors to fishermen," he said, "but we're all working together to get this product out to the largest archdiocese in the U.S."
"Always Forward, Never Back" — tidings of great joy, full of hope and confidence for the world of Catholic and diocesan news publishing.

For more information, go to AngelusNews.com. 
Photo courtesy of Angelus News.