Interview with Authors of Would You Baptize an Extraterrestrial?
I knew, when I received the blue galley copy of Would You Baptize an Extraterrestrial?: … and Other Questions from the Astronomers' In-box at the Vatican Observatory that it was a book I wanted to read.
I haven't read it cover to cover, but what I have sampled of it has been a great read for anyone who loves science and faith. Brother Guy Consolmagno and Father Paul Mueller tag-team in the book and explore the intersection of faith and science. Their bios are impressive, and their approach is humble.
From the Big Bang theory to the Galileo controversy, the discrepancies in Genesis and the star of Bethlehem, Consolmango and Mueller deliver facts…and fun. They have a dialogue format, which they also employed in the interview they were kind enough to give us.
Your new book certainly has a fun title and an intriguing premise. What was the inspiration?
Paul: The title is one of what Guy likes to call the "crazy" questions that people are always asking him.
Guy: At first, I was fed up with all the "crazy" questions that people kept emailing me. But Paul made me realize that these questions weren't crazy at all; in fact, there are some really profound issues underlying them. Digging out the real questions behind the questions has been an eye-opener for me.
I can't resist asking: WOULD YOU baptize an extraterrestrial? How did you answer that?
Guy: If we had a short answer, we wouldn't have needed to write the book.
Paul: To be honest, our goal wasn't to answer that question, straight-up. Our goal was to deepen that question — to explore it, to allow it to raise additional questions.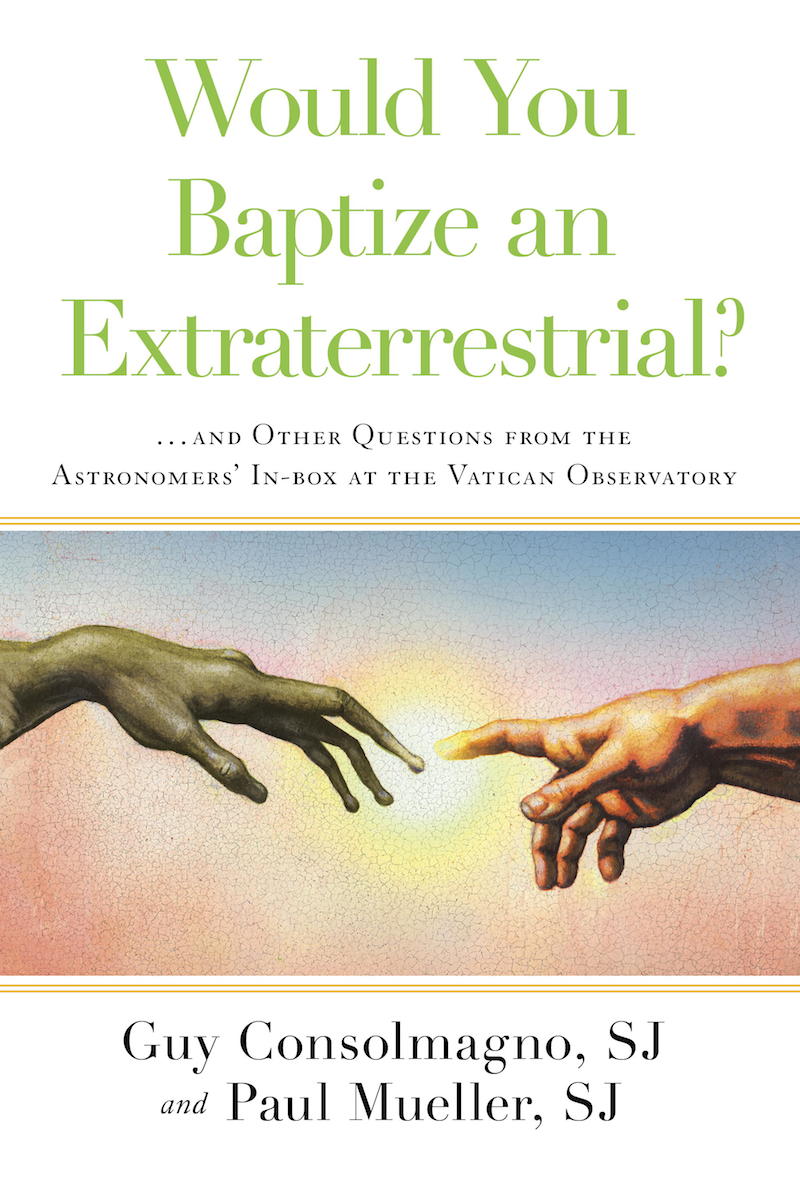 In the years that you've been on staff at the Vatican Observatory, what's been the biggest surprise you've faced?
Guy: I had been a scientist for nearly 20 years when I joined the Jesuits; and I was tired of doing science at that point. The biggest surprise to me has been how wonderful it's been to be a scientist as a Jesuit. I have discovered, again, the joy and fun that had attracted me to science in the first place.
Paul: I joined the Observatory five years ago.  During those five years, the biggest surprises and joys have had to do with living in Italy: the people, the culture, the food. It's been a series of delightful surprises.
How has your faith grown in the years that you've been working in science?
Guy: Before, I knew what I believed; now I know why I believe it.
Paul: My faith has grown through contact with the people who DO science: through seeing their passion, their integrity, their commitment to the truth. But also through seeing their humor and their sense of the absurd.  I think it helps, as a person of faith, to have a good sense of humor and a strong sense of the absurd!
What's your favorite part of the book?
Guy: Imagining ourselves in all those wonderful settings...
Paul: I like the chapter on Pluto. I'm glad we get to relate the role of Vatican astronomers in the decision to re-categorize Pluto as a dwarf planet.