Images and Voices from Italy's March for Life 2016
Thousands of people took part in Italy's 6th annual March for Life on Sunday which began at the famous Rome landmark, the Bocca della Verita, and ended in St. Peter's Square in time for Pope Francis' Regina Coeli address.
At the end of his address, the Holy Father greeted the marchers who came from 26 different countries and probably numbered around 6,000. "I greet the participants in the March for Life," the Pope said in his round of greetings following the traditional prayer of Marian devotion at Eastertide. 
Drums, lively singing, bagpipes, and a theme park trolley for children were all part of this year's event, as well as banners whose messages included: "Abortion: Already 1 Billion Victims", "Yes to Medicine, No to Euthanasia", and "No to Civil Unions".
Founder of March for Life Italy, Virginia Coda Nunziante, addresses the marchers before they set off for St. Peter's Square. 
Although the vast majority of those participating were Catholic, the event is not officially aligned with the Church or any other religious institution. The organizers each year invite all people, groups, and organizations dedicated to the pro-life cause to participate.
The March this year, whose theme was: "For Life: Without Compromises", passed the Roman ruin of Teatro Marcello, continued through a side street bordering Piazza Venezia, entered Largo Argentina, and passed along Corso Vittorio Emmanuele II before reaching Via della Conciliazione and St. Peter's Square.
Here below are comments to the Register from some of those participating at this year's event: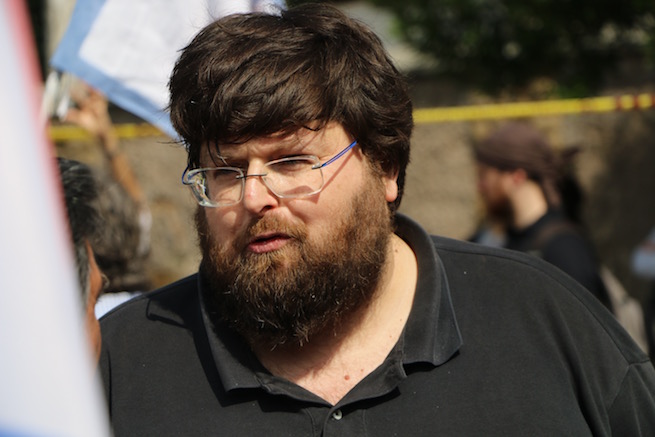 Mario Adinolfi, member of the Popolo della Famiglia party, is campaigning to become Mayor of Rome
This March is very important. Here in Rome we have very dangerous statistics: for every one person born, two Romans die. So we have a really crazy situation with 105,000 abortions per year in Italy. With these statistics, Italy dies. We're going to be invaded 'from below', let's say. So we need now to do something important in the political sphere, to stop putting abortion aside and say: 'There isn't a right to abortion, there's a right to be born.' This is a universal right we must fight for.  We should beat law 194 (Italy's law allowing abortion). If we get into the Italian government, we will erase that law, as is happening in Poland now, and also happening in the United States where there is a very lively debate. There's no debate in Italy, but our movement, 'Popolo della Famiglia', is putting this issue on the political agenda. That's what's important — among the people, I feel there's a movement against abortion. More about those numbers I mentioned: I lost my father one week ago. My father's funeral was the third in that church in one day. In that church, they had 20 funerals in one week, and not one baptism. That explains everything. ~ Mario Adinolfi, candidate for Mayor of Rome.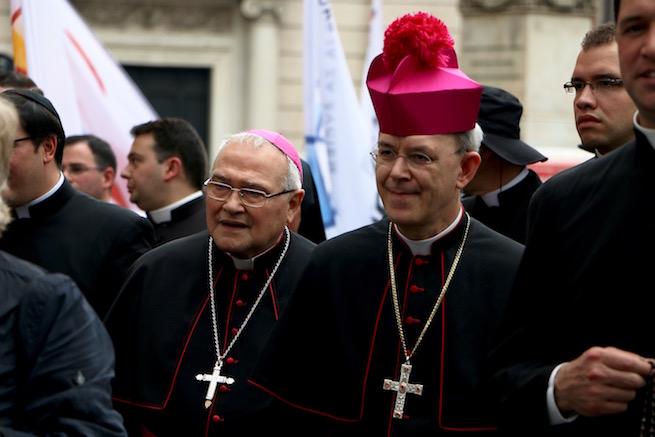 Bishop Athanasius Schneider of Astana, Kazakhstan (right) and Archbishop Luigi Negri of Ferrara, Italy.
The March for Life is very important and very topical because we are shedding light on the greatest and most horrible crime in human history: the mass murder and genocide of innocent people in the womb of the mother. We have to show this, to make a point of it, and ensure that it's at the center of politics. So I'm very happy that such initiatives happen. We have to promote it, show positively that we are professing and confessing the beauty and sanctity of life that God gave us, also the sanctity and patrimony of the family according to the will of God. It's also beautiful to see that bishops, priests and seminarians, young people, families and children are all forming one family, one voice. ~ Bishop Athanasius Schneider, auxiliary bishop of Astana, Kazakhstan.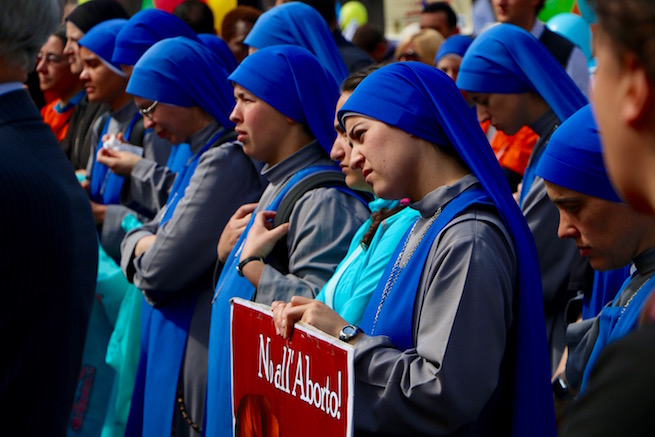 It's of enormous importance that here, at the See of Peter, particularly at this moment of unparalleled crisis, we give witness to life of the unborn. We are not talking of a euphemism of abortion, we're talking of crushing babies' skulls, we're talking of eviscerating babies and dismembering them. The silence that we're seeing all around in the Church is the greatest determinant of this. ~ Dr. Thomas Ward, founder and former President of the U.K.'s National Association of Catholic Families (NACF)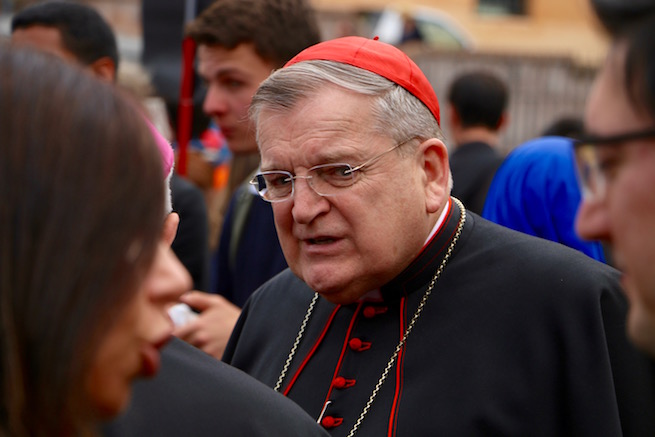 Cardinal Raymond Burke, patron of the Order of Malta, was the only cardinal attending the March for Life today.
This [event] has remained very faithful in the sense that it's a March in which all of those who take part are deeply engaged in the apostolate for life and family. So you find this unity. I've been taking part in it for many years and what I notice is that there is more international participation. There's a very large group of Polish people here today but I've met others as well and I think that's something that will continue because Rome is universal. I believe many see the importance of this demonstration as a world expression of support for human life. It's also a wonderful thing to see here Archbishop Negri of Ferrara, Bishop Schneider, and also a good number of clergy. What I see every year is that the number is greater. Another thing, too, to note is the many, many young people. It's a sign that they're deeply concerned and want to be part of a transformation of our society. ~ Cardinal Raymond Burke, patron of the Order of Malta: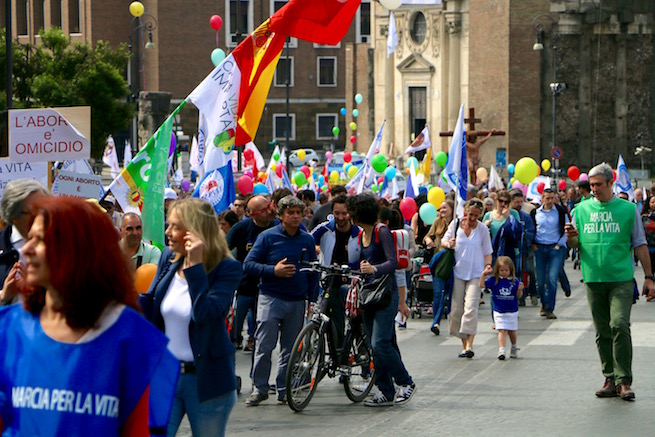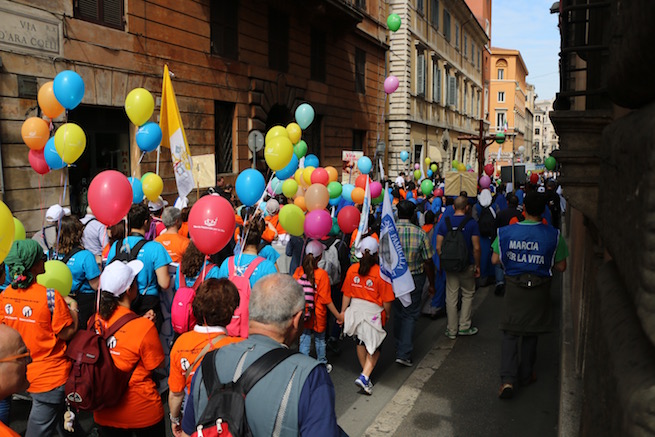 The March for Life Italy is getting a growing international presence. There are many international pro-life leaders at the March this year, and in particular I'm marching on behalf of the women and babies of China who are being forcibly aborted or aborted just because they're girls. So I'm very honored to have been here. ~ Reggie Littlejohn, Women's Rights Without Frontiers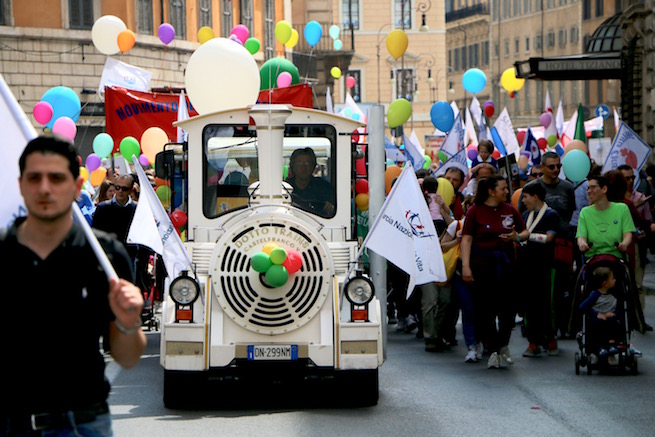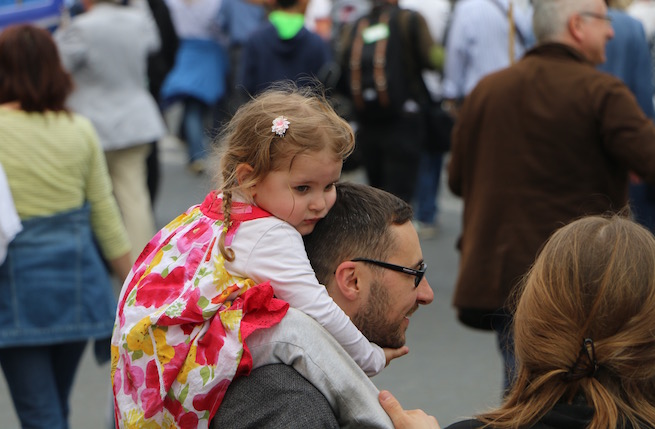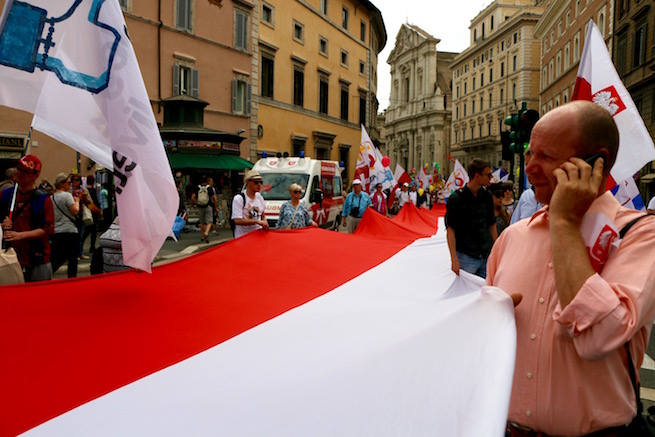 Polish pro-life groups were out in force at the March.
We're pro-life because many people have a number of important things in their lives, but one thing we should fight and protect in this life is life. Not money, not cars, not material things, but life — it's the most important gift that is given to us. We're here to show everyone there's nothing to be scared of, to tell everyone to go onto the streets, to be prolife and say: 'Yes I'm for life.' ~ Gregory, 25, of the Polish pro-life group, Bractwo Małych Stópek (BMS)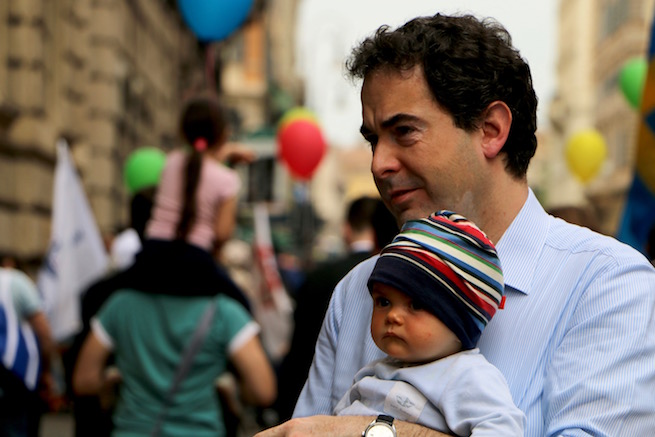 This is an expression of the people, a people who are expressing their Catholic identity. From this comes a clear word about the common good, and the common good isn't about the manipulation of life. To defend the common good means to defeat that manipulation. Whoever is here wants to be here. We're few but we hope we'll increase in number. ~ Archbishop Luigi Negri of Ferrara, Italy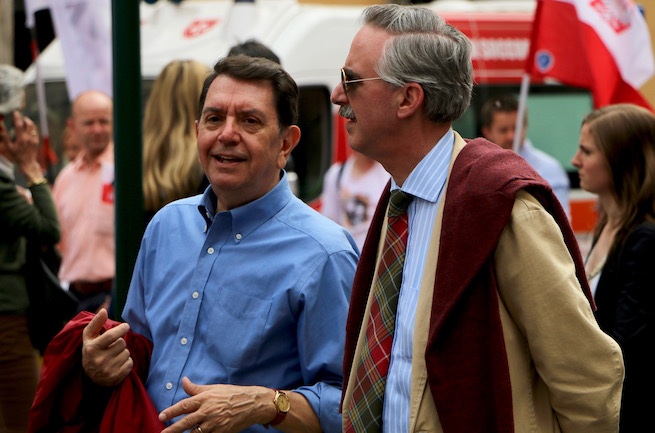 Robert Royal, director of the Faith and Reason Institute in Washington D.C.(left) and Professor Thomas Stark of Hochschule-Heiligenkreuz, Austria, also took part in the March.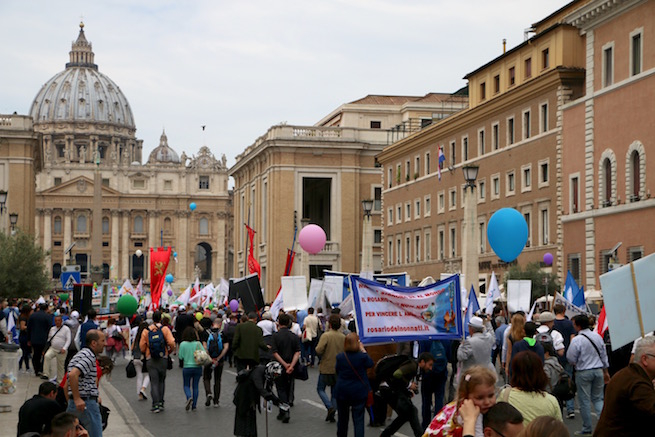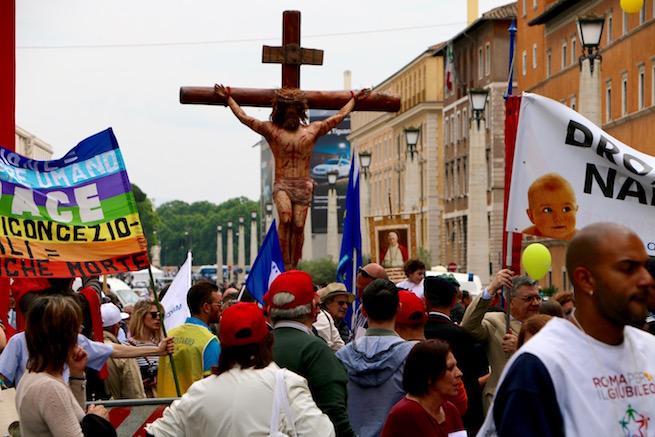 Photos and video: Edward Pentin/NCRegister.com