Catholic Relief Services: Caught in the Terror of Nepal's Latest Quake
KATHMANDU — A terrifying second earthquake struck Nepal on Tuesday, wreaking new terror and destruction just as the afflicted Himalayan nation had begun to recover from the first. Now emergency relief workers from Catholic Relief Services share another bond solidarity with Nepal's Catholic Church: they too are survivors.
All 37 CRS staff in Nepal are safe and accounted for, and so far — although lines of communication and transport are badly damaged — the May 12 earthquake appears to have taken far fewer lives than the 8,000 victims of the April 25 quake, even though both tremblors were comparable in their intensity (7.3 and 7.8 magnitudes respectively).
As Wednesday night descended on the ruined capital of Nepal, CRS's Jennifer Poidatz, director of CRS's Humanitarian Response Department, speaks by phone with the National Catholic Register about living and working with the Nepalese through this most recent quake and its aftermath. Amid the quiet of darkened Kathmandu, broken occasionally by the sound of dogs barking in the distance, she tells how the Nepalese still have hope amid the renewed devastation, and how working hand-in-hand with the local Church, "We'll get through this."
Jennifer, what is the situation like right now where you are?
I'm in Kathmandu, and since the quake that happened yesterday [Tues.] afternoon things have changed dramatically in the city. It went from shops being open again, and people getting back to normal, to panic: people in the streets, clearly traumatized.
Then it went on through the night, because there were several aftershocks. People are sleeping outside, and now all the shops are closed up. Whereas the night before they were open for business — it is sad. I mean it's sad to see the dramatic change. There was just a sense of "this wasn't going to happen again," and it did. I think it really shook people up, because they thought it was over. And they were going to get back to some sense of normal life, and now it's kind of, we've gone back to zero and starting the recovery process all over again.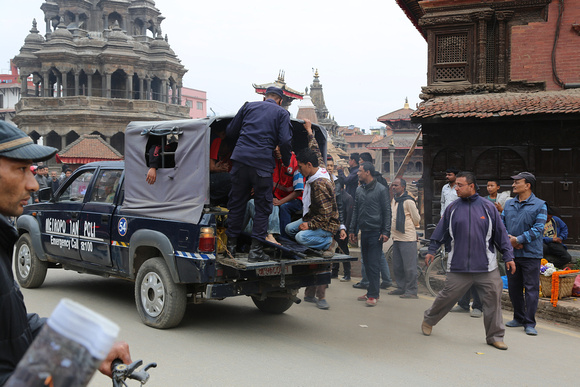 What does the city look like outside, where you are?
Now it's nighttime, so it's dark, it's cool, and fortunately it's not raining yet.  That's one of our biggest concerns as the monsoon will be coming soon. We've had some early rains, which is not good when you have a lot of people still sleeping outside and not in their homes, because they're afraid to sleep their homes. It's quiet, but you can hear people outside. They're pretty much living outside — eating and sleeping — probably at least for another few nights, for fear of the aftershocks. So it's much quieter than it was two nights ago.
Are buildings and homes still standing?
Many of the buildings are still standing.  It's very interesting because you know you have buildings that look exactly alike, and one in between two others can be completely collapsed. You're not really sure why that happened, because they all looked the same the day before. I think that's one of the challenging things about earthquakes: how to understand why it impacts some places, and not others.  I think that makes it scarier and more traumatic for the population.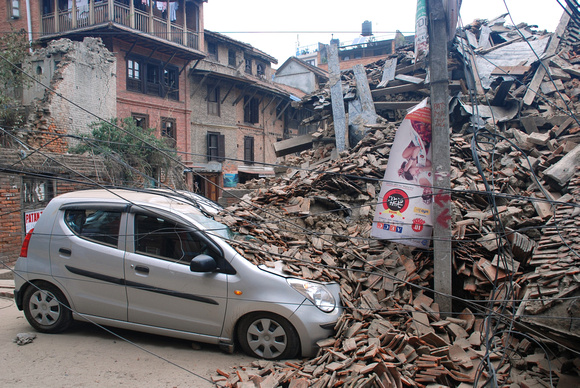 What is it like for CRS to be in the middle of responding to the one earthquake, and getting hit by the second?
We were in full swing, with over 37 staff in country now. Our biggest response is actually in Gorkha District, where we're up to doing two distributions a day to about 500 families. And you know, trying to grow our numbers every day given the enormous need. Our target is 15,000 households, and of course we'll do as many as we can. Fortunately our resources, our supplies, our shelter materials, hygiene kits, water kits, have all come in or are on the way from India. And so we've got stocks in country. But they're extremely challenging conditions: we're using farm tractors to get into the hardest to reach areas. We have distribution teams and wonderful groups of volunteers who were rounded up by Caritas Nepal.
So that intensity of programming — and then to have another earthquake happen. The immediate impact was that our distributions that were going on that day were completely disrupted. Some of the buildings near the distribution area collapsed, and of course, people panicked and left to go see how their loved ones were doing. We were able to start up again, but the biggest thing is it just means more people in need in the areas that we're operating. So we're really looking at how we can further scale up our efforts to meet the immediate needs, especially before monsoon season starts.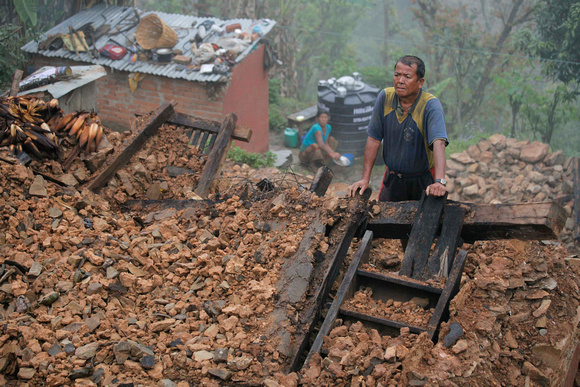 When do the monsoon rains come?
June.  It's very soon, and then going through August.
That's not much time. How are people holding up psychologically?
It's extremely traumatic. You can see it in people's faces. When this [latest earthquake] recently happened, I was actually in a vehicle with one of our local drivers. The car started shaking, and as we went back — we were driving back to the [Caritas] office — we saw one building had just collapsed.
[My driver] said to me, "My house is right next door." So, fortunately we went to his house and his family was fine, but you could just see the pain and hurt. And all the people out in the streets: women clutching babies, people crying, everybody trying to call people. Just a very traumatic situation. And it went on, with the aftershocks, you know. Again, there was this sense of "this wasn't supposed to happen again, things are supposed to get better," and then it took that turn for the worse. So, it's really taken a toll on people.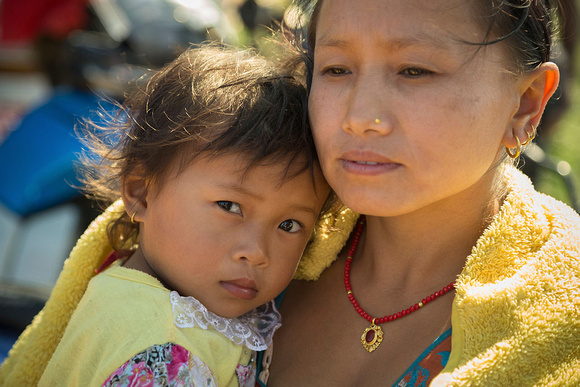 Can you share what the Nepali people are like?
It's just amazingly open and gentle and caring population. People really have a love for life, a love for their families and their children. I think that's what makes something like this very difficult in terms of seeing the suffering. There's a lot of female head of households and elderly, in the populations we're serving, because there's a lot of men employed outside the country. That also makes it more difficult, to make sure they get what they need and that they're protected so they can recover as soon as possible.
What are the most pressing risks right now?
The most pressing risk is just not having access to basic needs: shelter, soap, safe water, water purification tablets, you know. The biggest thing, from just what we've seen, is shelter, housing. And to get people in a safe place, and then to make sure that that's also appropriate as we go through the rainy season.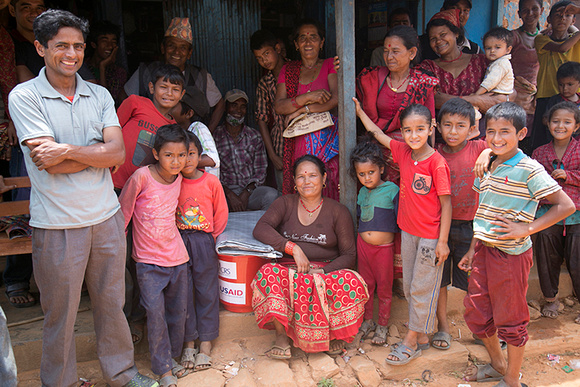 Are you and your staff sleeping outside now?
No, today we're inside.  Last night, we were sleeping outside in the garden, or on the bottom floor of the building. But now we're back in the rooms.
What's a big challenge you face in distributing food and basic necessities?
Access to populations.  There are populations which live in extremely remote places. They're very hard to reach, which means they travel long distances to get to their closest market, where they can access food and other things. What we found was that many of those key markets have been completely destroyed.
If those aren't able to be rebuilt, even temporarily, especially before the monsoon season, people who are a 3-4 hours walk from the nearest market now will be up to two days walk away. We need to focus on this, that markets are open and functioning in these extremely remote areas.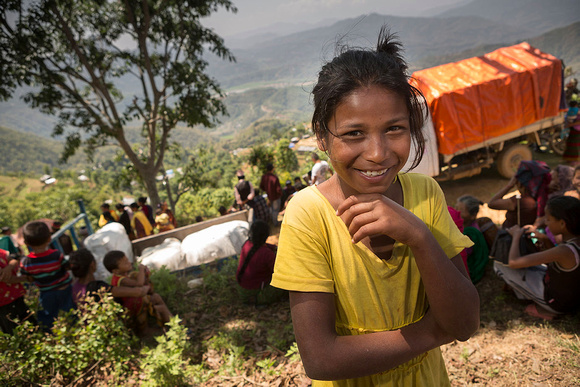 Do these rural Nepalis face a starvation risk?
Not quite to that extent, but it is still a significant concern.
So, not starvation, but hunger then?
Yes.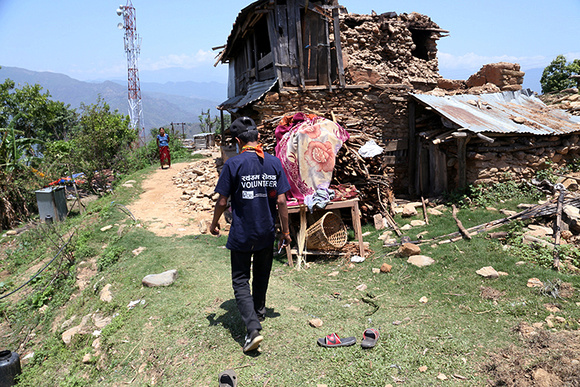 How can we Catholics, and the Church in the United States, help Nepal?
We need your prayers and thoughts from a distance for all the people in Nepal who have been affected, and who are going to make it through this really troubled period. We're here to help them, and so just that is huge.
But we also need support for our programs, which we carry out in partnership with the local Catholic Church, which bring immediate relief like shelter, safe drinking water and essential hygiene. This is really critical now but we also need to think longer-term, supporting people through the coming monsoon season and then reconstruction. The key part of that will be to 'build back better' and making sure newly constructed homes will be more [earthquake] resilient. 
How long is that reconstruction going to take?
It'll take time. We won't even be able to start until after the rainy season, so that's August, or even September. We're talking about building masonry housing, you know, not temporary housing. This is housing that will last many, many years.  It'll take time in terms of working with local communities to make sure they're using appropriate building practices, making sure they have access to skilled labor and materials, and making sure as we rebuild their homes they have access to water and sanitation.  This can take one and a half to two years.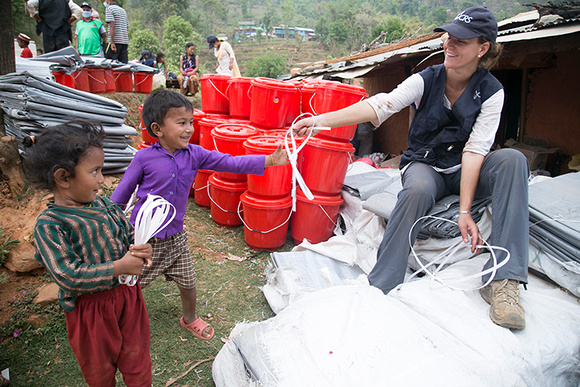 Jennifer, thank you so much for taking time tonight to speak with us. As a final note, are there any particular stories coming out of this tragedy that you would like to share?
As I said, people are traumatized and it's very challenging for them, and you would expect there'd be a sense of giving up. Especially after the second quake.  But I think what we really see in many, many places is that the self-recovery is impressive: people helping each other, people helping communities, getting together to clean up debris, to find ways to construct emergency shelters on their own with what they can find. People are reaching out, and helping especially the elderly and the female-headed households. I think that's just a clear sign of their strength and courage, and their desire to get through this and move on. They clearly have hope and we have hope for them. We'll get through this.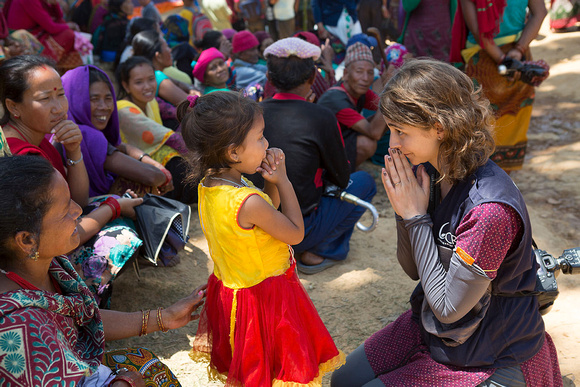 Reporter's note: Catholic Relief Services has committed $10 million to assist Caritas Nepal recover from the immediate disaster and rebuild over the next three years. Anyone who wishes to learn how they can donate to this effort can click here.
In lieu of comments, please say a prayer — or even call up your parish and ask them to pray — for the people of Nepal afflicted by these two natural disasters, and for the relief workers of Caritas Nepal and CRS, who are assisting them. 
All photos are courtesy of Catholic Relief Services.