A Hobbit-Style Hike in New Zealand
"The only cure for sagging or fainting faith is Communion." —JRR Tolkien
(Editor's note: Register staff member Rachel Zamarron is traveling with a group in New Zealand and Australia for a special EWTN project. This is the second of a multi-part series documenting her journey. Read Part One here.)​
Our journey took us to Wanaka and Queenstown, New Zealand. The gorgeous mountains around these towns were used as the Misty Mountains in the Lord of the Rings Movies created by Peter Jackson. 
We started the day in Hobbit-like fashion at a lovely place known as the Prancing Pony "twin" — the Cardrona Hotel.  Breakfast was a marvelous affair with coffee, waffles, scrambled and poached eggs. The cozy atmosphere with crackling fires and antique furnishings made us feel like we were in a different world. Here one of the students gave a talk on the Prancing Pony and Bree, and the fateful meeting between the Hobbits and Aragorn in The Fellowship of the Ring. The setting really captured the feel of Tolkien's work and we were like grateful little Hobbits crowded round our food, reveling in the moment after a cold night of camping. 
After "Bree", our goal was to make it to Queenstown and hike the Ben Lomond Trail. Unfortunately, setbacks seemed to follow us and we arrive at the actual mountains rather late. 
If you want a view of the Misty Mountains from the top, you have to first get to the top. Easier said than done, especially after long days of travel and short nights in tents. The trail wove to the top of the mountain — often by steep rock steps. We arrived at the top and much to our surprise we found a sprawling complex, complete with a restaurant, gift shop, go-carts, and even ice cream! We wanted to get further into the mountains for Mass, so we resisted the temptation of ice cream at the moment. 
Finally, further up the mountain, we found a lovely spot for Mass, lunch and then our next talk.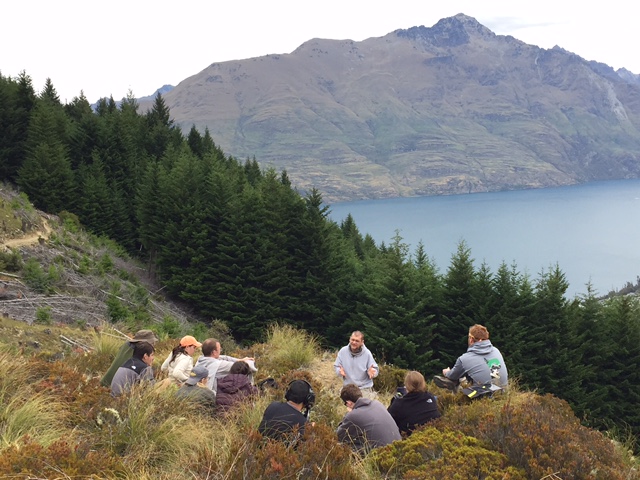 Mass has been the best part of this trip. Being out in the beauty of God's creation while praying the Mass is truly moving. It brought to mind the often quoted words of JRR Tolkien, ""The only cure for sagging or fainting faith is Communion." And it is also true for sagging and weary bodies. We continue to find refreshment and strength in the beauty of the Mass, and it is awe-inspiring that Jesus, present in the Blessed Sacrament, can be with us here on a mountaintop in New Zealand.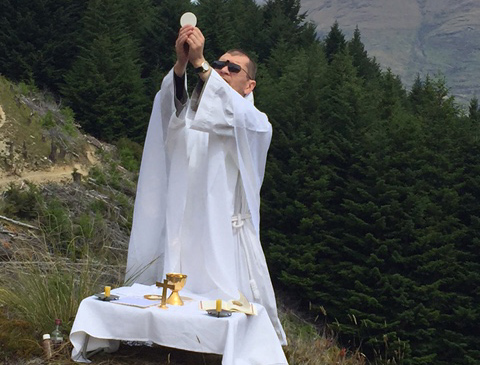 We didn't go much further on this hike before our Hobbit instincts kicked in, and back down the mountain we went to that lovely little ice cream shop. I know that Bilbo Baggins would have approved.