4 More Sisters Talk About Their Vocations
"We need to be a witness to others, living life fully and joyfully."
This is a continuation of a recent column on women religious.  I spoke with an additional four women religious in traditional communities that are doing well for vocations, asking them to share about why they entered religious life, and what kind of women would be a good fit for their communities. 
Sister Mary Philomena Fuire, Sisters of Our Mother of Divine Grace (www.sistersmdg.org)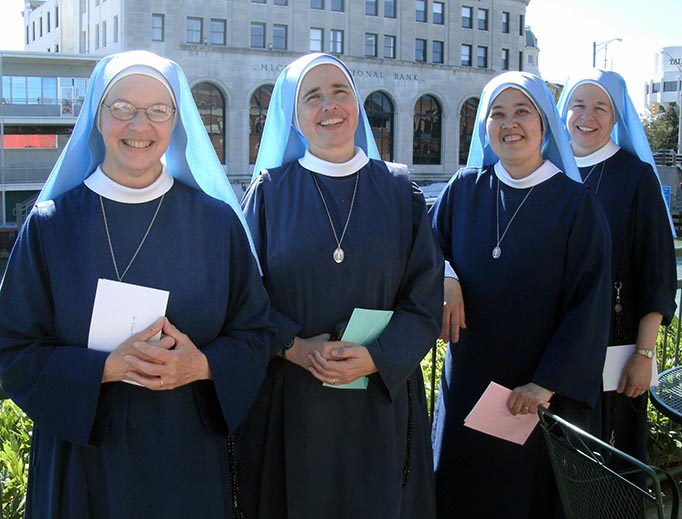 I'm from Toledo, Ohio, where I was educated in the Catholic faith by the Ursuline Sisters.  As a teenager, I consecrated myself to the Blessed Mother using the method of St. Louis de Montfort.  When I completed high school, I began looking for a religious community I could join.  I found there were not many of them out there.
I met a sister who belonged to the CMRI traditionalist community who wore the habit.  The sisters' apostolate included praying the rosary for world peace, which was attractive to me.  Their chief work was teaching, which also appealed to me.
I joined the community, not realizing that they were not in full communion with the Church.  It was a slow process coming to realize that I was, in fact, outside of the Church.  I recall in 2005, when Pope John Paul II died, the entire community watched his funeral on television.  It was very moving to me, even though I did not follow the Magisterium of the Church at that time.
When our community finally gained access to high speed internet, I thought, "I bet the Vatican has a website."  It did, of course, and I began reading the Vatican II documents themselves, rather than just other people's commentaries on them.  I also remember reading Pope Benedict's Deus Caritas Est [God is Love, released on Christmas Day 2005], which was the best Christmas present anyone could ever receive.
I kept asking myself, "Why are we not with Rome?"  When I entered, I thought we were preserving the traditions of the Church.  When I realized that we were not with Rome and were not going back, that was my walking card.
When we first returned to full communion, Bishop William Skylstad, who was head of the Diocese of Spokane at the time, told us that we had to be free to make a decision as to what we wanted to do with our lives.  We had the opportunity to visit other established communities, including the Missionaries of Charity, Sisters of Mary, Mother of the Eucharist and the Carmelite Sisters of Alhambra, California.  We wanted to live with a community from whom we could learn.  Previously, we had had little contact with women religious outside of our own community.
We loved meeting these other sisters.  It was absolutely fantastic, and exhilarating to experience life in each of these convents.  We realized that much of what we had done previously was right, such as living in common and praying together.
Since my previous leadership had strayed from the Magisterium, I wanted to receive more formation in regards to religious life.  
I and three other sisters went to stay with The Religious Sisters of Mercy (www.rsmofalma.og) in Alma, Michigan.  They're involved in health care as well as teaching.  It was a wonderful experience.  We really bonded with the Church, and it gave us the desire to continue our religious life in the Diocese of Saginaw, Michigan.
We chose to found our community with Our Mother of Divine Grace as our patroness, because of our Blessed Mother's fiat, her acceptance of what God asked of her.  We want to follow her example, and unify our will with the divine will.
*          *          *          *
As we came from a community that is separated from the Magisterium, we believe we're called to the service of unity in the Church.  We're devoted to prayer, particularly Eucharistic adoration.  We also have preserved our Marian spirituality.  Our primary work is catechesis, we teach the faith from cradle to grave.
Our greatest challenge is beginning again.  Most of us had been in religious life for 30 years, and hadn't planned on starting our own community.  So, we had to totally abandon ourselves to God's plan.
Our greatest need is to grow, to have vocations, to have women interested in taking a risk for Christ.  We need women interested in being a religious presence in local village communities.
Sister Mary Jordan, Dominican Monastery of St. Jude in Marbury, Alabama (www.stjudemonastery.org)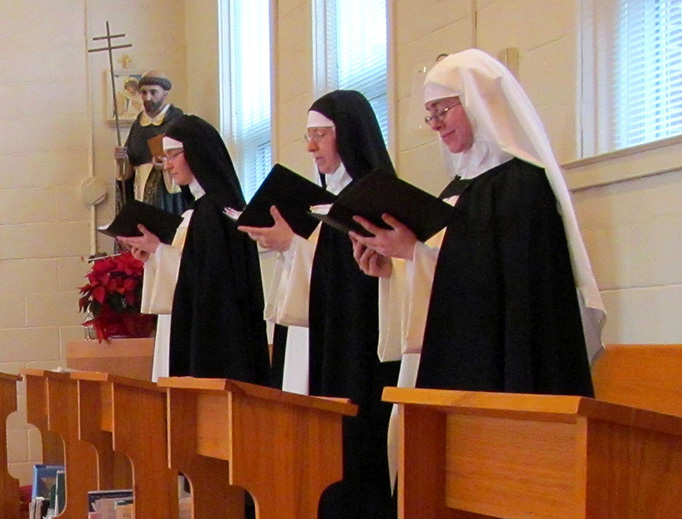 I grew up in Loveland, Ohio, a suburb of Cincinnati.  I owe much of my vocation to my parents.  The combination of my dad's Catholicism and my mom's seeking God led us to become an active Catholic family.  We were homeschooled.  I was also blessed to attend a Dominican parish, and participate in Youth 2000 (a Eucharist-centered youth retreat) and the Legion of Mary.
I have long had a Dominican's thirst for the truth.  I was interested in studying philosophy and history.  I had a Dominican zeal for souls.  I saw the problems with the culture and that people needed help in figuring out how to live their faith.
That led me to Christendom College in Virginia.  It offered a strong Catholic community, a solid liberal arts education with Thomistic philosophy and theology, and a beautiful liturgical formation.  
Upon my graduation, I had several good options available to me.  I could enter into a beautiful Catholic marriage.  I could teach.  Or, I could enter religious life.  I taught at a private Catholic school for a year.
When I met the sisters in this community in Marbury, it became clear to me that this was where God was drawing me to serve Him.  I was impressed with the sisters' joy and spirit.  Our custom book says that the Perpetual Rosary Sisters should have a double spirit of joy and tender fraternal charity.  That really came through to me.  
I also liked the emphasis the sisters placed on Eucharistic adoration.  We're at 12 hours a day now; we hope to get back to perpetual adoration once we get the sisters we need.  I liked their devotion to Mary.  I liked the Latin chant, to which I had been exposed at Christendom, and the Dominican emphasis on study. I liked the idea of spiritual motherhood; my zeal for souls would be realized in the contemplative life through a total outpouring of myself to God in the community on behalf of souls rather than through an external apostolate.
*          *          *          *
There is no particular type [of woman who would be a good fit for our community].  We have sisters with many different personalities, and from all over the country.  When women come to us interested in pursuing a religious vocation, however, we look for someone who is really seeking God in her life and earnestly living her Catholic faith.  Usually, God has disposed her heart through circumstances in her life to embrace the countercultural vocation that is the cloistered life.
A young woman may be attracted to an aspect of our life, such as Eucharistic adoration, Marian devotion, Latin chant or study.  To flourish in this vocation, she has to come to love all of these things.
We do have some other requirements.  Our age for entry, for example, is 18-30.
Sister Peter Verona, Dominican Sisters of St. Cecilia (https://www.nashvilledominican.org/)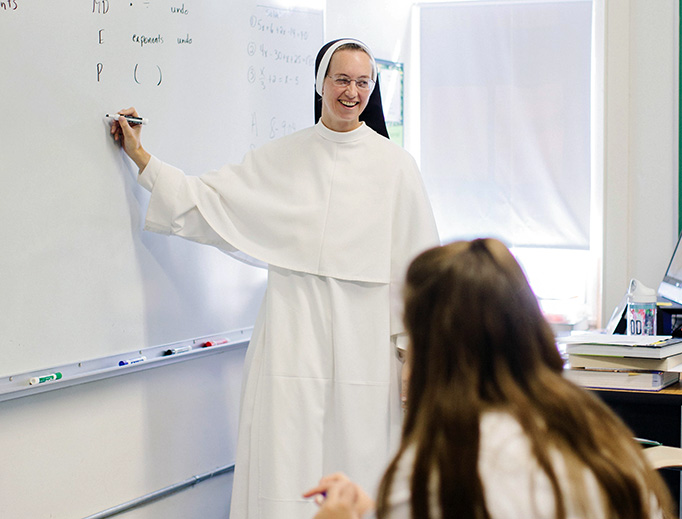 I grew up in Necedah, Wisconsin, one of 12 children.  My father was a draftsman for a paper company.  We were a strong Catholic family, and prayed the rosary daily.  My father would read stories of the saints to me and my siblings before bedtime.  I remember thinking that they did amazing things for God, and I wanted to do amazing things for Him, too.
I had the feeling that I wanted to be a religious since the 2nd grade, a thought which would come and go.  But, I think receiving Holy Communion really planted the seed of a vocation in my soul.
I had an older brother who was attending Christendom College.  I wanted to go to a strong Catholic college myself, so I followed him there.  I graduated, earned a teaching degree, and then taught public high school.  However, after a year, I decided it was time to go into the convent.  I needed to find out what God wanted me to do.
I chose the Dominican Sisters of St. Cecilia because they were a teaching order, and I had wanted to be a teacher since the 1stgrade.  They also wore the habit; I love the habit.  It's a reminder that our first job as sisters is to pray for people.
I took final vows in 2008.  It was an incredible day; I belonged to Jesus for the rest of my life.  It was a freeing experience, and reminded me that I don't have to worry about anything.  Through my community and Jesus, everything I need is provided.  I just need to live life and do what He wants me to do.
*          *          *          *
A woman who would be a good fit for our community is one who is willing to love: Jesus, her fellow sisters and anyone they encounter.  We need to be a witness to others, living life fully and joyfully.  When others see our witness, they'll say, "I want that relationship they have with Jesus."
Sister Mary Charitas, Bethlehem Monastery of The Poor Clares of Barhamsville, Virginia (http://www.poor-clares.org/)
I'm originally from Jefferson City, Missouri.  I was working at a library, reshelving books.  I came across one book, A Right to be Merry.  It was written by Mother Mary Francis of the Poor Clares in 1956, telling about life in a cloister.  I read it, and thought, "That's the life I'd like to live."
I entered the Poor Clare community in Roswell, New Mexico, in 1963, which Mother Mary Francis had helped found.  In those days you didn't need anything more than a physical and a few letters of recommendation to enter.  I got a letter from my pastor.
In 1972, they sent me to Newport News, Virginia, because there was a lack of vocations.  They needed the extra help, so I stayed.
It's been a very good life.  There have been hard times, but the Lord carries you through.  I've always been amazed how He works.  And, after a long time, our community has started to grow again.
*          *          *          *
We have all types of sisters, at least one of every temperament.  We want women who are willing and eager to join our community and experience a life of intimacy with the Lord.
Applicants can come to stay with us to see if the life is for them.  Some stay, others are not a good fit.  Some like the life, but discern that they should join another community.
I have been in religious life long enough to see that the communities that do well for vocations are those which are faithful to the Magisterium, live in community, have a community prayer life and wear the full religious habit.  I noticed years ago that those communities that modify or abolish the traditional habit and do away with community life begin losing members.  Young folks do not join.  They are instead interested in communities with a common life, a regular prayer schedule and full religious habit.  You'll see that communities that have these elements are going strong.