The UK Election: Cameron, Conservatism and Common Sense
COMMENTARY: All the fuss over the royal baby indicates that Britons actually do like the structure, sense of belonging, neighborliness and bond with the past that comes from emphasizing traditional family life.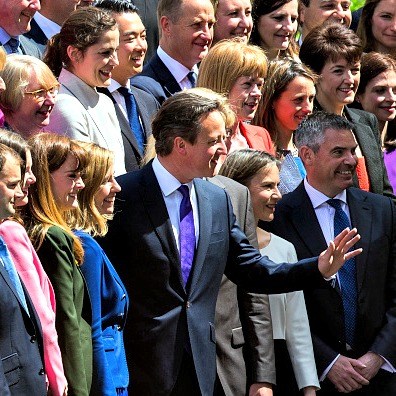 Let's start with the good news from the U.K. general election. Immediately after his victory, Prime Minister David Cameron joined the two former leaders of the other main parties (Liberal Democrat and Labour) — who had both resigned following their crushing defeats at the polls — at a major public service of Christian prayer in the heart of London.
Impressive? Well, yes. But this was simply because the election on May 7 fell immediately before the 70th anniversary of V-E Day (marking the end of World War II) on May 8, at which all the main party leaders had to appear at the Cenotaph in London's Whitehall to take part in the service honoring the war dead.
It was certainly moving to watch them — all behaving correctly and with dignity. They were joined by the leader of the Scottish Nationalist Party, which won a sweeping victory across Scotland, taking all the parliamentary seats but one.
But with the Cenotaph formalities over, work began for Cameron on the formation of a new government. He has to tackle a vast range of issues: Britain's membership in the European Union, Scotland's relationship to the rest of the United Kingdom and the economy. And all of this amid the general uncertainties in the world: vast numbers of North-African men, women and children fleeing to Europe's shores across the Mediterranean, Putin's saber-rattling in Russia and Muslim fanatics causing misery across the Middle East.
And there are much deeper issues. Cameron bragged some months ago of his pride in having made same-sex "marriage" legal. The imposition of a general political correctness on this and related issues is turning Britain into a very different country from the one in which he was raised.
Does he — do members of his government? — really want a Britain in which someone can be hounded out of a job for affirming that marriage is between a man and a woman, where people feel that they ought to regard public expressions of Christianity as somehow wrong, where a whole new jargon of "appropriate" language is deemed necessary in the workplace and people are even given lists of phrases to use or to avoid?
A major topic of discussion in Britain in these post-election days is how the opinion polls — purporting to give an accurate flavor of the way people would vote — got things so completely wrong.
It is clear, and this is very worrying, that those who planned to vote Conservative were not prepared to talk about it. They claimed to be undecided or to be voting for some other party. Only in the privacy of the voting booth did they feel secure. People seem to feel that using the word "conservative" makes them sound unpleasant, wrong and not properly in tune with official thinking. It's okay to sound socialist or "green," but somehow being enthusiastically supportive of a party that produced Margaret Thatcher is not really socially acceptable.
And yet they did vote Conservative, in massive numbers — and a large number voted for the U.K. Independence Party, the robustly anti-European Union party that also tends to offer robust statements on general social issues. And the Labour Party is openly discussing its urgent need to appear less left wing if it wants to survive, and the Liberal Democrats — who have been famous for espousing every fashionable left-of-center viewpoint — are in meltdown.
Britain is a confused nation. But family life is at the heart of the needed response.
Cameron needs strong and united families if he wants to keep crime at an acceptable level and community life bearable. Voluntary groups and organizations require families and neighborhoods, not disconnected individuals with fragmented relationships.
Current policies on a range of issues — from children's day care to sex education in schools — effectively downgrade the natural family unit centered on a man and a woman united for life and raising their offspring. There needs to be a subtle switch — probably without fanfare — towards this normality.
There will probably be action to curb the culture of welfare dependency and much talk about improving standards in schools. But government language on anything that touches on family and marriage will be cautious.
Meanwhile, the nation has been cooing over the new royal baby — with massive media coverage. A Princess Charlotte rose named in her honor, books on baby care suddenly booming, endless speculation about everything from the plans for the christening to how she and Prince George will get along together as they grow up are all making headlines.
All of which indicates that, actually, people do like the structure, sense of belonging, neighborliness and bond with the past that comes from emphasizing traditional family life.
Nothing could be more politically incorrect than the royal baby scenes displayed to the world: a young man and his wife, the one in shirt and trousers, the other in a flattering dress, with their little girl baby wrapped in a shawl and a sturdy older brother in shorts and jersey — all part of a structured family as grandparents arrive, dispensing support and advice, and great-grandmama's enthusiasm sets the seal on a general picture of domestic security.
As prime minister, David Cameron will have to grapple with some huge and uncomfortable issues, few of which have immediate solutions and some of which will prove intractable. If he is wise, he will recognize that the one thing his government must not do is encourage anything that will further erode the crucial family structures on which a functioning society rests. Aware of this in his own life — he is known as a devoted family man — he needs to allow his common sense to influence his policies.
Joanna Bogle is a London-based journalist and EWTN host.