Priest Goes Down Into the Pit on Indy Race Days
Preaching the Gospel at 230 Miles Per Hour
INDIANAPOLIS — A hint of pink paints the fringes of the eastern sky as dawn begins to break on race-day morning over the famed Indianapolis Motor Speedway. Father Glenn O'Connor, a priest of the Archdiocese of Indianapolis, pulls into the track at 4:30am.
It's the start of a very long day for the priest, who will be working the pits with Ed Carpenter Racing, after saying multiple Masses for the faithful starting at 8am.
Father O'Connor saw his first race at the speedway as a fan in 1969, and he started working in the pits in 1975.
This year is the 100th running of the "Greatest Spectacle in Racing," on May 29, and it's the 41st year that the priest has been on pit road.
Call to the Priesthood
Born on July 6, 1952, Father O'Connor is the eldest of Glenn and Eileen O'Connor's eight children. He was ordained a priest on May 17, 1980, and currently serves as the parish priest at St. Susanna Church, in Plainfield, Ind., a position he has held since 2012.
He is also the Catholic chaplain for Indianapolis International Airport and the Central Indiana Cursillo spiritual leader, along with being a speaker for Catholic Athletes for Christ gatherings.
"It was a gradual calling to the priesthood," said Father O'Connor. "My dad was in the seminary, and when we grew up, there were a lot of priests around the house; and they were always encouraging me, and I liked the stuff that they did. I went to a Latin school in Indianapolis, kind of a Catholic preparatory school."
But he decided in his senior year of high school that he didn't want to be a priest. So he went to work and started college at Indiana University-Purdue University Indianapolis and Ball State, where he studied pre-law and eventually psychology.
"Something just kind of brought me back to it [the idea of priesthood], and I went to St. Meinrad to find out if this (being a priest) was it or not; and I never went home," said Father O'Connor.
He graduated with a bachelor of art degree from St. Meniard College in 1976 and graduated from St. Meinrad Seminary, in St. Meinrad, Ind., in 1980, with a master of divinity degree.
IndyCar Ministry
Every race weekend for the Verizon IndyCar Series, nondenominational Christians and Catholics have the opportunity to worship and to have Mass at the races through IndyCar Ministry.
Back in 2000, Bob Hills, the former director of the ministry, came to know Father O'Connor, when Father O'Connor stepped in to help out when Father Phil DeRea was called to Rome.
"Father Glenn is great with people in racing: He understands them; he knows them. Whether they are Catholic or not, he cares for them," said Hills.
In 2003, Tony Rena was killed at the speedway during a tire test. He had met with Father O'Connor just a few days before the accident, as he was set to get married in a few months.
Hills contacted Father O'Connor, who was able to pray over the body of Rena at the funeral home.
"That meant a great deal to the Rena family," said Hills.
According to Hills, Archbishop Joseph Tobin of Indianapolis held a public Mass in the fan zone at the speedway last year. It was the first time that a public Mass took place on the grounds, and it was coordinated by Father O'Connor.
Seeds of Hope
But racing isn't the priest's only focus. Father O'Connor co-founded Seeds of Hope, a house for chemically dependent women over the age of 18 on the west side of Indianapolis on Sept. 20, 1999.
"I always wanted a place to give people a second chance," said Father O'Connor.
Marvetta Grimes is one of more than 500 women who have benefited from Seeds of Hope.
She stared using cocaine when she was 12 years old, and on Oct. 24, 1999, she entered the house looking to end a 21-year addiction.
Through Father O'Connor's help and guidance, she was able to kick her dependency on the drug and is now in her 11th year as the executive director of the house, 17 years after she came for help.
"He's a fighter for the less fortunate; and through God's grace and through him, we all have learned to become what we are today and what we can accomplish," said Grimes. "If it wasn't for Father's determination and his good heart, where would Seeds of Hope be today?"
For his work with Seeds of Hope, Father O'Connor received the Jefferson Award last month through RTV6, the local ABC TV affiliate in Indianapolis. It is a national award for public service that was started in part by the late Jacqueline Kennedy Onassis.
Race Day
After the 9am Mass on the morning of the 500, Father O'Connor will change from his vestments to his race-day gear to work for Ed Carpenter Racing and driver Josef Newgarden.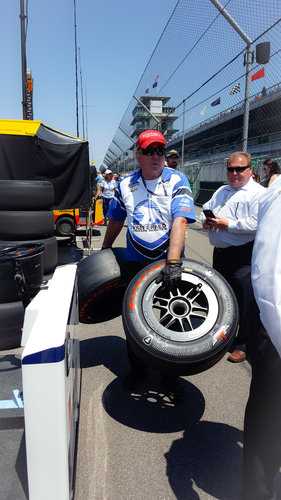 "It's a perfect combination," said Father O'Connor of mixing racing and the Gospel. "Once you get to know these guys, you get an understanding of how to relate to some of them. They taught me a lot about teamwork and how to work together. There are a lot of good lessons that come out of racing, and I'm always amazed across the line that, when people are in need, the racing community steps forward."
When Father O'Connor returns to the rectory following the race, he'll sit back and watch the racing, tape-delayed, on RTV6. Then it's back to parish duty on Tuesday, after a day off, before he heads off to the next IndyCar event.
Other than Easter and Christmas, the most anticipated day of the year for Father O'Connor is race day at the Indianapolis Motor Speedway.
For it is there that he can combine his love for racing while spreading the Gospel of Our Lord at 230 miles per hour.
Shawn Wood filed this story from the Indianapolis Motor Speedway.