Polish 'Righteous Among Nations' Join Pope in Mournful Remembrance at Birkenau
The Holy Father prayed in the cell where St. Maximilian Kolbe was held captive and eventually died in place of another prisoner.
BIRKENAU, Poland — The rustling of willow trees, a gentle summer breeze and a somber welcome from 1,000 invited prominent guests was the scene that awaited Pope Francis as he arrived at the Auschwitz II-Birkenau camp memorial on Friday morning.
His visit there immediately followed a stop at the memorial and museum of the Auschwitz I camp, where the Holy Father prayed in the cell where St. Maximilian Kolbe was held captive and eventually died in place of another prisoner.
A place of unspeakable suffering during World War II, the Birkenau camp was the most deadly of Auschwitz's three sectors: Four crematoria with gas chambers were built there, along with two provisional gas chambers and around 300 barracks. The majority of Auschwitz's 1.1 million victims, mainly Jews, Poles, Roma and Soviet POWs, were murdered in the camp that, by 1944, had around 100,000 prisoners.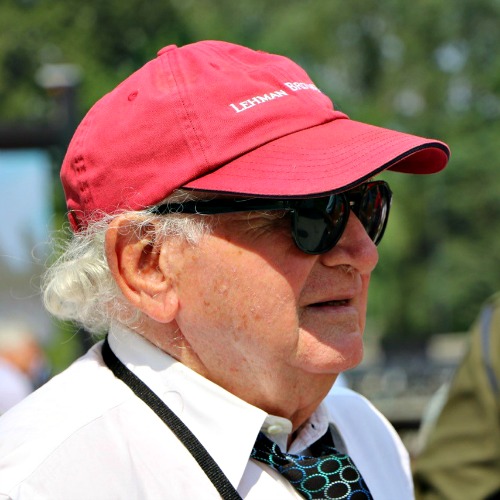 The Pope arrived mid-morning at the Birkenau camp's memorial, called the Monument to the Victims of Nations, in an electric vehicle, traveling along a half-mile railway that abruptly comes to a halt at the memorial. Inaugurated in 1967 and located between two crematoria, the large concrete monument resembles tombs and gravestones, as well as one of the crematorium's chimneys.
Polish Prime Minister Beata Szydło and the director of the Birkenau Museum welcomed the Pope, who, after a brief exchange, walked silently in prayer along a series of 23 commemorative slabs. Each has one phrase in the 23 languages used by the prisoners, which reads: "Forever let this place be a cry of despair and a warning to humanity, where the Nazis murdered about one and a half million men, women and children, mainly Jews, from various countries of Europe. Auschwitz-Birkenau 1940-1945."
The Holy Father set down a lighted candle, Poland's Chief Rabbi Michael Schudrich sang the penitential Psalm 130 in Hebrew, and a member of the 25 "Righteous Among the Nations" present — non-Jews who saved Jews from Nazi persecution — read the Psalm aloud in Polish.
Survivor's Perspective
The Pope met those 25, as well as several of the camp's survivors, including Robert Roman Kent. Born in Lodz, Poland, Kent was deported in 1939 as a 14-year-old child to the concentration camps of Auschwitz, Gross-Rosen and Flossenbürg, where he was eventually liberated by American soldiers. Of his family, only he, his sister Renia and his brother Leon survived. He immigrated to the United States in 1946.
An active and important leader of the Holocaust survivor movement, Kent told reporters after the Pope's visit that he is concerned about "denials" of the Holocaust and those who doubt the extent of it.
"The press is guilty, too, because it is whitewashing it," he said. "You [the press] say that 6 million people 'die,' Jewish children who 'died.' We all have to die sooner or later, but they were killed — they were murdered. In order to remember, it's important to say what happened. I might be wrong, but it's one person's opinion."
Among those present honored as Righteous Among the Nations — a term used by the Yad Vashem Institute in Jerusalem to honor heroic individuals who rescued Jews during the war — was Józef Walaszczyk.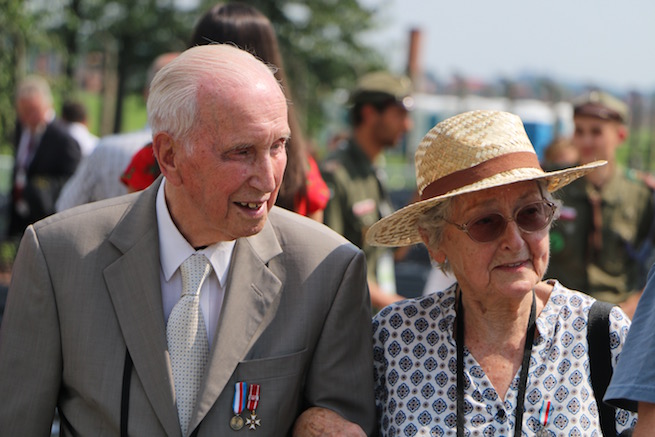 Born in 1919, Walaszczyk helped save 54 Jewish lives over five years in wartime Warsaw, mainly through doctoring documents. He made a deal with the Nazis to free a Jewish girl he knew, paying them a kilogram of gold, and escaped several attempts by the Nazis to execute him. He also supported the Warsaw insurgents after the capitulation of the Warsaw Uprising was announced.
"It's very moving to be here, to meet the Pope," Walaszczyk told the Register. "It's important to be here, to be in this place at the same moment as the Pope and to meet him."
Risking Their Own Lives
Standing next to Walaszczyk was another Righteous Among the Nations, Anna Bando. Then-Anna Stupenicka, a Polish teenager, along with her mother, Janina, smuggled food and books into the Warsaw ghetto. As they were distributing food in the ghetto, they met a Mr. Adler, who begged Anna and Janina to save his daughter, Liliana. They both agreed to hide Liliana, and during the winter of 1941, they smuggled 11-year-old Liliana out of the ghetto by dressing her in Anna's Catholic school uniform, enabling Liliana to pass as a Christian.
According to a biography, Anna, Janina and Liliana lived in a constant state of fear: Neighbors kept asking questions about Liliana, but Anna and Janina always misled them. They passed Liliana off as Anna's cousin until they were liberated by the Soviets in 1945. After the war, Liliana went to live in France, while Anna continues to live in Warsaw. As with Walaszczyk, Bando said she was "very moved" to meet the Pope at Birkenau.
The Pope also met another rescuer, 86-year-old Tadeusz Stankiewicz, whose family built bunkers in the woods southeast of Warsaw to hide 60 Jews.
At just 11 years of age, he risked execution to help save a Jewish friend he identified as Shloma "Jan" Szmulewicz, who died in 2007.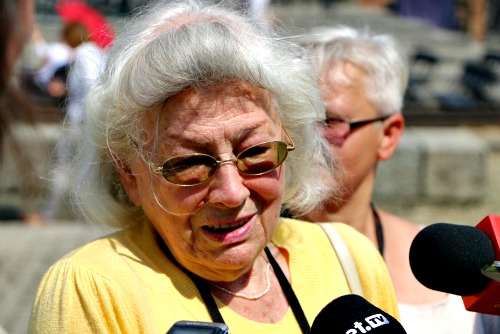 Alicja Schnepf was also present at today's ceremony. As with Bando, in 1944, Alicja Szczepaniak, as she then was, helped her mother, Natalia — widowed during the German invasion of Poland in 1939 — hide a Jewish mother, her two teenage daughters and a niece. At risk of execution, Alicja helped divert the Germans when they came to look for Jews in the building in which they lived. They were eventually liberated by the Soviets and all survived.
The Pope also spoke briefly today with two young girls related to the Ulma family from Markowa, in southern Poland, who have become a symbol of Poles saving Jews. The Ulmas were executed by the Nazis in 1944, together with their six children, for hiding Jewish families on their farm.
There are currently 26,119 Righteous Among the Nations named by Yad Vashem, of whom 6,620 are Poles.
Pope Francis is the third pope, after St. John Paul II and Benedict XVI, to visit the Auschwitz death camps.
Edward Pentin is the Register's Rome correspondent.
He is reporting from Krakow, Poland, this week.