Kateri Tekakwitha
First Native American saint from present-day United States has inspired generations.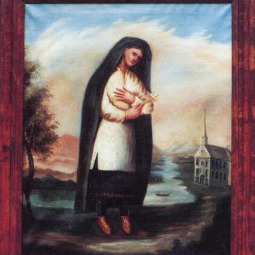 As Kateri Tekakwitha lay on her deathbed, adorned in her finest clothing in preparation to meet her heavenly Spouse, those gathered around her knew they were losing a saintly young woman advanced in the spiritual life.
More than 300 years later, the universal Church will finally know what the small community of Mohawk Indian Christians witnessed in 1680: Kateri Tekakwitha, the daughter of a Mohawk war chief and Christian Algonquin mother, is a saint.
"We've been waiting for this for so long. Now that it's here, it's unbelievable. We're overjoyed," said Sister Kateri Mitchell, a Mohawk religious sister and executive director of the Tekakwitha Conference in Great Falls, Mont. Sister Kateri grew up listening to her parents' stories of Blessed Kateri's life, of her deep devotion to Christ and her willingness to undergo persecution from other Mohawks who did not understand her decision to convert to the Catholic faith.
"You can say I've known Kateri since I was a kid," Sister Kateri Mitchell said, adding that she couldn't wait to pack her bags for the canonization ceremonies in Rome next year.
"This means so much for indigenous Catholics," she said. "We feel as a whole that we are being more fully recognized as a people because historically we've been so voiceless and powerless: not just in society, but also in the Church.
"With the elevation of one of our own to the altars, the universal Church will know that we have a person from our community who has climbed to the heights of holiness and attained a deep relationship with God," Sister Kateri said.
During a Dec. 19 meeting with Cardinal Angelo Amato, prefect for the Congregation for the Causes of Saints, Pope Benedict XVI signed the decree recognizing the miracle needed to canonize Blessed Kateri, whose intercession is credited with the miraculous healing of a Washington state boy who had been afflicted with a flesh-eating bacteria.
Her canonization — at a date yet undetermined — will be the culmination of many years of prayers within the American Indian Catholic community and among those across the globe inspired by Blessed Kateri Tekakwitha. She will be the first Native American from the present-day continental United States to be declared a saint.
Countless small miracles have been attributed to Blessed Kateri, who is said to have appeared to Polish prisoners during World War II to tell them that she would secure their release. She was declared "Venerable" by Pope Pius XII in 1943 and beatified on June 22, 1980, by Blessed Pope John Paul II. She was also named a patroness of World Youth Day in 2002 in Toronto.
"Her life was such an unbelievable life," said Msgr. Paul Lenz, the vice postulator for Blessed Kateri's cause and the former executive director of the Bureau of Catholic Indian Missions. Msgr. Lenz said in a telephone interview that the 17th-century Jesuit missionaries who knew Blessed Kateri kept detailed records that tell modern readers many facts about her life.
"Their records, before and after her death, show she was a saintly woman," Msgr. Lenz said. "She loved the Church. She practiced all kinds of penances. She loved the Blessed Sacrament. She would pray in front of the Blessed Sacrament whenever she could.
"There is no question about it," Msgr. Lenz said. "She was known to the Jesuits and all the people who knew her as a saintly person."
Father Wayne Paysse, executive director of the Black and Indian Mission Office in Washington, D.C., said that he and Msgr. Lenz were both filled with emotion when they learned of Blessed Kateri's upcoming canonization.
"The first thing we said is that we're both so happy for the Native Americans of the United States," Father Paysse said. "This has been a great, great gift, an early Christmas gift, not only for the people in this office, but for Native Americans and our Catholic community.
"Like all saints, all holy people, her simplicity of spirit; she was so genuine, so authentic in the spiritual life," Father Paysse said. "When she heard the story of Jesus Christ from those missionaries, her heart was captured. The saints model for us what it means to be a Christian, to give our hearts to Christ."

Providence's Designs
According to her official biography, the "Lily of the Mohawks" was born in 1656. Her father was a Mohawk war chief named Kenhoronkwa, and her mother was Kahenta, a Christian Algonquin woman who had been taken captive several years earlier at the Mohawk settlement at Ossernenon, which was located near Auriesville along the Hudson River in present-day upstate New York.
A decade before her birth, St. Isaac Jogues, the Jesuit missionary, had been martyred by the Mohawks at Ossernenon. Other missionaries — including Jogues, René Goupil and Jean Lalande (all canonized in 1930) — were also killed proclaiming the Gospel to the tribes in the region.
Today, the National Shrine of Our Lady of Martyrs in Auriesville honors the martyred saints and the young holy Mohawk maiden born after them.
"The blood of the martyrs really is the seed of the saints," said Beth Lynch, the events coordinator and museums manager at the National Shrine of Our Lady of Martyrs.
The young future saint's parents gave her the name Tekakwitha, which means "she who puts things in order" or "she who advances or opens the way before her." She likely learned about the Catholic faith from her mother, who may have prayed with her young daughter when they were alone and also probably sang Christian hymns while she carried young Tekakwitha about in a traditional Mohawk back-cradle.
In 1660, when Tekakwitha was 4 years old, smallpox, most likely originating from a nearby Dutch settlement, swept through the Mohawk settlement, killing many members of the tribe, who had never been exposed to the disease.
Tekakwitha's father, mother and a young brother died in the epidemic. Tekakwitha also became deathly ill, but she was nursed back to health by the Mohawk matrons. However, the disease damaged her sight and scarred her face.
Iowerano, Tekakwitha's uncle, adopted her, and his family relocated to the settlement at Caughnawaga, near present-day Fonda, N.Y. The Mohawk community rebuilt its communal life. Tekakwitha's aunts dressed her in fine clothing and taught her domestic duties, including the decoration of clothing. Marriage was expected, and her relatives believed she would one day have her own family.
But divine Providence had other designs.
In 1670, a Catholic mission had been opened at Caughnawaga after a treaty with the French colonial authorities. Three Jesuits from New France — modern-day Canada — ministered to the Mohawks.
At first, Tekakwitha did not take an active part in the Catholic liturgical services, but she watched and listened, according to her biography.
"She was drawn to the witness of the few Mohawk converts in the village," Lynch said.
Around age 20, Tekakwitha asked Jesuit Father Jacques de Lamberville to baptize her into the Catholic faith. Tekakwitha had an exalted standing in the Mohawk community as the orphaned daughter of a war chief, and Father Lamberville considered the possible political ramifications of her conversion. Still, he instructed her to prepare for baptism by undergoing catechetical study.
Father Lamberville later remembered in his writings that as a catechumen Tekakwitha displayed a deep understanding of the faith, probably learned from her mother, and an uncommon mysticism and contemplative spirituality usually not found outside the cloister, much less the American wilderness.

Persecution
On Easter Sunday in 1676, Tekakwitha was baptized and took the name Kateri, in honor of St. Catherine of Siena, the great 14th-century Italian mystic.
The official biography says Kateri Tekakwitha's persecution began almost immediately after her baptism.
Her Mohawk relatives and friends became irritated that she would spend days and nights in prayer, forgoing festivals and community gatherings. Some of the older women complained that she no longer paid enough attention to her domestic duties. Children mocked her, older women ridiculed her for not marrying, and a warrior once threatened her with death if she did not renounce her Christian way of life.
Unperturbed by the difficulties, Kateri maintained her unique spirituality and was known to carry a small cross with her into the fields to contemplate.
Sensitive to her plight, Father Lamberville engineered Kateri's departure a year after her baptism to the mission of St. Francis Xavier de Sault, located in present-day Canada, near Montreal. The mission was inhabited by a community of about 150 Christian Mohawks.
The Sault mission became a spiritual oasis for Kateri Tekakwitha. The Mass and sacraments were available daily. Vespers were recited in the afternoon, and the Blessed Sacrament was available throughout the day for meditation. Kateri maintained her steadfast hours of prayer and meditation while also performing her daily tasks.
"Her prayer life was so strong and very deep," said Sister Kateri Mitchell. "She is definitely a model for us of what it means to be a follower of Christ. She radiated that. She lived out her strong convictions and her strong relationship with God to follow that sacred path one day at a time, despite her own weaknesses."
Reflecting her reputation for holiness and spiritual maturity, Kateri was also invited to join a group called the Brotherhood of the Faith, which safeguarded the integrity of the Catholic faith, protecting it from errors and pagan practices, according to her biography.
Kateri also visited Ville Marie, the growing settlement of Montreal in modern-day Quebec — and there she encountered women religious. That experience inspired her to vow to live as a bride of Christ and to remain a virgin forever. On March 25, 1679, Kateri Tekakwitha made her public vow and knelt, motionless and oblivious to everything around her.
However, a year later, she fell fatally ill. She died on Wednesday of Holy Week, April 17, 1680. Her last words were Iesos konoronkwa ("Jesus, I love you.").
Those gathered around her said her body suddenly took on a brilliant radiance. The mourners watched in astonishment as the scars disappeared from her face.
Jesuit Father Pierre Cholenec, a witness at her deathbed, later wrote that at the time of her death Kateri's face, "so disfigured and so swarthy in life, suddenly changed about 15 minutes after her death, and in an instant became so beautiful and so fair that just as soon as I saw it (I was praying by her side) I let out a yell, I was so astonished."
"I frankly admit that my first thought at the time was that [Kateri] could well have entered heaven at that moment and that she had — as a preview — already received in her virginal body a small indication of the glory of which her soul had taken possession in heaven," Father Cholenec said.
"Even then, they knew that she was a holy woman," Lynch said. "She led a life of heroic virtue and charity and purity."
Kateri Tekakwitha's principle relics are enshrined within a sealed marble tomb at St. Francis Xavier Mission, now at Kahnawake, near Montreal. When the original mission was moved, her remains were exhumed and moved. In the late 19th century, a monument was erected over her original burial site.
Soon after her death, it is said Kateri began appearing to mission members, and within months many favors were reported as a result of her intercession. Sister Kateri Mitchell and Msgr. Lenz said countless small miracles have been reported among the faithful who have sought Blessed Kateri's intercession in their lives.
"Her spirit of deep piety, her Catholic convictions and her sense of her heritage remain with the Mohawk people and indigenous peoples to this day," Sister Kateri Mitchell said.
"Her example continues to inspire the generations who have come after her and motivates us all to pass on the faith to the next generation," Sister Kateri added. "She will continue to guide us. She will continue to walk with us, and our relationship with God will continue to get deeper because of her."
Register correspondent Brian Fraga writes from New Bedford, Massachusetts.