Jersey Girl Gets Wish to Meet Pope Francis
Grace West was blessed to go to Rome through Make-a-Wish.
When people think of the wishes made possible by the Make-a-Wish Foundation, most recall children who went to Disney World, got to be a superhero for a day or met a beloved celebrity.
Eleven-year-old Grace West had a different wish, and one more in keeping with the strong faith that has sustained her family through their trials: Grace wanted to meet Pope Francis. Make-a-Wish New Jersey, working with its national and international sister organizations, made it happen.
Prayer Warriors
Back in November 2013, Grace was diagnosed with stage-four neuroblastoma, which affects nerve cells, and began a grueling series of chemotherapy treatments.
From the beginning, the West family was sustained by prayer. Grace's mother, Sharon, had heard of the 2,000 Hail Marys devotion: a long cycle of prayers that takes the better part of a day to complete. Since then, it has become their standard devotion before each treatment. Friends gather for the devotion any time Grace has been in the hospital. "Instead of getting together to go to the movies or have dinner," Sharon said, "we'd say, 'What time can you come over and pray?'"
As Grace said: "It really helps a lot. We do the 2,000 prayers and the whole Rosary, and we always do extra."
That level of faith has always been part of the West family's life. The West children — Grace and her brother, Joe — are both altar servers in their New Jersey parish, and their mother and father, Don, are lectors.
A life-threatening diagnosis like the one they received for Grace can either destroy or strengthen faith.
But as mom Sharon said, "A lot of people were like 'Aren't you angry with God? Aren't you upset?' Our response was that we truly feel faith is what's going to get us through. That's what's going to help us, and it has been helping us."
As one small but powerful sign of what people in need can do for a community of faith, Sharon pointed to an evening of prayer at their parish. Parishioners were invited to join the family to pray the Rosary one evening, and so many people turned up to join them that they overflowed the chapel.
Msgr. Sam Sirianni, the West family's pastor at St. Robert Bellarmine Parish in Freehold, N.J., notes the effect of this kind of experience on an entire parish: "The fact that the family turned to their faith, and Grace speaks of her faith as a source of strength, has an impact on our families. That kind of faith response is a source of inspiration for many."
Wish Preparations
That faith is what led Grace to choose a meeting with Pope Francis for her wish. "He is so humble," she said enthusiastically. "He's a people person and down to earth. He's just warm and welcoming and such a great person to look up to. I thought, 'I really like this pope, Pope Francis!'"
Over the last decade or so, Make-a-Wish Italy has helped facilitate 75 wishes from children to meet the Holy Father from around the world, with 11 of them for Pope Francis — and more scheduled in the future. 
The process begins when a child between the ages of 2 1/2 and 18, with a life-threatening illness, is referred to the organization. Once medical eligibility is confirmed, volunteers called "Wish Granters" meet with the child and her family to determine the child's one, true wish.
For pope-related wishes, Make-A-Wish Italy makes an official request at the Vatican for two special tickets for a Wednesday general audience. These tickets are in the area close to the Holy Father (the remainder of the family is in a nearby portion of the public section). Due to the strong relationship between the Vatican and Make-a-Wish, wishers are guaranteed seats in the front row, which are typically very hard to come by. This proximity ensures that the children will have a chance to meet the Pope and give him a gift if they would like.
The Wests wanted Grace and her brother to be the ones to meet the Pope, so the siblings received the special tickets.
Blessed Day
Grace's voice still trembles with joy when she recalls the big day: "It was his Wednesday audience. Even when you enter the Vatican, you get this feeling, because it's so amazing there, to be in the presence of that. We saw him circle around the square in his papamobile. It was his birthday [Dec. 17], so there were so many people there: dancers and people singing. Everybody was really super nice and happy and positive."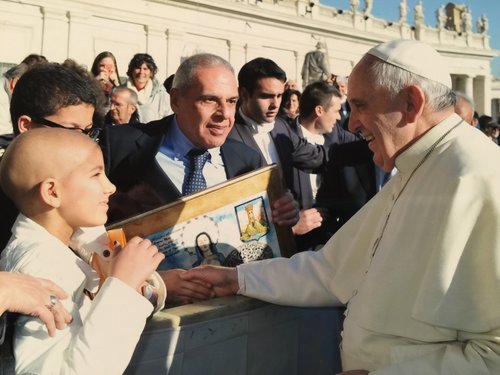 "We were very close to the little stage that he was on. It was just so amazing to be that close," she recalled. "I had seen him on TV, and then I was looking at him right now! After the service, he did a prayer and huge blessing of religious articles and people."
"He came around to where the wheelchairs and sick people were first and then to our row. I was so excited!" she added. "He touched my forehead and gave me a blessing and shook my brother's hand. It was his birthday, so I gave him a birthday card with a personal note inside and a picture. It was magical there. It was so nice. People who were around us were so kind. While he was talking to a man, he was holding my hand the whole time. It was so amazing. He was so welcoming and [I felt] warm and fuzzy."
The West family made the most of their remaining days in Rome, visiting the four major basilicas, walking the Spanish Steps and driving four hours to San Giovanni Rotondo to visit the tomb of St. Padre Pio.
Faith Connection
Grace also has a special to devotion to Blessed Miriam Teresa and attended her October beatification ceremony in Newark, N.J.
The family is praying that Grace will be Blessed Miriam's second miracle, paving the way for the blessed's canonization. The family was given a lock of Miriam's hair by the people involved in her cause.
Perhaps the most amazing part of Grace's story is Grace herself. Even after all of her trials, she shines with joy, faith and love.
"I believe that everything happens for a reason," she said. "I think that I was diagnosed for a reason. I feel like I was diagnosed so I could become closer to God."
Thomas L. McDonald writes from New Jersey.
INFORMATION
Grace's family established Cookie's Crumblers, a 501(c)(3) to help defray the expenses of her care. Visit CookiesCrumblers.org.