Honoring Short-Lived Lives
Memorial Masses for Lost Children Console Parents
Holding onto a single red carnation, my husband and I processed up the aisle at the Cathedral of the Holy Spirit in Bismarck, N.D., on Nov. 5. We were there for the inaugural "Mass for God's Children," dedicated to babies lost before they were born and for any child who died before adulthood.
Eleven years earlier, our son Matthew was lost through miscarriage.
Eye contact with others in the procession silently communicated a shared surprise — oh, you too? We placed the flower, representative of Matthew, in a vase with others before a statue of the Blessed Mother with the Infant Jesus.
I scanned the church. There were at least 200 people, young and old.
Taking our seats, Bishop David Kagan, four priests and a deacon began the Mass.
If I was not asked to write about this event, my husband and I might not have been there. Neither of us felt any residual grief over Matthew's loss, and the busyness of raising 10 children crowded out feelings of loss. But we were comforted in a way that we didn't know we needed: spending time with fellow Catholics who shared the same loss during a Mass dedicated to our missing children.
Children lost in the womb are not usually grieved publically, yet the dozens of babies listed by 47 families on the program testified to the desire to recognize those lives.
"I looked at it as a celebration," said Don Mastel, who was there with his wife, Sarah, and 3-year-old daughter Abigail. The Mastels had lost two babies to miscarriage. "It was also a comfort to realize how many others that I knew also lost babies," he said.
Sarah said all the people she recognized surprised her. "I felt a solidarity with them," she said. "I was comforted by the celebration, but I was sad, too. It reminded me of the void in our family. We are really a family of five, not three."
Shellie Rusch had three carnations to place in a vase. "I was surprised that I cried the entire time," she said. "I didn't realize that I had so much grief in me, but it was good; it was healing. I felt like this was a funeral that I never had for my children."
During his homily, Bishop Kagan acknowledged that every life is a gift. "We live and die belonging to God," he said. "That life may be a day, a week, a month or many years. However long it is, that life is a gift, not just to the one who lives, but to all of us."
Although a child dying before a parent seems out of order, he said that we must consider the mysterious will of God. "He has given to you the life of a child; and even from the moment of conception, it is an abundant grace," Bishop Kagan said. "Through the child, we see the face of the goodness of God."
"The sorrow at our loss," he explained, "expands our faith, because it is from the Lord; and in the depths of our sorrow, he finds us and leads us out of it."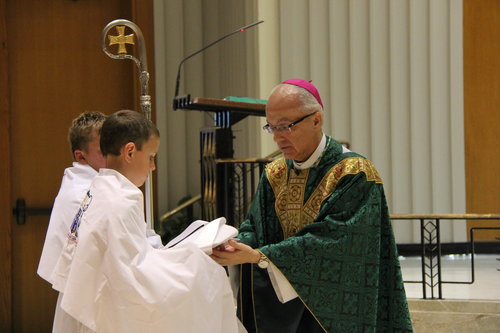 All Life Deserves Honor
Estimates of pregnancies ending in miscarriage range from 10% to possibly as high as 31%. A generation ago, mourning such a loss was discouraged; and even today, a miscarriage is frequently brushed aside. "We often fail to realize that these lives left an impression in their parents' hearts, never to be forgotten," according to Jeannie Hannemann, founder and director of Elizabeth Ministry International.
She founded the ministry along with her husband, Bruce, and Father Kurt Gessner (now deceased) in 1991 to support marriage and family life. There are now more than 700 chapters around the world, and many churches, hospitals and other ministries link to the website. The Hannemanns had at least three miscarriages but now have two grown children and five grandchildren.
In her book, Pastoral Guide: Miscarriage, Stillbirth or Newborn Loss, Hannemann helps pastors, hospital personnel and parents to address this loss. "Not only does a lack of response often lead to unresolved grief, it denies our belief that life begins at conception."
Elizabeth Ministries held its first memorial service 23 years ago on Nov. 1, All Saints' Day, at St. Bernard Parish in Appleton, Wis. It was a Catholic service — but not a Mass — that drew a large crowd from across denominational lines. "We gave out silk roses as a remembrance of each child," Hannemann explained. One elderly man walked by her on his way out with a rose sticking out of his jacket. "I have waited 60 years to have something to hold," he told Hannemann. "My wife carried the baby with her, but I never had anything to hold before."
The annual service has drawn people to the Church. "Many people have been so touched by the respect shown to their babies and the idea of them being in heaven with the angels and saints that they ended up entering RCIA [Rite of Christian Initiation for Adults] and joining the Church," Hannemann said.
The Green Bay Diocese also has an annual Mass for miscarried and stillborn babies. "If we would recognize miscarriages with the dignity that those babies deserve, we will stop abortion," Hannemann said.
A funeral Mass held in the Green Bay Diocese 14 years ago on the anniversary of Roe v. Wade for a baby that was miscarried at 12 weeks drew a standing-room-only crowd. "There was even a viewing of the baby's body," Hannemann recalled. After the service, she said a man told her: "I was pro-choice and just came to see what is going on. But after seeing what happened here, I am definitely pro-life now."
Need for Healing
The recognition that the Church can play a powerful role in the healing of grief over babies' deaths before they were born is growing.
One of the early places to play an active role in this was the Archdiocese of St. Louis. In 1988, the archdiocese began holding "naming and commendation" ceremonies, usually (but not always) as part of a Catholic Mass. The ceremonies are offered at various churches six to eight times a year and include a prayer in which the child is recognized by name and commended to God.
"A naming and commendation ceremony recognizes the life of the child who died and provides a sacred place for the parents to grieve their loss and receive healing and comfort through the Church and God's grace," explained Karen Nolkemper, executive director for the Archdiocese of St. Louis' respect-life apostolate. By giving the baby a name, she said, it allows families to experience a relationship with the child who died. Otherwise, a lack of identity intensifies the loss.
The idea for the "Mass for God's Children" in Bismarck came from the Fargo Diocese, which has been doing so for six years. Fargo, in turn, got the idea from the Church of the Nativity of Our Lord in St. Paul, Minn., which started commemorative Masses 12 years ago.
Two mothers — Cathy Clyde and Amy Kuebelbeck — who both lost very young children and understood the value of a Catholic service to bring healing began the Mass ministry.
"Cathy and I had the comfort of a full Catholic funeral, so we knew how much it means to have the Church recognize our babies," said Kuebelbeck, the author of Waiting With Gabriel: A Story of Cherishing a Baby's Brief Life and A Gift of Time: Continuing Your Pregnancy When Your Baby's Life Is Expected to Be Brief.
"We realized there were a lot of people that did not have that kind of a blessing."
Cathy Clyde and her husband, Nathan, lost their first child, Theresa Rose, to leukemia at 9 months and later had four miscarriages. They have seven living children now, four of whom are adopted.
"Every year people thank us for putting it [the Mass] on. Even for me, 12 years later, I still cry every year," Clyde said. "During the Mass, when that curtain between heaven and earth is lowered, I feel particular consolation from Our Lord."
Register correspondent Patti Armstrong writes from North Dakota.