Taking the Gospel to the Street — and Beyond
St. Paul Street Evangelization partners with the Archdiocese of Detroit.
One evening, six years ago, Steve Dawson gave a Miraculous Medal to a waitress at a restaurant. She then proceeded to voice disagreement with Church teaching about abortion.
"The Church teaches that we should love life," he told her. "Both science and the Church teach that we have new human life at conception. No one argues with that, and it's not up to us to decide who lives or who dies." That was the end of the conversation. Several months later, back at the restaurant, the waitress spotted Dawson and ran over to him.
She revealed that when they met the first time, she had just found out she was pregnant and planned to have an abortion. But Dawson's explanation had convinced her not to go through with it. By the second meeting, she was obviously pregnant.
Dawson was pleased to learn that his counsel had done good for the mother and the baby — and he was grateful that he had been inspired by his saintly hero, St. Maximilian Kolbe, who often carried a pocketful of Miraculous Medals to give away.
Other moments followed in Dawson's new mission, where he, his pockets full of Miraculous Medals, would tell people he encountered: "Hey, I felt inspired to offer you this free gift," Dawson told the Register. "Then I'd explain that Jesus sent his medal through his Mother, and she promised that anyone who wore the medal would receive great graces."
People he encountered usually accepted the gift, and it often led to conversations.
So St. Paul Street Evangelization's mission had begun — the organization sends evangelists out in pairs to engage passersby in their local communities, striking up conversations about Jesus and the Gospel.
"I had a powerful conversion 10 years ago," Dawson, a Michigan native, explained of his time of reversion at Portland State University a decade ago. "I was discerning a religious life for a while, but realized that God was calling me to evangelize — just like he calls all Catholics — to convert the world to Jesus Christ."
Soon, friends of Dawson started joining him to evangelize. What began as a few people walking around Portland's river walk spread rapidly. Dawson credits the Holy Spirit, whom they pray to before beginning their evangelistic encounters. "Not only is he working through the evangelizers, but he is also working in the heart of the person who is being evangelized — laying the groundwork in advance," he explained.
The work soon took the effort to Michigan and then Indiana.
Now, back in Michigan, St. Paul Street Evangelization is partnering with the Archdiocese of Detroit to spread the Gospel and move people closer to Christ and the Church through personal encounters. The two share a mutual dedication to the New Evangelization, as laid out in Archbishop Allen Vigneron's 2017 pastoral letter, "Unleash the Gospel,"  which calls for a dedication to "total evangelization."
At St. Paul Street Evangelization, it was announced: "We will live out the archbishop's passionate call to the archdiocese to take part in the New Evangelization."
On July 1, St. Paul's headquarters moved from Indiana to a renovated convent at Our Lady of Grace Catholic Church in Warren, Michigan. No money is involved, as St. Paul's will continue to be self-supporting, primarily through donations.
As part of this new chapter, the name St. Paul Evangelization Institute will be the umbrella organization, with three branches under it. St. Paul Street Evangelization will continue expanding its 300 teams with thousands of volunteers throughout the U.S. and in other countries who do street evangelization. St. Paul School of Evangelization, which launches this fall, will be live on-site and also available online as a two-year program, meeting two hours once a week for eight quarters, resulting in a certificate in evangelization. The third branch, the St. Paul Society of Evangelists, is a new order of brothers completely dedicated to evangelization.
Shared Mission
According to Father Patrick Gonyeau, central region evangelization coordinator for the archdiocese, "Under the leadership of Archbishop Vigneron, the Archdiocese of Detroit is definitely making a decisive and felt cultural shift to make evangelization our top priority."
The archdiocese was acquainted with St. Paul Street Evangelization when it was based in the diocese from 2013 to 2014 before moving to Indiana. Archbishop Vigneron even joined in to evangelize one afternoon.
"St. Paul Street Evangelization is one of the most effective apostolates that we have encountered," Father Gonyeau said. He lauded their training, which equips people to overcome the fear of evangelizing by learning simple skills and helps them to learn how to share their testimony in a matter of a few minutes.
"The fruit of the apostolate speaks to the anointing that God has placed upon it," Father Gonyeau said. "They have experienced rapid growth, and we experienced great success with it here."
How to Evangelize
Adam Janke, vice president of programs and operations at St. Paul's and a former anti-Catholic Baptist, whose conversion began in a chat room, was attracted to St. Paul's mission after seeing a picture of Dawson evangelizing someone dressed as Darth Vader.
"Two or more evangelists set up a table in a public area and offer passersby items such as a Miraculous Medal, rosary or holy card, to spark conversation," he said. "Team members are taught to ask questions and then to listen. If they're not Catholic, we'll ask if they've ever considered the Catholic faith before."
Evangelizers briefly share their own story, providing reasons why they are Catholic. They will ask interested Catholics whether they currently go to Mass and talk about the importance of Mass and the sacraments and learning about the faith. Team members also offer to pray with visitors.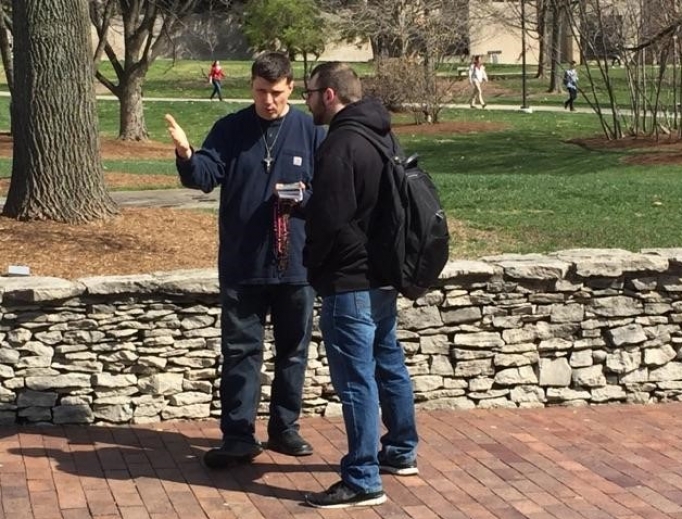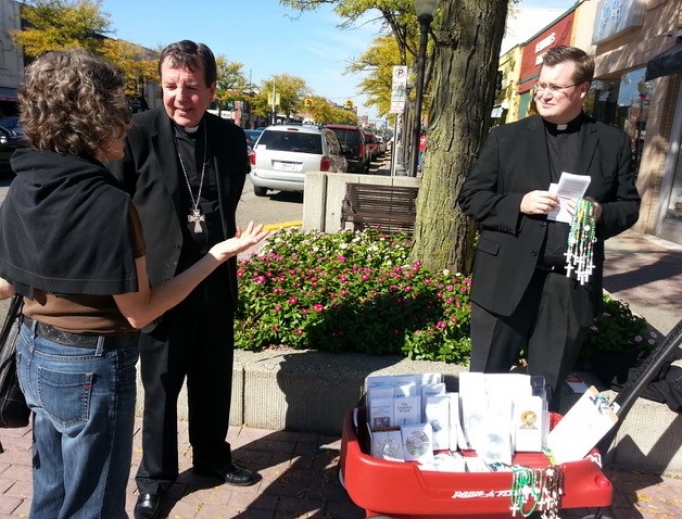 Although the group provides training videos and materials, it was the plan to form an evangelization school that actually sparked the partnership with the Detroit Archdiocese. Once it was discerned that the organization should move its headquarters back to Detroit, Dawson pitched the idea of forming a school to the archbishop and the head of evangelization. Both were enthusiastic about the school and forming a partnership.
The courses will align closely with the "Eight Guideposts" outlined in the archbishop's pastoral letter. Those include: "The New Pentecost" and the workings of the Holy Spirit, encountering and persevering with Jesus, and how there should be no bystanders. "Christ calls every priest, deacon, religious and layperson in the archdiocese to embark upon the New Evangelization, to employ new methods and a new fervor in unleashing the Gospel," states "Unleash the Gospel."
New Society of Brothers
In addition, the St. Paul Society of Evangelists is beginning with three brothers and will also be housed at the convent in Warren. They aspire to complete the process to become a society of apostolic life within the Catholic Church. The hope is for a society of sisters to soon follow.
"We want to make evangelizing a full-time lifestyle," Patrick Brennan, the lead brother, explained. The goal, he said, is to work for the salvation of souls through prayer, evangelization and the formation of disciples. They will entrust themselves to the Immaculate Heart of Mary to be led to union with her Son to witness to the truth of his Gospel, through all the gifts and the power of the Holy Spirit.
Brennan was led to the society through his friendship with Janke. He had gone from being a lukewarm Catholic and a discontented attorney to on fire with the Holy Spirit after a friend offered to pray with him for discernment. "It was the first time that I knew I could trust God and he wanted me to give my life to him in a complete way," Brennan said. He soon entered the seminary, but still, something didn't seem quite right.
Over dinner with Janke one evening, Brennan heard of the plan to form an order of brothers dedicated to evangelizing. "I thought, 'Wow! This is exactly what I am called to do,'" he said.
"We will share the Gospel wherever we go, at all times," Brennan explained. "Once we build relationships, they will need to be discipled, so the next step will be to do Bible studies." The ultimate goal, according to him, is salvation. "People are made for God, and we want everyone to recognize that for the salvation of their soul," he said. "The whole world is waiting to be evangelized!"
Patti Armstrong writes from North Dakota.
This story was updated after posting.