Priests Make Use of Social Media to Reach Their Flocks
Priest Profile: Three shepherds who see the internet as a means of evangelization.
Because of the ever-increasing popularity of social media, quite a few priests use it to reach out to their flocks as a form of ministry.
Father Leo Patalinghug, who has 75,000 followers on Facebook, 16,000 on Twitter and 7,000 on Instagram, sees it as a means of evangelization.
"It's just the new 'areopagus' of St. Paul's time." He added, "It's important for various Catholic institutions, parishes and organizations to have a social-media presence."
Father Patalinghug is known to many as the "cooking priest," as he hosts his own cooking show on EWTN and has appeared on the Food Network.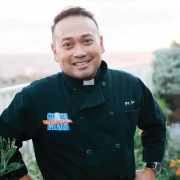 Father Patalinghug also hosts a monthly web series and is founder, host and director of Grace Before Meals (GraceBeforeMeals.com), a movement to bring families back to the dinner table by having them create and share a meal together.
Said Father Patalinghug, "My approach to social media is to be a voice of balanced fun, education, inspiration, admonition, encouragement, etc., in a bite-sizable way. And, yes, I have to be a 'companion' with people, i.e., cum panis (with bread), I have to break bread with people and provide good 'news' feeds."
He added, "I recently changed my 'handle' from cooking_priest to FatherLeoFeeds, since I do more than just cook. I know people follow me after I give talks, cooking demonstrations, see me on TV, hear me on radio or read my books, but social media, and all of the other forms of outreach that I do, are all together connected. Some days, I'm more active on social media, in terms of promotion and content creation. Some days, I don't even touch my computer. We need a balance." His followers are diverse: young, old, Catholic and non-Catholic and of different ethnicities and economic statuses.
"It's really a microcosm of the universal Church," he said.
That's why his digital approach offers a variety, he said.
"I range from inspirational quotes, an opinion on a current or challenging topic, pictures of food, recipe ideas, restaurant suggestions, food reviews, and, of course, I'm very pro-life, pro-vocational discernment, and I offer a little dose of humanity to help dispel any notion that priests are 'not normal' or 'holier than thou,'" he said. "I'll even engage in a bit of social-media banter and an occasional debate, when necessary. I also try to make faith 'bite-sizable.'"
But the tweeting priest recognizes that such online ministry is not for all priests.
He cautions that social-media use by priests requires discernment.
"I believe that social media can be a great tool or hindrance to priestly ministry," he said. "Therefore, I believe that priests need to discern why they would have a social-media presence." 
He noted that social media can take a lot of time and requires a savvy understanding of digital communication.
"But at the same time, I think that every priest needs to understand the importance of social media and … encourage people to be on it appropriately and not get too caught up on criticizing people who do use it for promoting the Gospel," he added.
Another priest who is active on social media is Dominican Father Thomas Petri, vice president and academic dean at the Pontifical Faculty of the Immaculate Conception at the Dominican House of Studies in Washington, D.C. Father Petri has more than 10,000 followers on Twitter (Twitter.com/petriop?lang=en), which tends to skew younger demographically than Facebook.
"I think of social media as a new public square, where people are gathering virtually to discuss the news of the day and things that are meaningful to them," explained Father Petri, "although this is only an analogy, because you're not physically present with each other, and that can lead to all sorts of misunderstandings. The presence of priests on social media is just like the presence of priests in any other secular setting: We represent the Church and the sacred in the midst of the world."
Father Petri uses Twitter almost exclusively, although he also has Facebook and Instagram pages.
"Normally, I tweet about Church matters as well as difficult moral issues that arise in the news and on which we Christians must comment or take a stand," he said.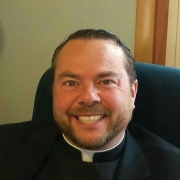 Father David Richards is the face of the Diocese of Buffalo, New York, on YouTube. In a Word segments are short, fast-paced videos that deliver a solid Catholic message for youth ages 13-19 (http://bit.ly/2zOqzzb).
"Daybreak called me and wanted to discuss the idea of doing YouTube videos geared toward middle- and high-school students," said Father Richards, who was recently appointed administrator at Our Lady of Pompeii parish in Lancaster, New York. "They told me I would be a good fit."
"Daybreak was experimenting with programming ideas directed toward a younger audience for a couple of years when the concept for In A Word evolved," explained Claire Rung, executive producer for Daybreak TV Productions in the Diocese of Buffalo. "The reviews have been very good. We are happy with the initial view count, ranging from 500-3,000, without a promotions budget. Young people are beginning to like our Facebook and YouTube channel."
Said Father Richards, "The videos are like a minute-long homily" that cover topics like body image, sin, loss, saints, peace and the future.
"These quick YouTube videos are key in attracting young people; you have to speak their language," said the internet-savvy priest.
For example, in his video "Decisions," Father Richards tells viewers that every decision they make is a choice. "Saying 'Yes' to one thing means saying 'No' to another. Decisions affect others, ourselves and God." He adds that every decision, even the little ones, either good or bad, have consequences.
He goes on to quote St. Francis de Sales, who said, "Do not wish to be anything but what you are, and be that perfectly."
Father Richards concludes the video by saying: "God made us for a good purpose, and we should do everything we can in our daily lives to live that out by the decisions we make."
Christine A. Smyczynski writes from Getzville, New York.