Padre Pio: Celebrating the Modern Saint 50 Years After His Death
The stigmatic Franciscan friar was recalled as 'a great dispenser of mercy' at hometown remembrance.
SAN GIOVANNI ROTONDO, Italy — The jubilee year of the life of Padre Pio — St. Pio of Pietrelcina — brought together approximately 30,000 people at a prayer vigil and midnight Mass Saturday at San Giovanni Rotondo, a small town in southern Italy.
The Sept. 22 Holy Mass presided by Capuchin Father Robert Guenin, minister general of the Franciscan order, celebrated the 100th anniversary of when the holy Capuchin received the stigmata, at 31 years old, Sept. 20, 1918, and the 50th anniversary of his entering eternal life, Sept. 23, 1968.
"The life of Padre Pio, of the one who carries the cross, or, rather, of him who is marked by the crucifix, teaches us how to take up and carry one's own cross and at the same time answers why the cross marks the life of the believer," Father Geunin said during the homily.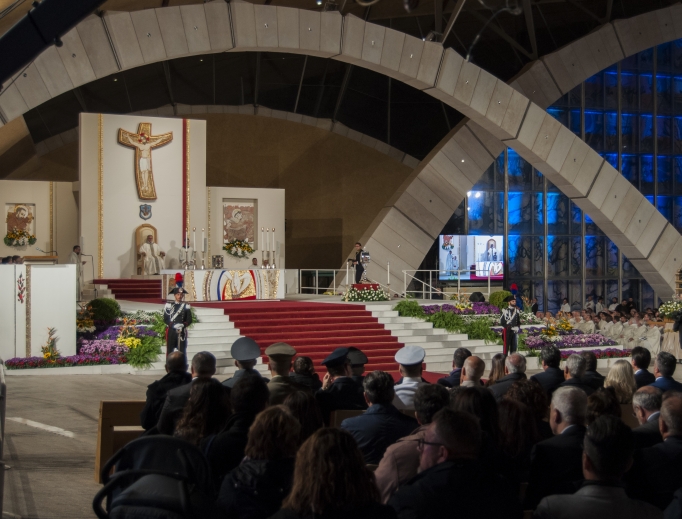 Giuseppe Conte, the prime minister of Italy, returned to his home region to attend the Mass.
"I cannot fail to mention the charism and ability of Padre Pio to dedicate his life to others and to the common good: Padre Pio has deeply influenced the religious life of our country, but not only in our country," he told local Italian news service ANSA.
Fifty years after his death, Padre Pio continues to be an example of authenticity in action, obedience in faith and sincerity in prayer.
"It has been demonstrated by the many people who follow him that his spirituality is truly effective for evangelization," said Stefano Campanella, director of Tele Radio Padre Pio and the author of many books about the saint.
San Giovanni Rotondo hosts the shrine dedicated to the image of "Our Lady of Graces," where Padre Pio used to celebrate daily Mass and hear confessions.
Today, it holds the preserved body of Padre Pio on display in the crypt, built on the site of the old church where he lived, prayed, suffered and confessed.
"I remember being touched when I stood in front of Padre Pio," said Janet DeRico, a nurse from New York. This was her second pilgrimage to San Giovanni Rotondo; it has been a place of healing for her after losing many family members in recent years.
"I generally am not emotional, but in front of Padre Pio, I was overwhelmed with emotion, and a few tears even fell. I felt as though he was saying, 'I feel your pain,' and with that I felt much peace."
Padre Pio was a simple friar with a unique relationship with God. He held a sensitive spiritual core that was seen through his devout prayer life, empathy in confession and desire to save souls.
"He was a great dispenser of mercy," Campanella said. "He insisted a great deal on the availability of priests for the sacrament of confession and on their breadth of mercy in forgiveness and in presenting themselves to penitents with a paternal attitude and not with rigidity."
The last living friar who remembers St. Pio, Father Marciano Morra, was a young Capuchin novice when he met Padre Pio for the first time.
"He reminded me of a grandfather, a grandfather with his grandchildren," Father Morra told EWTN. "He was affectionate, kind and had kind words; he made us laugh and joke."
Behind Padre Pio's radiating kindness was great physical and moral suffering. He was stamped with the wounds of Jesus Christ, receiving the stigmata as a participation in Christ's passion. For this, he received many accusations from local clergy; amid the detractions, he spent two years of obedience to the Holy See in abstaining from public service. Only then did he return to his full ministry.
"Through his own great suffering in life, he was capable of forgiving, not only in words, but also through concrete actions, asking for reintegration into the community from those who had condemned him," Campanella said.  
Padre Pio was also active in giving attention to human needs. This is seen through his biggest earthly work of the Home for the Relief of Suffering, Casa Sollievo della Sofferenza, which was established in 1956. The hospital not only gave attention to those who were sick, but it also provided vocational training to help young people who were unemployed after World War II.
He called it the temple of prayer and science where the dignity of each human being should be respected and find a home.
Better known as the "Casa," today the hospital employs 3,000 workers, assists more than 1 million external patients and carries out more than 63,500 hospitalizations.
In 2015, the "Casa" inaugurated the Institute for Stem-Cell Biology, Regenerative Medicine and Innovation Therapies as the first nonprofit research center in Europe to produce pharmaceutical drugs while respecting the environmental and structural rules of reproducibility and traceability.
"He wanted to build not simply a vanguard hospital, but a place where the doctors could take God to the beds of the patients," said Chiara Di Giorgio, who is on the staff of the CEO.
Padre Pio indeed infused love into the community through his confidence in Jesus Christ and love for the Church. As he put it, "It is under the cross that one learns to love" (Letter I, 339).
Rachel Lanz is a Register staff writer based in Rome.
This story was updated after posting.