Catholic Coloring
Resources for adults that aid relaxation and prayer
Adults are coloring. Lots of them. With special markers. In special books designed just for them.
It's not just a rage; it's profitable, too. Nielsen Bookscan estimates that 12 million adult coloring books were sold in 2015, compared to 1 million the previous year. In June of this year, TheStreet.com reported that Walmart sold $100 million in adult coloring books in the first five months of 2016.
Twenty-some years ago, when I was in my dorm room with Crayolas in hand, trying to destress during finals week, I was stuck with the same coloring books as my kid siblings had.
It's not just college students or young children coloring these days. You'll find people in waiting rooms, at coffee shops and even at special coloring meet-ups.
And why not? It's fun; it's relaxing; it's cheaper than some of the other hobbies out there.
My two daughters, ages 9 and 11, are quite enamored of adult coloring books. In fact, one of them mentioned to me, some months ago, how cool it would be to have a Catholic coloring book to take to Mass.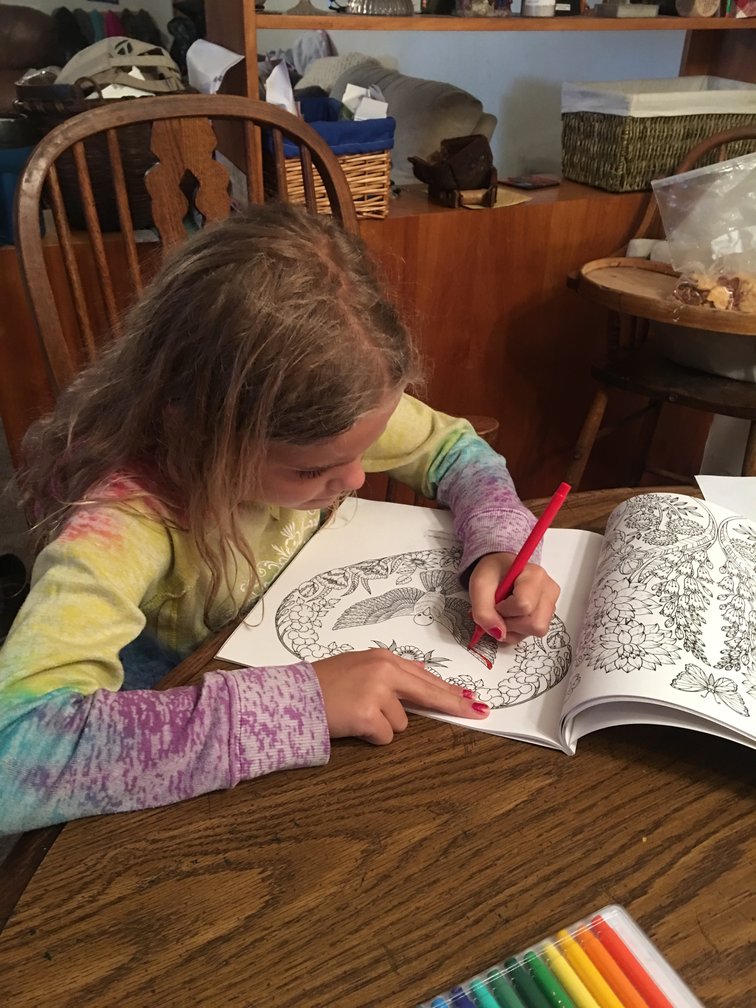 Not long after my daughter's comment, I caught wind of a Catholic publisher stepping into the adult coloring book fray. I was excited, and so were my daughters.
Coloring, it turns out, fits right in with so much of our Catholic prayer tradition. The Catholic publishers I found with products have embraced these books as more than just a cash cow: They seem to be genuinely interested in helping those with fine-tipped Sharpies at the ready to grow closer to God.
I don't do much coloring myself anymore, but my daughters were happy to help me research and test out the books that arrived.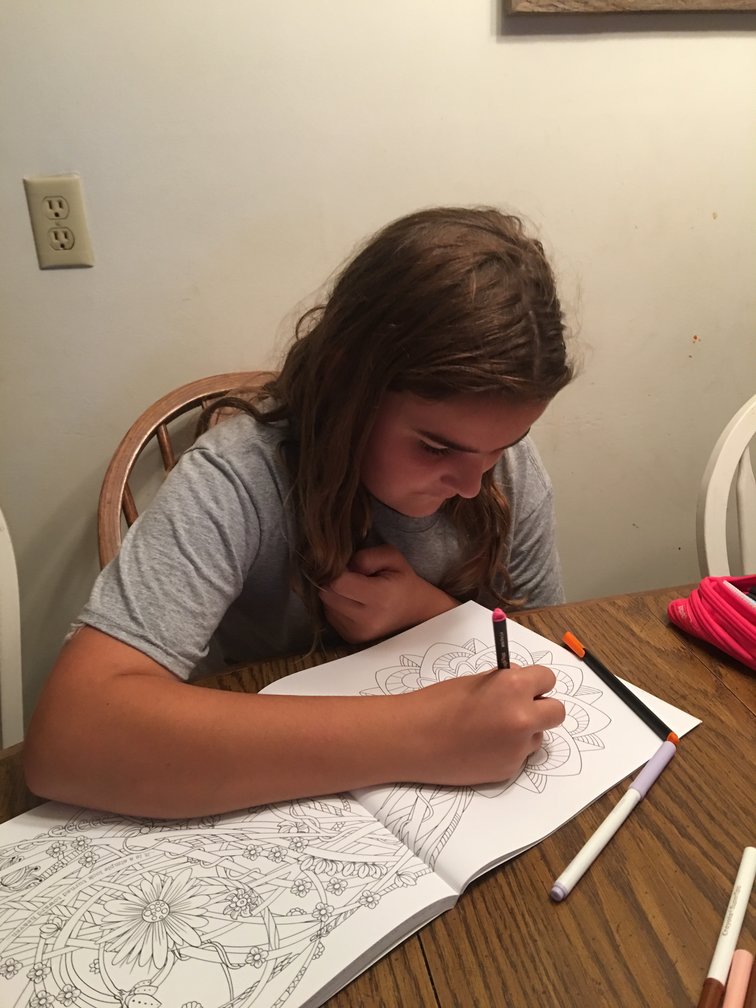 Our Top Pick
At Play in God's Creation: An Illuminating Coloring Book
Franciscan Books and Media
96 pages
Hands down, this is the best of what's offered in the Catholic marketplace. Franciscan Media did their research, and they produced a book that could stand up against any adult coloring book at Barnes & Noble or Walmart.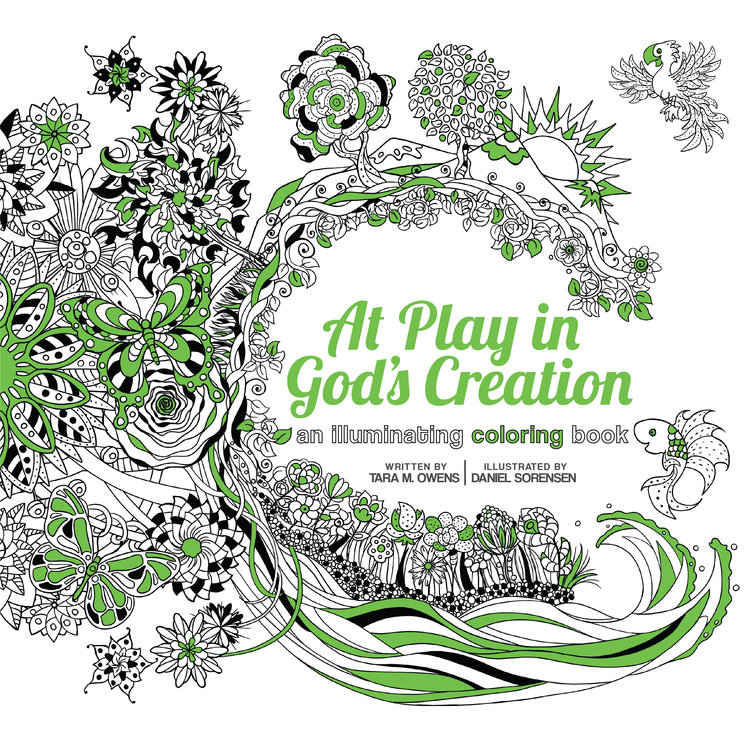 One of the biggest selling points for us is the paper: It's high-quality and thick enough that you can use crayons, colored pencils, markers or even Sharpies (my 11-year-old's favorite), and it won't bleed.
Another plus: It lays flat. This is another reason it holds its own against the many secular coloring books that litter my countertops. It's made as nicely and thoughtfully as they are!
The larger size of the book gives you plenty of room to spread out and really dive into your coloring project.
The artwork is intricate, and it tells a story, building on itself. That's by design, according to author Tara Owens. She jumped into the coloring book craze and found that it was a way for her to anchor herself in prayer.
As a spiritual director, Owens was concerned with the idea of actual spiritual transformation and how that might be possible through a coloring book.
Owens and illustrator Daniel Sorensen worked together on a vision to make a coloring book that is a guide to help you go deeper into prayer and closer to God, while inspiring you to take what you've gained and learned in order to share with others.
My oldest daughter not only claimed this book, she made me promise to give it back after I dug through it to write about it. That's probably the biggest endorsement for it.
Other Adult Catholic Coloring Books
From Pauline Books and Media:
Our Lady's Garden: A Coloring Book for Prayer and Meditation
Scripture Illuminated: A Coloring Book for Prayer and Meditation (forthcoming in 2017)
Windows Into Christ: A Coloring Book for Prayer and Meditation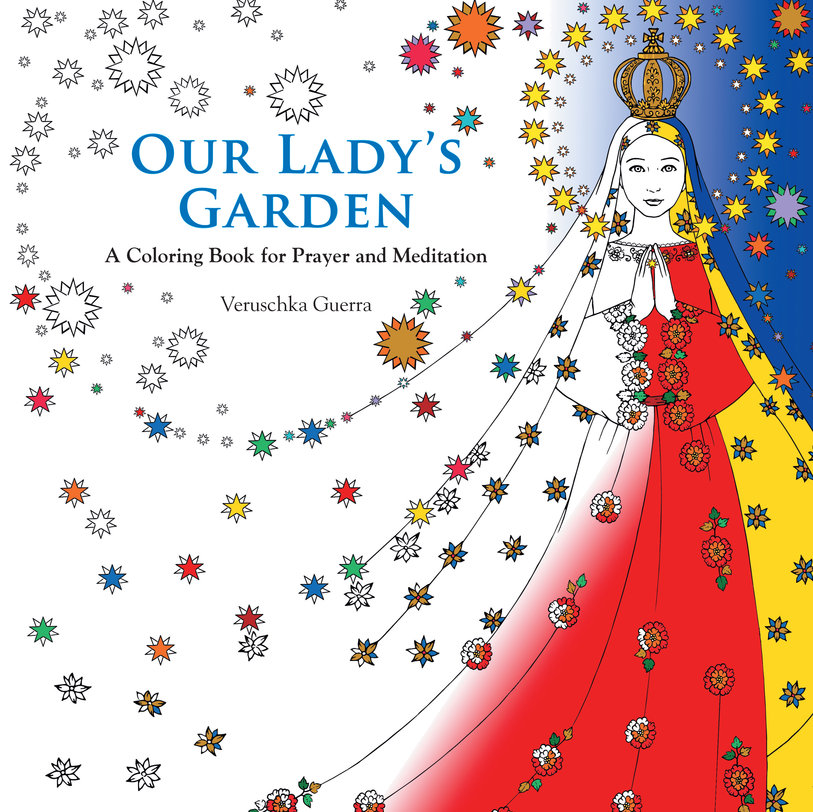 Our Lady's Garden was our second pick from the pile of Catholic adult coloring books, followed closely by Scripture Illuminated. Pauline has done an excellent job of offering three very different coloring book options, each with different benefits and approaches.
The art and images in Our Lady's Garden are appealing, punctuated with Marian prayers and quotes. My daughters really loved all the flowers and the intricacy of the scenes.
Scripture Illuminated is slightly smaller, which my daughter took advantage of, tucking it into a backpack for a recent trip. The coloring in this is more about the words and letters than scenes.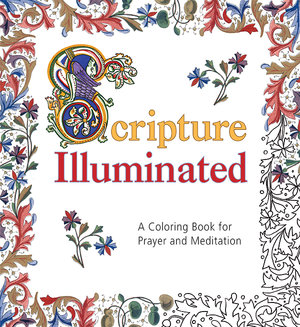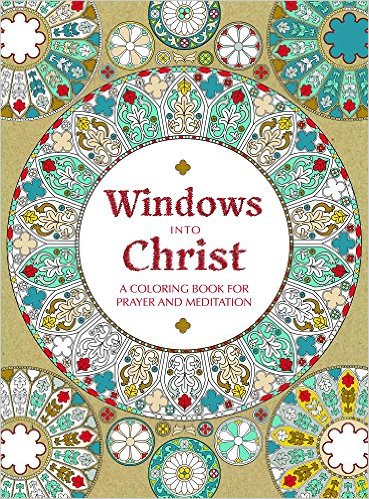 Windows Into Christ is a collection of the stained-glass windows of Chartres Cathedral in France, with Scriptures and traditional prayers providing the narrative. The windows tell the story of the life of Christ.
From Ave Maria Press:
The Mysteries of the Rosary: An Adult Coloring Book
We loved that this coloring book encourages us to pray the Rosary, and the images are lovely. They would be perfect for tearing out or displaying (or even framing), because they are one-sided, a very different approach from all the other coloring books we reviewed.
It's formatted to "resemble one of the early devotional books dedicated to the holy Rosary," according to the introduction. Illustrator Daniel Mitsui writes that the illustrations are from a series of three large drawings he made in 2011. 
Author and writer Elizabeth Scalia, in the foreword, shares, "It is very easy to fall into prayer while working on these images, and working with these images gives one a small taste of what icon writers describe of their contemplative work."
From Our Sunday Visitor:
The Glory of Color: Adult Coloring Journal for Catholics With Prayers and Scripture
Surround Me, Lord, With Color: Adult Coloring Journal for Catholics With Prayers and Scripture
The Color of Creation: Adult Coloring Journal for Catholics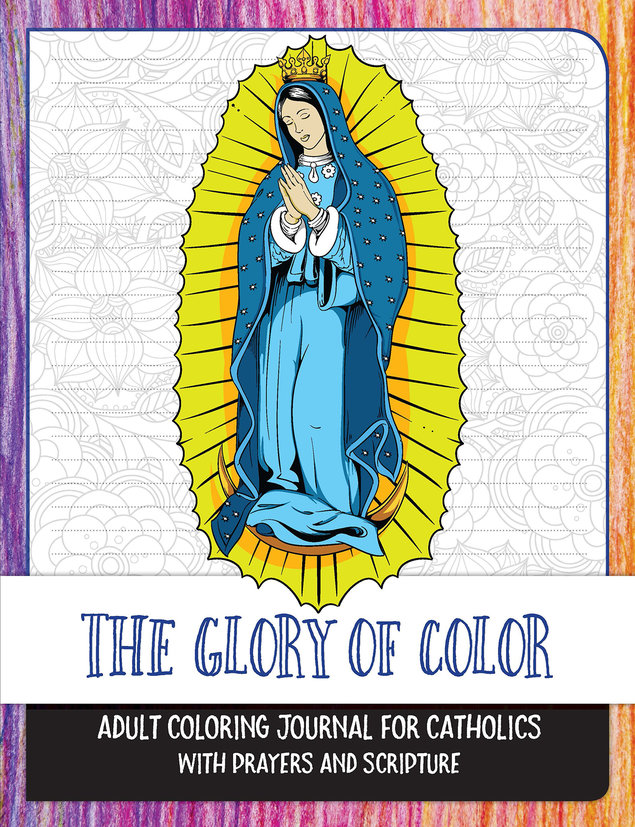 In these coloring books, Our Sunday Visitor has married journaling with coloring in a lovely way. Both feature a coloring page facing a journaling page. The prompts are from a variety of quotes taken from Scripture and the saints.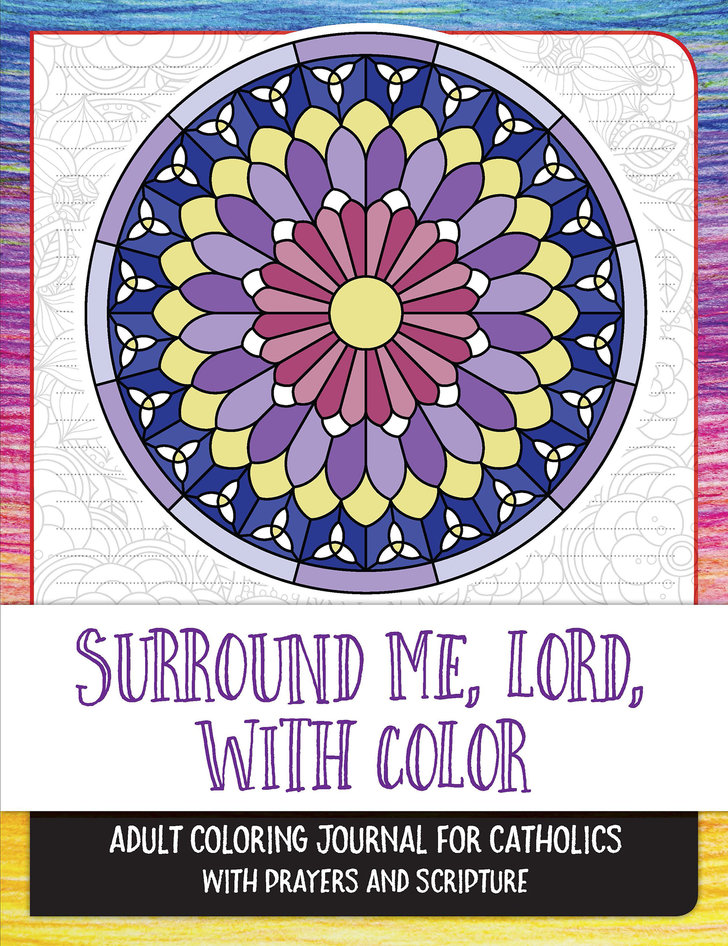 My first thought, seeing this series of coloring books, was that they would make a great adult group study for a parish. I also thought of the fifth-graders and confirmation students I've worked with in the past and wondered about applications within religious education classrooms.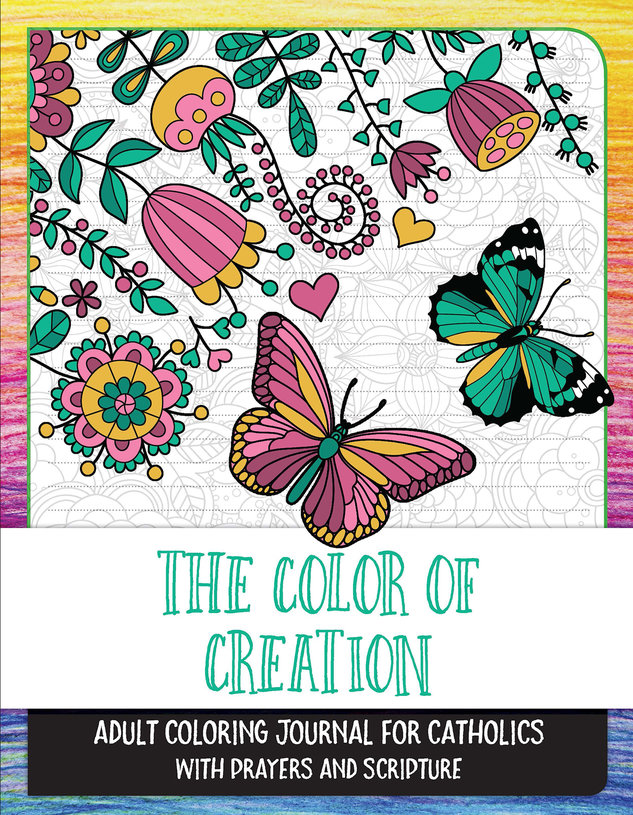 From Twenty-Third Publications:
Praising God With Saint Francis: A Coloring Book for Prayer and Meditation
Spiritual Wisdom and Divine Light: A Coloring Book for Prayer and Meditation
"Any time we allow ourselves to quiet down and open up space for God to be present is, in its own way, an act of meditation," invites the text at the beginning of each of these coloring books. In some ways, the illustrations resemble graphic line art and coloring pages I might print for my kids off the internet.
They vary in intricacy and have facing pages: prayer/reflection on the left and artwork on the right. Praising God has a focus on creation and praise of God in a way that's quite interesting and engaging.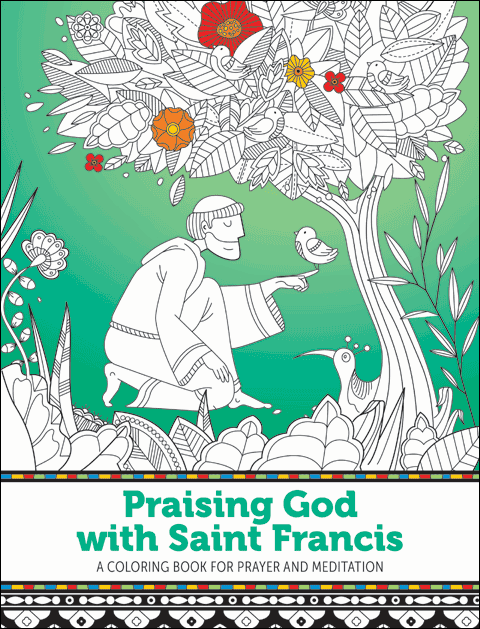 Spiritual Wisdom and Divine Light uses the artistry of what are popularly called "rose windows" — those stained-glass windows that have stunning and jewel-toned patterns in cathedrals around the world.
I'm sure there will be more coloring books entering the Catholic market, and we'll be in line to purchase and try them. The takeaway for us, though, was that these are a way to bless a hobby and make it yet another way for us to grow closer to our Creator by using our own creativity.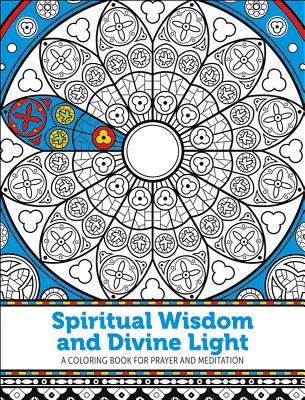 Happy coloring!
Sarah Reinhard is online at NCRegister.com and SnoringScholar.com.