Benjamin Wiker Assesses Holy (and Not So Holy) History
BOOK PICK: Saints vs. Scoundrels
SAINTS VS. SCOUNDRELS:
Debating Life's Greatest Questions
By Benjamin Wiker
EWTN Publishing, 2017
265 pages, $19.95
To order: ewtnrc.com or (800) 854-6316
Has anyone ever asked you, "If you could pick anybody from history to meet and talk to, who would that person be?"
Benjamin Wiker has welcomed pairs of such historical visitors, a "saint" and a "scoundrel," to help him to explore "life's greatest questions" — people like St. Augustine and Jean-Jacques Rousseau; St. Francis of Assisi and Niccolò Machiavelli; Flannery O'Connor and Ayn Rand; St. Thomas More and Henry VIII; and St. Teresa Benedicta of the Cross (Edith Stein) and Friedrich Nietzsche. And he wants to share what he learned.
Many people have heard of these figures, most of whom (like Wiker, a professor at Franciscan University of Steubenville) are philosophers. For better or worse, their ideas have shaped the modern world. Yet most Catholics, already challenged by weak catechesis, would probably be hard-pressed to explain what they stood for.
Wiker has found a delightful way to fix that (this book is an extension of his EWTN series Saints vs. Scoundrels).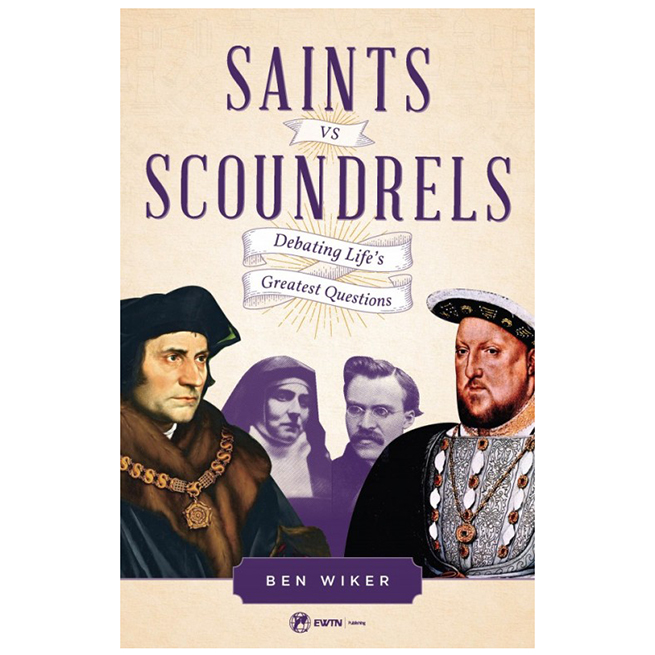 In five mega-chapters, each subdivided into three parts, he lets each figure present his or her philosophy, then engages the pair in mutual dialogue, summarized by Wiker's own reflections. It's a wonderful way not just to discover, but to answer, the intellectual currents forming the modern world. As Richard Weaver once wrote, "ideas have consequences."
Each scoundrel — Rousseau, Machiavelli, Rand, Henry VIII and Nietzsche — has his own ideas, but Wiker finds a common thread unifying their various thoughts: Each wanted to displace God. For Rousseau, it was by denying original sin in favor of some primordial state of innocence, where one's urges could be satisfied without further ado (as in Jean-Jacques' fathering of illegitimate children he then dumped in the foundling hospital).
For Machiavelli, it was an atheism that used religion, along with any other means, to keep power. For Rand, it was an individualism that let some (like her) use others (like her husband, her disciple and especially her disciple's husband). For Henry, it was unbridled lust for women and power. For Nietzsche, it was putting himself in God's place as author of reality, good and evil.
But if Wiker has one unifying idea, it's that man can't push God out of the world and just take his place. Pace ("contrary to the opinion of") today's "Nones," "The world can't have a Church of Christ without Christ, all the benefits of Christianity without God, niceness without real goodness." Like it or not, what you wind up with is a dark night of the soul in which you refuse God's hand and just hunker down into the darkness. Nietzsche "was the only honest atheist, the only one who truly understood what the absence of God really meant — that it is the darkest night that the soul can experience. He did not understand, as Teresa of Avila understood … that no human being can withstand that dark night without the Grace of God won in Jesus Christ, who immersed Himself in that dark night on the Cross. It isn't that God isn't there, but that he's concealed and silent. Or, in Nietzsche's case, rejected and silenced."
Modernity wants to build a world without God, convinced that shoving God out of the picture makes the world more human. The truth is that God and man stand in direct, not inverse, ratio: "The saints are not out to destroy our enjoyment of this life but to usher us toward far greater joy and exultation." That is why the contemporary indifference to religion or its preference for an ersatz, generic "spirituality" is such a threat precisely to humanity.
Wiker's highly readable and innovative way of "getting inside" the big ideas of modernity and confronting them with Christian insight deserves a wide audience. If I had any reservation, it's that St. Francis' responses to Machiavelli trend a bit towards the fervorino, which may prove less convincing to the still unconvinced.
John M. Grondelski, Ph.D., writes from Falls Church, Virginia.