French Lay Group Travels to Build Crosses and Restore Faith in Ireland
The effort in Ireland is just the beginning of the group's international outreach.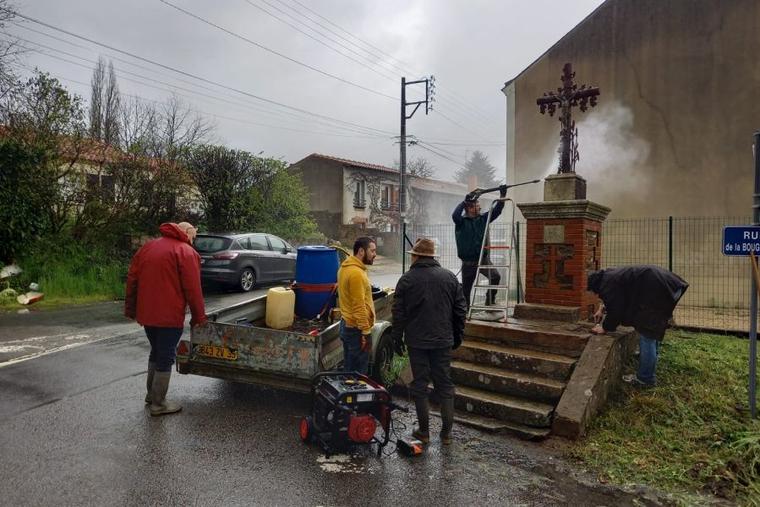 A lay Catholic movement that restores Catholic monuments in France is in Ireland May 5–13 to build crosses with the hope of restoring faith in that country.
S.O.S. Calvaires CEO Alexandre Caillé, 26, told CNA a group will go to Croagh St. Patrick, a traditional Irish pilgrimage destination, and four other sites. "We're going to erect five Celtic crosses all over the country," he said.
S.O.S. Calvaires — which has grown exponentially in just two years — was founded in 1987. Its motto is "Stat crux dum volvitur orbis" — "The world turns while the Cross remains." The group seeks to restore the artistic and religious heritage of France, much of which is deteriorating under natural causes but also due to vandalism and government neglect.
The group does not receive any government funding. Its stated purpose is "to strengthen the unity of Christians around the Cross and do apostolate by example."
The effort in Ireland is just the beginning of the group's international outreach. S.O.S. Calvaires has already built a traditional cross in Armenia and has received requests to work in Belgium. Caillé said branches are planned for America and the rest of Europe.
A native of France, Caillé learned English while bicycling in Ireland for several months several years ago and was struck by the challenges to the Catholic faith he saw there.
Another group member, who goes by the moniker "Titouann," reflected on the political and religious divisions on the Emerald Isle: "I see this as a wonderful opportunity to seize this challenge in order to share our faith. In this country particularly impacted by religious wars, gathering around the cross is a sign of brotherhood given to the world."
Restoring Crosses in France
The French government holds title to nearly all Catholic monuments and places of worship in France but does not expend significant resources for upkeep despite calls for repair. However, permission must come from the government for restoration. According to the S.O.S. Calvaires website, 80% of church buildings of historical significance are in poor condition.
Some calvaries (open-air crucifixes) and crosses were built by St. Louis Grignon de Montfort, for example, more than 200 years ago and are found at crossroads and town centers, especially in rural areas. Crosses are found on mountain summits such as the Pic Saint-Loup in the south. In 2020, the 40-foot tall iron cross was cut down there and vandals scrawled graffiti that read "Secular peak." Less than a week later, a wooden cross took its place and supporters raised more than 24,000 euros ($26,400) to erect a metal replacement.
S.O.S. Calvaires was once focused on a small area of France. In 2020, its goal was to restore at least one monument per quarter. However, after leaders rented a production facility and hired carpenters and staff, it has spread nationally. Since then, the branches of S.O.S. Calvaires have grown from two to 52 throughout France and have restored some 4,000 religious monuments. There are now approximately 3,000 active members, and hundreds of student volunteers and scouts provide additional needed work hours during the summer.
"When I arrived as CEO six months ago, we had 25 branches. In six months, we've doubled the number of branches. We are restoring more than one cross per day," Caillé said.
"Last year, we did 150 calvaries, and as of April 24 [of this year], we have restored 135 calvaries," Caillé said, adding: "I think the budget will double."
"The association was founded because Christian patrimony was in bad shape and needed restoration," Caillé said. He explained that the founders were aging and had become less active; younger people took over and added renewed energy.
"They found that people were very receptive to this kind of activity: It's outdoors in the pouring rain and carrying heavy things. So they were very interested in the association," he said.
Referring to the small number of believers who attend church or temple weekly in France, Caillé said: "We want to restore hope." While the group has restored two chapels and wants to restore more, members want them for worship rather than conversion by the government.
"If you restore a church, it's not for it to become a nightclub. It's for it to become a church," Caillé said.
Historical Significance
The historical significance of the crosses is not lost on the members of S.O.S. Calvaires. The group has promised to restore a monumental iron cross at the birthplace of Charles-Melchior Artus de Bonchamps, a heroic commander of resistance forces of the Vendée region who fought to save fellow Catholics from the atheistic, genocidal Republican army in the 1790s. Incidentally, the Bonchamps family home was known as Château du Crucifix.
In March, a massive crucifix measuring more than 20 feet tall was restored in northwestern France, where it had lain concealed by a grove of trees. After its discovery, the group restored the 200-year-old crucifix and bronze corpus to their place in sight of a vineyard. A local priest officiated a blessing of the monument while dozens of local people looked on.
Many volunteers are not Christian but civic-minded people who acknowledge the importance of national heritage. Titouann told CNA: "It is a rich idea to show our faith as Christians."
Titouann grew up in an evangelical Christian home and is descended from a long line of devout Huguenots. "I feel the pride of being Christian, the pride of being saved, and of wanting to share this joy with the world," he said.
"In France it is common to come across these calvaries; our villages all have them in their heart, our countryside is populated by crosses, and so whether we turn right or left, our decision is made under the gaze of this cross," said Titouann, who will lead the group in Ireland. "I have always loved these calvaries, which represent an important part of the material heritage of the Church: not just the Catholic, Protestant, or Orthodox churches. No, these crosses belong to all Christians, who can see in them a reminder of our identity."
Titouann said he hopes to preserve the monuments and even install new ones "to allow future generations to live this grace of meeting the cross by 'chance' on our walks."
During one restoration, he recalled, "we were verbally attacked by a neighbor. Our calm and prayerful reaction threw him off balance, and he even ended up helping us and praying with us. What I retain from this episode is the quality of the testimony we bear."
"We are gathered at this moment by our faith, and in spite of our differences we have succeeded in witnessing the love that we receive and that we bear to each other, between brothers and sisters," he continued. "This has touched this person who obviously acted like this because of a lack of love."
A restoration of just one of the large crucifixes costs more than $1,500. Restoration of bronze or cast iron statues and chapels can cost much more. S.O.S. Calvaires has created a smartphone app to allow users to identify calvaries, crosses, and other monuments for restoration. It continues to raise funds for its nonprofit work.
Commenting on the links between restoring Catholic monuments and Christian faith, Caillé said: "I have heard testimony of people coming to our association because of the cross, for the patrimony, and they go back with Christ. Because at the end of the work, they raise their eyes to the One who is on the cross and here ends our work and there begins the work of almighty God."
"Our goal is to re-evangelize France and to restore as many calvaries as we can: There are hundreds of thousands. We have lots of things to do, so why not go abroad and reach every country with Christian patrimony," Caillé said.